(50) An unrestored copper and peach glass French Art Moderne fixture in the design manner of Petitot; needs rewiring, which of course I will do for you (I can even take it all apart and have it plated in brushed nickel, woo-woo)! About 30" long, 29" across. (e-mail Jack for the price)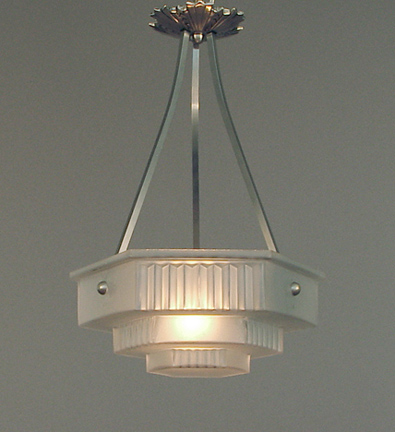 (51) Oddly enough, this wonderful Modernist bowl had slipped through the cracks of my otherwise impeccably maintained inventory control. HA-HA! And someone a while ago wanted to buy it!! More's the pity, but here it is, back on the block, my having stumbled upon it in the seldom-visited warehouse! It's a little smaller than "standard," about 10 inches wide, 12 on the diagonal, and as shown hangs down around 19 inches (which can be altered). Perfect for that small Moderne room, or entryway, or hallway.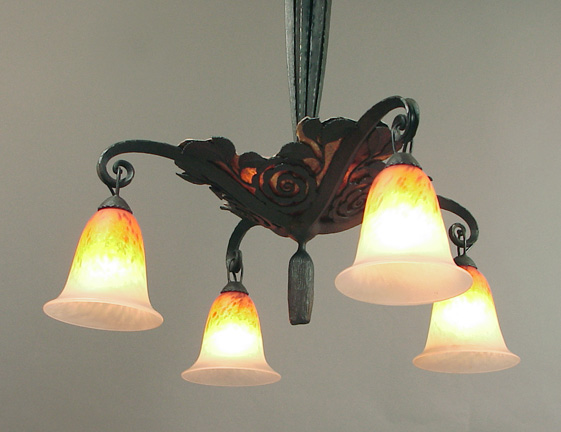 (52) A long, well-worked French wrought iron fixture with signed Schneider mottled white and orange art glass shades. Rewired and fitted with American candelabra sockets. Mica has been cut and molded to fit into the center element, which hides two small sockets.) About 38" long, 19" across. (e-mail Jack for the price)
(53) An Art Nouveau-era solid brass fixture with rather dazzling, signed Nuart glass shades. Rewired and fitted with American candelabra sockets. About 31" long, 23" across.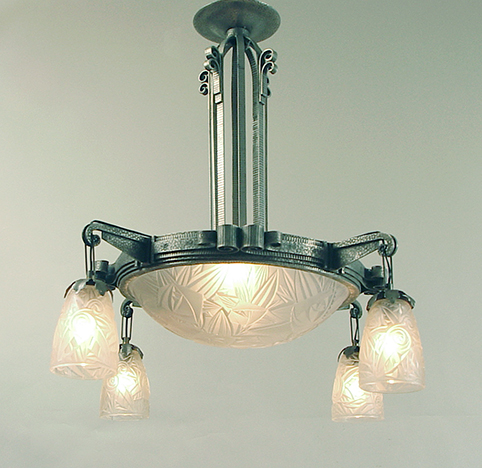 (54) A massive, hand-wrought iron fixture with its original nickel finish and Noverdy glass, attributed to the noted ferronnier Henri Fournet. Rewired and fitted with American candelabra sockets. About 31" long, 28" across.
Now hanging in sunny Florida at Bruce and Diane's and LOVING IT!! SOLD!!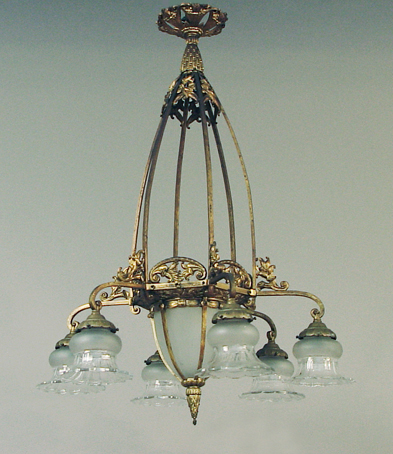 (55) A significant Art Nouveau-era gilded brass chandelier with lead crystal glass shades in the manner of Baccarat or Val St. Lambert. Unrestored, needs rewiring. About 32" long, 26" across.
Yes, I managed to rewire this (how, don't ask!), and now it's in Gretchen's home, keeping company to the other fab Art Nouveau fixture she bought! SOLD!!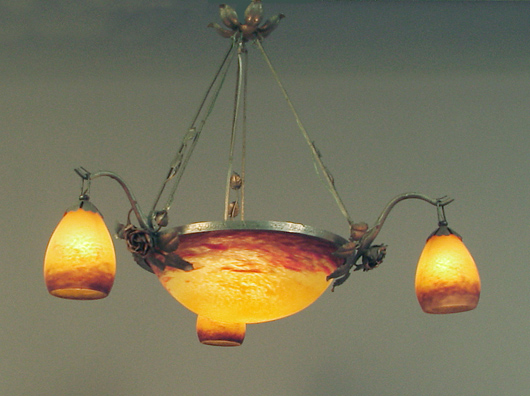 (56) A nickel-plated (original finish, original glass) wrought iron chandelier with signed art glass by Degue,Please make a selecti including an extra-large 40-centimeter bowl. Tell me this wasn't inspired by the glorious sunsets in autumnal France!! Rewired and fitted with American candelabra sockets. It hangs down about 26 inches and is about 23" across. The nickel finish, as befitting its hundred-year-old age, is not quite like new (you like my euphemisms?). (e-mail Jack for the price)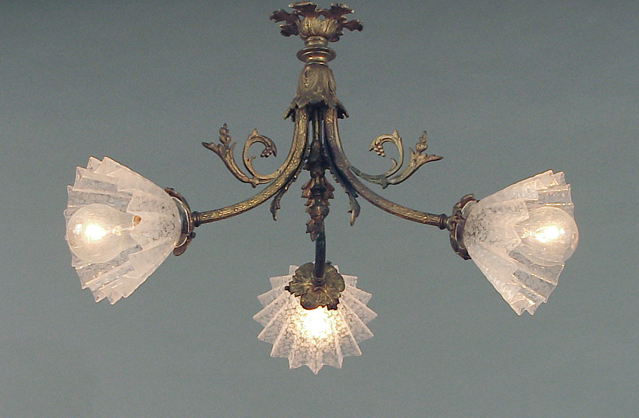 (57) American eggshell-thin shades with etched strawberries and leaves, from the same period as the French 3-light fixture (Ca. 1910), seem entirely happy together. It hangs down 15 inches and measures about 22 in diameter. (e-mail Jack for the price)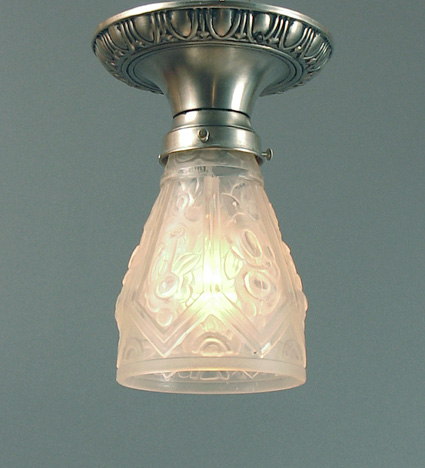 (59) One of a pair of American nickel-plated fitters (Ca. 1910) with particularly large French Art Deco shades of singular quality. Rewired, fit ted with standard-based porcelain sockets. About 10" long, 5" across. If you prefer to "buy American" I have a pair of Steuben verre de soie shades which, on these fitters, bring the house down! (e-mail Jack for the price or pictures with the Steuben shades)
(60) A hundred-year-old (at least!) French art glass bowl by Muller Freres (and so marked) with an unusual and attractive bulge on the bottom. Fitted with a standard-based American socket, rewired, capable of taking any wattage you can throw at it. About 26" long, 14" across. Perfect for a large entryway, dining room, the maid's room...(e-mail Jack for the price)
(62) Gilded brass and hand-blown signed Noverdy art glass shades will contribute more than a splash of color to your room! It hangs down about 17 inches and is about 22 in diameter. (e-mail Jack for the price)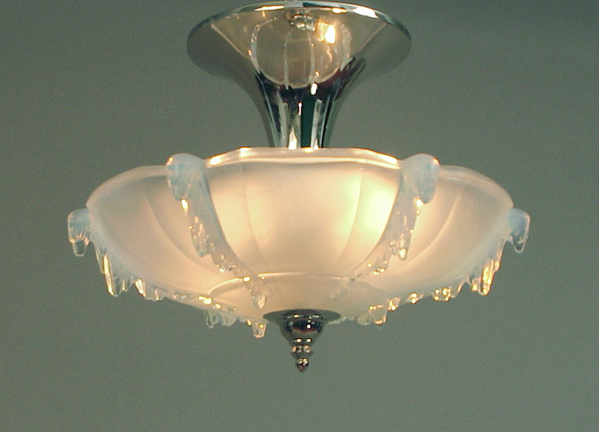 (65) A 1940s French opalescent glass fixture, rewired and fitted with American standard-based sockets (giving you the option of having at least 200 watts of light). Just refinished in "sparkling like a diamond" polished nickel. It hangs down about 11 inches and is 14 inches across, perfect for a small room, any room with a lower ceiling, an entryway. (e-mail Jack for the price)
(66) This one just "steals my heart," it's so blindingly beautiful! I'd say it's "transitional" rather than Art Nouveau, but why be picky?! It hangs down around 21 inches, with a diameter of about 18. The shades? Daum, of course! For the true aficionado...(e-mail Jack for the price)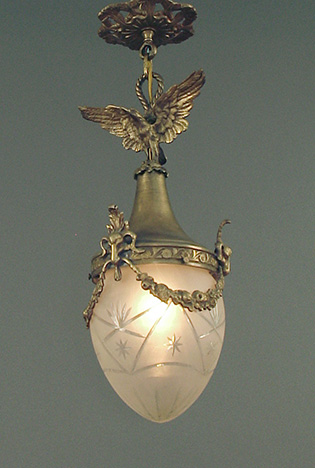 (67) What self-respecting francophile could resist a light with three goat heads and a spread-winged eagle?! With its original wheel-cut and frosted egg-shaped glass shade, not to mention a lovely antique patina on the solid brass fittings. Hanging 22 inches long as shown (chain can be added to make it longer, but it can't be shorter).
Sandra of West Pittston PA now basks in the light of this festival! SOLD!!
(68) Here's a true rarity -- a pink, eight-sided (well, four biggies and four minis) signed Degue bowl with wondrous Modernist design elements and its original pink-colored cordelier and rosettes. The canopy has a brushed nickel finish. Fitted with one American standard socket. Hanging about 22 inches long, 14 1/4 across the square sides. (e-mail Jack for the price)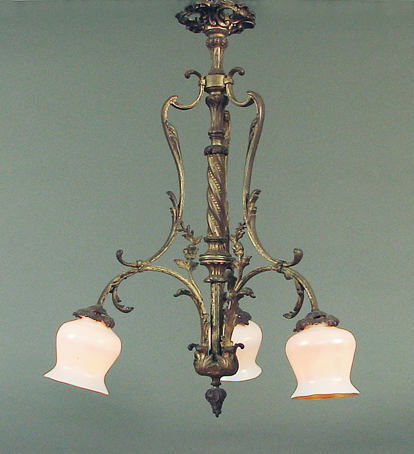 (69) Three splendid, hand-blown American signed Quezal "calcite" art glass shades with gold aurene interiors adorn this fanciful, ornate 1910-vintage French solid brass chandelier, its original gold finish now largely having succumbed to Father Time's forces (all the more glorious for the true antique fancier!). Rewired and fitted with American candelabra sockets. Hanging about 29 inches long, 22 across. (e-mail Jack for the price)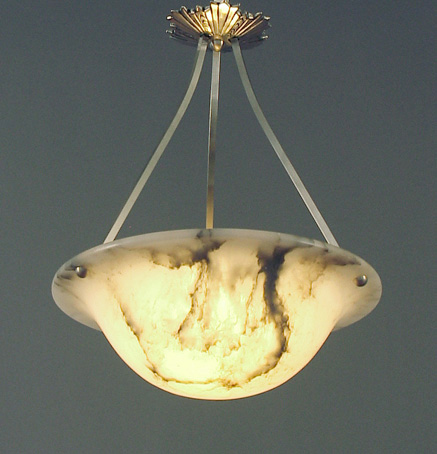 (70) Here's my latest creation -- a gloriously beautiful flaired alabaster bowl -- natural stone!! -- with subtle but eye-catching veining on this one side (the rest is fairly plain, although some of the stone has a quartz-like appearance). I've lovingly restored it to perfection (it's smoother than Baby's bottom) and added my special hanging apparatus (brushed nickel tubes and canopy). It hangs down about 17 inches and is 13 3/4 across, perfect for a "modern ceiling" (For $100 extra I'll create an apparatus than will hang it to your custom length, and you can choose whichever canopy you prefer from the first two pictures on this page.) One bulb in the middle gives it a nice uniform glow. Don't let the camera fool you, the stone is white with gray and black veining.
Up, up, and away (and thank you, UPS)... SOLD!!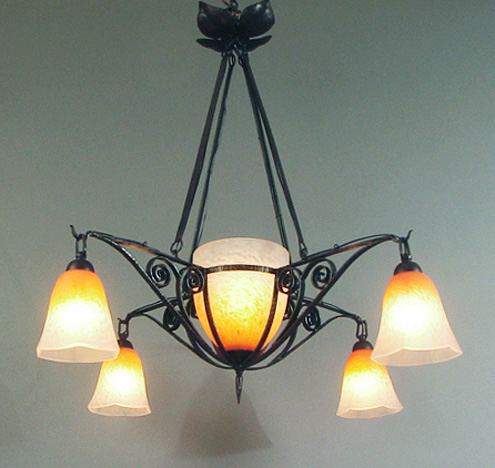 (71) This spare French wrought iron light showcases the gorgeous, hand-blown art glass (all signed Schneider) that adorns it, and wasn't that just the intention of the makers? Rewired, fitted with American candelabra sockets, ready to add rich ambience to your room... It measures 26 in diameter and hangs about 28 inches long. (e-mail Jack for the price)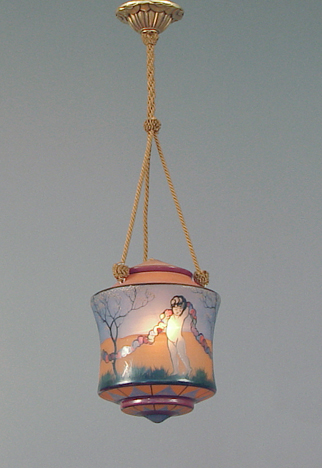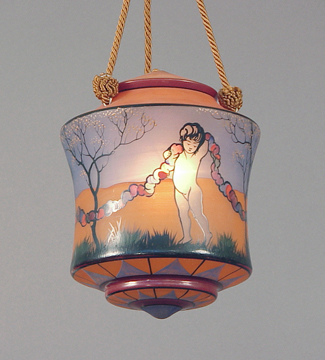 (72) Something special for that child of yours who feels so materially neglected? Or... for your inner child who was, in fact, neglected all those years? Take it back! This gem will delight its new owner morning, noon, and night, guaranteed! French, of course, but totally rewired and outfitted by The Master. It's 8 inches across and hangs down about 26. (e-mail Jack for the price)
(73) Probably Hettier-Vincent (an entirely superior French company), with truly "stunning" -- ouch, I'm stunned! -- design and weight, quality up the ying-yang. The solid brass metal has just been re-plated in a jewelry-like brushed nickel finish, and given my famous antique patina. It hangs down about 26 inches as shown and the glass is about 6" square. What a hunk, would you believe the glass weighs 6 pounds just by itself?!! (e-mail Jack for the price)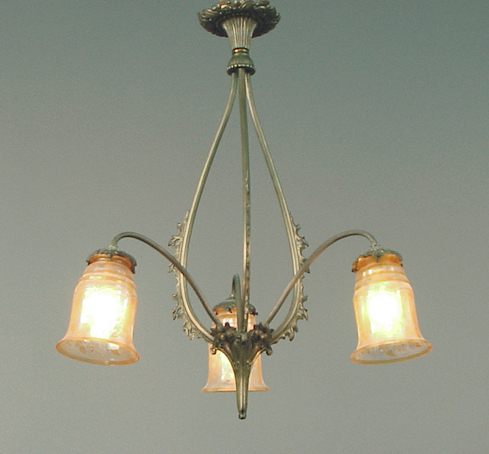 (74) Ultra-rare gold and iridescent shades lend such an air of elegance to this French 1910-ish solid brass wonder. The embellishments give the appearance of licking flames... YUM! It hangs down around 25 inches as you see it. Rewired and all that business, of course! (e-mail Jack for the price)
(75) For the Sophisticated Collector -- a (signed) Wrought Iron Piguet Chandelier!
Charles Piguet practiced his craft in Lyon, France, and was one of the most distinguished wrought iron artists/craftsmen there in the 1920s. In fact, his work appeared at the 1925 Paris Exhibition alongside that of the Parisien greats like Edgar Brandt and Paul Kiss. What a rarity to have this extraordinary (signed) piece, the only one I have had the privilege to garner from the Mother Lode, La Belle France. Do I really need to say anything about that INSANELY decorative "canopy?!" The entire affair goes up against the ceiling, for a visual treat sans pareille. And, not to worry, the fixture hangs quite straight, the crookedness here is just the result of my photography. Dimensions: 21 x 21 x 38. (e-mail Jack for the price)
(76) This is one of the more unusual pieces that I've hauled out of France, where the appreciation level is, well, not quite up to ours. But then, they have seen and lived with these things kicking around for decades, if not centuries, n'est-ce pas?! At any rate, this piece of molded glass, besides its highly unusual and bizarre color, features four owl-like creatures whose eyes cleverly serve double-duty as fastening/hanging devices. Zut alors! Wouldn't it be perfect in your library, or dungeon? I've fitted it with two American candelabra sockets, each capable of hosting a 60 watt bulb. Dimensions: 13 x 13 x 28.
And wouldn't you just know it, Christy took one look at this bizarre, zany bowl, went "totally nuts" and bought it! SOLD!!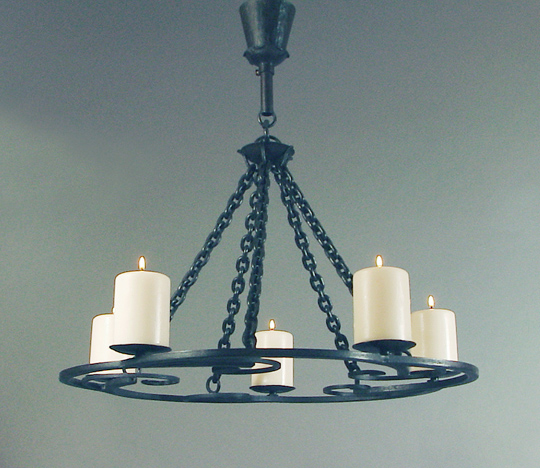 (77) So, who needs electricity, anyway (especially in the New Normal of power outages)?!! My instincts tell me it's French, but I bought it here in the U.S., so who really knows? One thing's for sure, the craftsmanship is impeccable, in the manner of French Art Deco hand-wrought iron. Candlelight dinners? Too much romance for you? Move over!! Of course it can be rewired, if you must... Meanwhile, enjoy the soft, delicate light of the five beeswax candles (or buy battery-powered "candles"). If you've toured through France lately, you'll recognize this as a fine example of what I'm now calling "chateau lighting!" It's about 24 inches across and hangs down 22. (e-mail Jack for the price)
(78) Your classic American Art Deco "skyscaper" glass lampshade, with gorgeous black decorations. It measures about 16 deep and 10 across. One tiny hole with no cracks emanating from it... basically immaterial (3/16" by 1/8"). A fabulous light source, wonderfully decorative. (e-mail Jack for the price)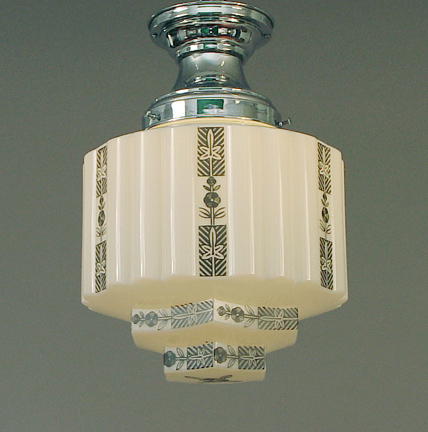 (80) Another zinger from the Beeler collection! It speaks for itself and is in perfect condition. It measures about 11 x 11 plus the fitter for a total of about 16 inches long. Best of all, there's a pair!! (e-mail Jack for the price)
(82) Offering an extremely special French Art Deco 4-light chandelier! May I count the ways? Well, your eyes are no doubt drawn to the extraordinarily beautifully designed and executed glass! High style, top-of-the-mark Art Deco! The just-plated (in polished nickel) metal is solid brass, and decorated with stylized flowers like no tomorrow. This one hangs down around 31 inches and has a diameter of about 22. (e-mail Jack for the price)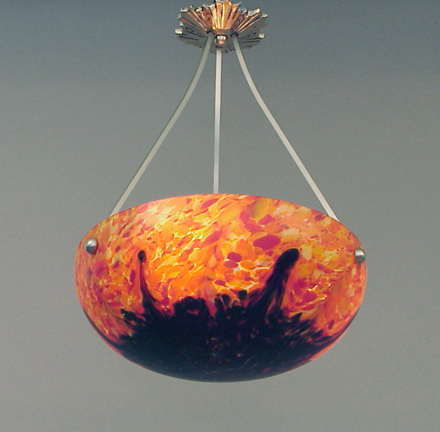 (83) How 'bout going out in a blaze of color and glory both!? This "end-of-day" glass bowl epitomizes the genre with its flippant splash of cobalt blue on the bottom! This one hangs down about 18 inches as shown, but the metalwork can be reconfigured to meet your length needs. It's about 14 inches across. Are you bold enough for this gem?! (e-mail Jack for the price)
(84) Presenting none other than the famed French "monte et baisse" (raise and lower) application. One grabs the ring (never a bad idea metaphorically) and pulls the light to the desired level. How handy! This concept (no doubt radical in its time) came into play perhaps around 1910 or earlier, and generally the examples you'll encounter look it! But when, may I ask, have you seen the monte et baisse done up in Art Deco clothing, as in all-aluminum, not to mention the sleek styling of the latter part of that Deco run, the Modernist esthetic? In conclusion, is this not "museum worthy?" As shown, it hangs down 19 inches overall; it can be drawn down to a total of about 38! (e-mail Jack for the price)
The Decorum Home Page