(A) "Less is more" wins the day once again, with this ultra-spare Moderne fixture. It hangs 12 1/2 inches long, and has a diameter of 22 inches. The glass, that rare acid-etched 30's glass, is slightly less than 1/4 inch thick. The chrome plated metal -- all solid brass -- is in fine condition (I had the bottom element re-chromed). It's not rewired yet (there are no lights on in this picture), but I can put in at least two sockets (as it's currently configured) or more, perhaps.. (e-mail Jack to start the conversation)
(B) Moving right along to a few short American fixtures, this classic wedding cake (upside-down, get it?!), nicely ribbed, stepped and decorated, "takes the cake." Oooooo, sorry! It's about 14 inches long and the metal fitter's been rechromed. (e-mail Jack to start the conversation)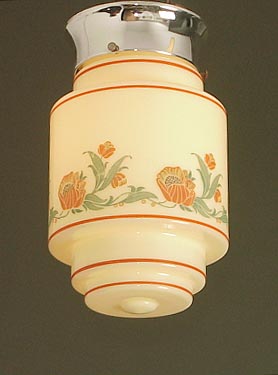 (C) I've got a pair of these cuties... the glass has a nice bit of opalescence to it, so the light is warm. They're about a foot long, six across. With a new chromed fitter. (e-mail Jack to start the conversation...
(D) The glass on this fixture is smoother than any baby's hinder, that much I'll venture. It is so beautifully made it will knock you back into last week once you have it in your hands. And the light that emanates from it is equally splendid -- I guess there's some vaguely opalescent quality to the glass; plus you'll get a largely shadowless light. Well, this is all my own exalted opinion, and I'm far from impartial! I put the mounting apparatus together out of new parts and had them plated in a brushed nickel. I'm not displeased with the results. The fixture hangs down exactly 17 inches from the ceiling. Prediction: you will adore having this in your life!!!
Ken and Jeff's lives are brighter, crisper, and closer to enlightenment, now that they're basking in this glow! SOLD!! And, if you're still reading and aren't too discouraged, I have three identical fixtures in the works, with shades that are about 9 or 10 inches across. I can fashion the rod to hang at any length, "Custom Jack" a votre service! (e-mail Jack to start the conversation...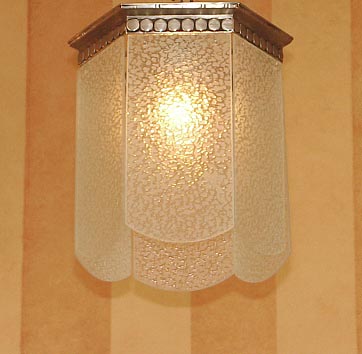 (E) Fancifully etched panels of glass hanging from a hexagonal brushed nickel French flush-mount fixture from around 1925. It's 10 1/2 inches top to bottom and 8 1/2 inches across at the top. (e-mail Jack to start the conversation)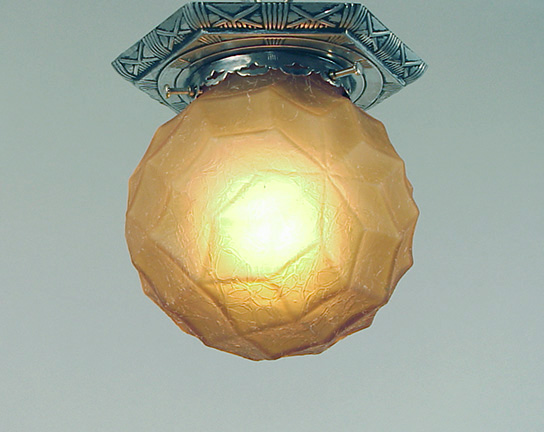 (F) Rather a nugget, no? An American 20's shade joins forces with a 20's French hanging apparatus, which I've had nickel-plated to look at spiffy as it does. It hangs about 6 inches long. (e-mail Jack to start the conversation)