After lo these many years of buying, restoring, and selling, I've come to grips with the concept that "there's only so much you can do in a day." So, having built up a considerable inventory of "I'll get to that tomorrow," I've decided to pass along many of my projects to you! Lucky You!!
Not to make this sound like I'm aiming to dump my projects in your lap, that isn't the seller/buyer relationship I'm looking for! So, I'm giving you the option of either buying the item just as it is, for the marked price, or enlisting my aid in however much restoration you want accomplished --for an increased, agreed-upon price, 'natch.
In truth, you'll find that many of these "projects" are but a mere pebble's throw away from completion, ready for your home in no time flat.
Such a deal, huh? You're in charge once again, Dear Client!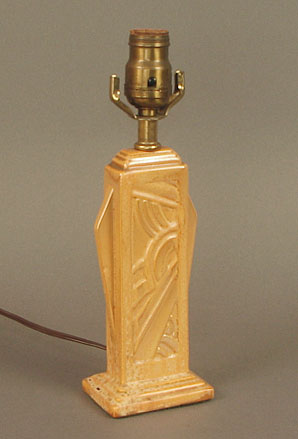 (A) A signed Cowan lamp base with dynamic Art Deco motifs. This lamp can take a clip-on shade or the harp can be completed to take a standard-affixing shade. It stands 8 1/2 inches to the top of the pottery. (e-mail Jack to start the conversation)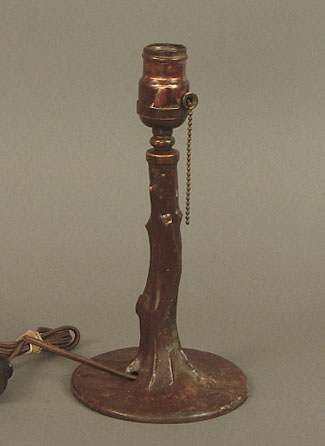 (B) An unsigned Handel lamp base (inspection suggests that it had a felt pad on the bottom which undoubtedly had the Handel label sewn to it). This lamp stands 10 1/2 inches high to the top of the socket. (e-mail Jack to start the conversation)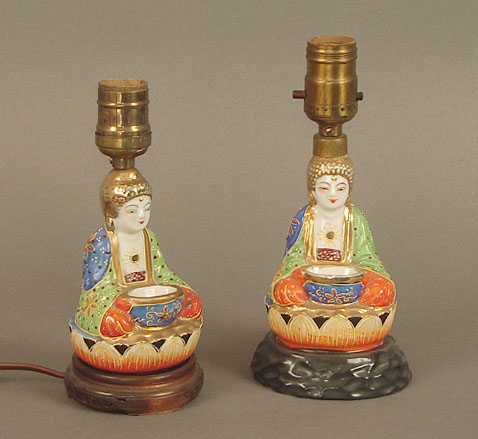 (C) Adorable Japanese ("Made in Japan") porcelain lamps. The one on the left has a wooden base, the one on the right is porcelain. The lamp on the left is 8 inches to the top of the socket and the other is 8 3/4 to the top of the socket. Clip-on shades would work nicely. Either is available separately. (e-mail Jack to start the conversation)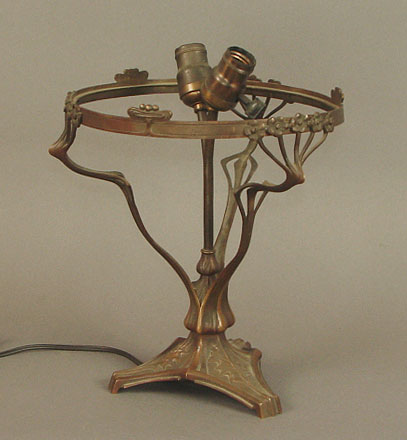 (D) A magnificent bronze lamp base from the Art Nouveau period. The patina's in superb condition. It's only lacking the shade (only!!) -- a 10-inch diameter ring holds that mythical shade. Do YOU have it??!
Gavin slid into home plate and scored! SOLD!!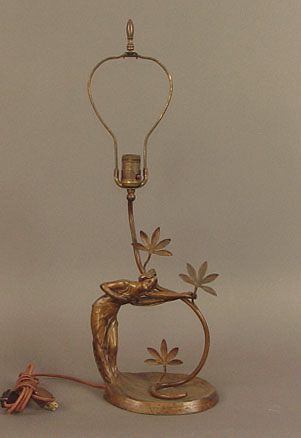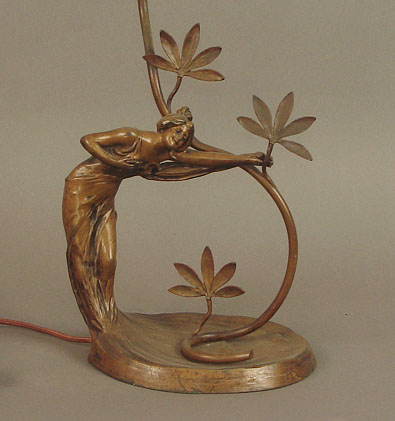 (E) This Nouveau lamp base is probably American as well. It's mostly white metal with a bronze patina, in super condition. 14 inches tall to the top of the socket, 23 to the finial. This looks fabulous with a mica shade, but I'm all out! (e-mail Jack to start the conversation)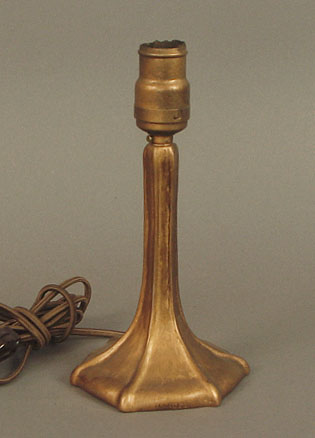 (F) Another Handel "boudoire" lamp base, this one signed (the name is molded into the base along the side). Some Sunday Decoratrix has added a lovely gold wash to this... 9 1/2 tall to the top of the socket. (e-mail Jack to start the conversation)
(G) Ah, a lovely small Chinese "mirror black" porcelain (probably 19th Century, possibly early 20th) lamp base on its original carved wooden stand; it's 12" to the top of the socket. (e-mail Jack to start the conversation)
(H) You know from a mile away that this is French! It's silver-plated, on a thick marble base. It just needs wiring and a polish (don't fret, it's done!). Those are wood rings under the main light-holder... they need sprucing up (smile, done!). This one's 12 3/4 inches tall. (e-mail Jack to start the conversation)
(I) Another French delight, this one a plastic which doubtless was totally avant-garde in its time. Brilliant design! I can put an American socket on it, not to worry! It's tiny, just 5 inches tall! (e-mail Jack to start the conversation)
(J) Another French plastic lamp, this one meant to evoke the look of malachite. And it succeeds, no? I can put an American socket on it! It's cute and little: 5 inches tall! (e-mail Jack to start the conversation)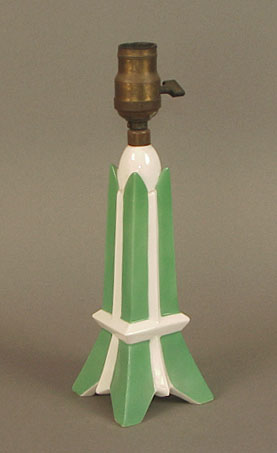 (K) A mint-condition German lamp charmingly marked "Bavaria." All it needs is a shade (use a clip-on or put on a harp). It stands 12" high to the top of the socket. (e-mail Jack to start the conversation)