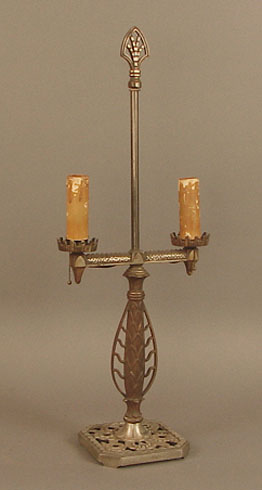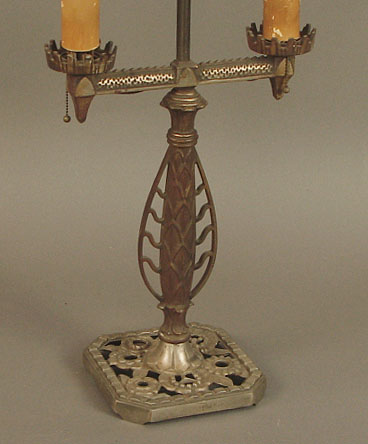 (A) This extraordinary lamp base is doubtless the product of the same company as (K), below. The highest degree of design excellence and craftsmanship went into creating this American Art Deco beauty, which to the top of the finial stands 28 inches high. Fashioned to have the appearance of hand-wrought iron, but manufactured to take advantage of mass production techniques. I'm out there looking for a great mice shade -- but you might find it before I do! A paper or fabric shade wouldn't exactly be the end of the world, either! Best news of all, I have the matching floor lamp!! Check it out on this page, just refinished in brushed nickel.
Both the table lamp and the floor lamp are GONE! SOLD!!
(B) Here's another splendid American Art Deco classic, this desk lamp from the more Modernist end of the spectrum. The chrome's in pretty good condition -- not flawless -- but it's got a solid brass foundation throughout, so it's a very high quality of plating. The lamp stands 14 1/2 inches high to the top of the finial. The loaf shade swivels so that you can adjust the light out of your eyes and onto the page where it belongs.
Another goner! SOLD!!
(C) This lamp -- all solid brass, with an iron weight under the base for stability -- has a swiveling ashtray, a cute touch for the beleagured accountant who's chain-smoking his way to his deadline. We hope you'll have a more relaxed time of it! This has many of the earmarks of a lamp by Bradley and Hubbard -- all brass, superior castings and finish work, smart design, substantial! The shade swivels about as well. This lamp stands 19 inches high, an excellent height for a desk lamp.
Too cool for school... and SOLD!!
(D) Yipee, a dancing goat! Is he about to transform into a satyr? He's cast of solid bronze with a lovely verdigris patina, and stands 11 1/2 inches tall to the top of the socket. (e-mail Jack to start the conversation)
(E) You Survivalists will enjoy this one, a serious bullet lamp. I imagine the ashtray is made from a shell casing... or at least that's the idea. All brass, heavy, and ready for your obnoxious cigar ashes. Or bobby pins. Or body pins! It's 11 1/2 inches to the top of the socket.
KA-BOOM! SOLD!!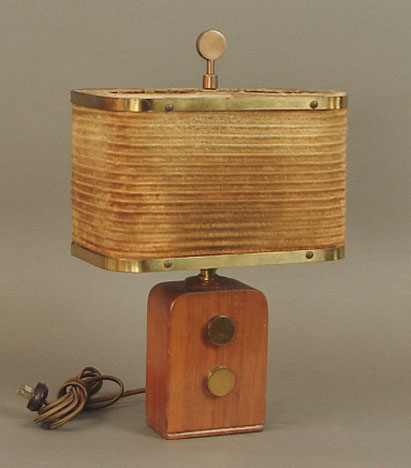 (F) What a slick Modernist table lamp! Wood with brass embellishments, and that's solid brass around the top and bottom of the shade. Which is shot, by the way! You could still use it, but wouldn't it look great with new material? Your choice. The finial is worth the price of admission here, no?
SOLD all the way to the bank!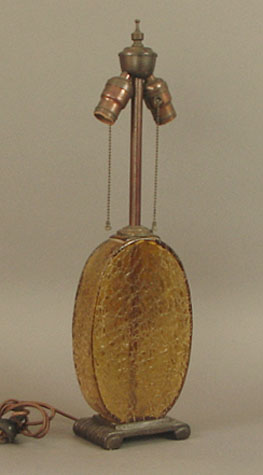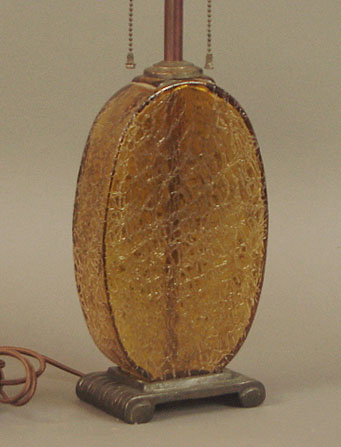 (G) This Chinoiserie-designed American lamp base has been lingering in my back room for quite some time as I've waited for the original mica shade, an upside-down "U" shape, to materialize. As those of you who have seen it know, it's a show-stopper! Alas, no mica shade! Not to say that another shade wouldn't work nicely. It's 23 inches to the top of the finial, 11 1/2 to the top of the glass base.
Gone, gone, sing along... SOLD!!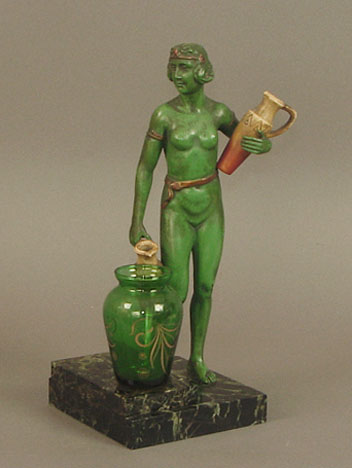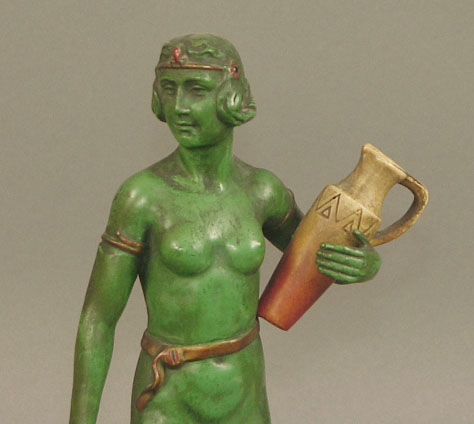 (H) One of Cleopatra's handmaidens? Everyone needs a handmaiden, no? She's made of spelter (white metal). I've wondered whether the glass urn on the marble is original to the piece...? It was there when I bought it, and the size is perfect. It's drilled on the bottom and a small socket will go in it (yes, I can do that for the price), so it has all the suggestion of being original. There's a small hole in the back of the marble for a lamp cord, so there's no doubt that this was intended as a lamp from Day One. It measures 13 inches high.
What maiden doesn't go to the highest bidder?! SOLD!!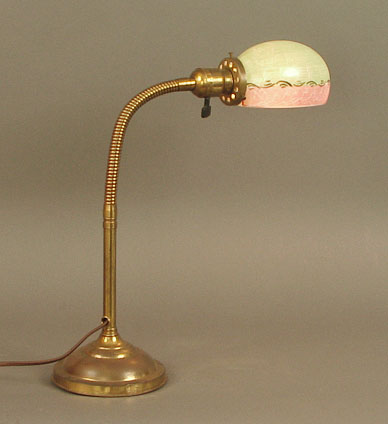 (I) This Faries gooseneck lamp twists and bends in any direction, the ultimate in getting the light just where you want it! The painted shade is "quaint," eh? As shown it's about 17 inches high. The entire lamp is made of solid brass (and signed); there's an iron weight below the brass shell on the base.
A gorgeous and practical SOLD!!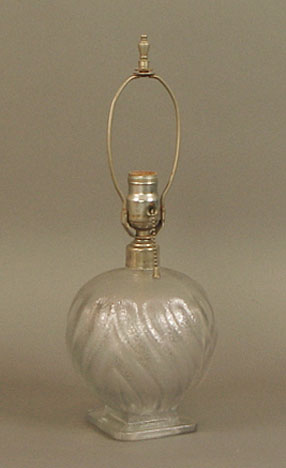 (J) Such high quality glass typically would be French, but American glass makers weren't exactly slouches. French or American, it's got a wonderful free-form acid-etched finish and lots of "heft." The nickel-plated fittings are obviously all original. All together it has a height of 16 1/2 inches to the top of the finial, 7 to the top of the glass.
WISH I still had it, I'll confess! SOLD!!
(K) Some Sunday decorator attacked this with a can of gold paint. How low-class can you get!!!? On the other hand, a little Jasco and a fresh brush will take that all away and you'll be left with a very special American Art Deco lamp. Originally this base had a nickel finish, with some brass and copper highlights (they just loved to mix their metal finishes during The Period). I'll bet the proverbial dollars to doughnuts that the finish is intact under this veil of gold. You can see another of these lamps, with a fabulous mica shade, under my "American Art Deco Lighting" section -- table and desk lamps. It has its original patina intact. It stands 19 1/2 tall to the top of the finial.
A pair, no less, and SOLD!!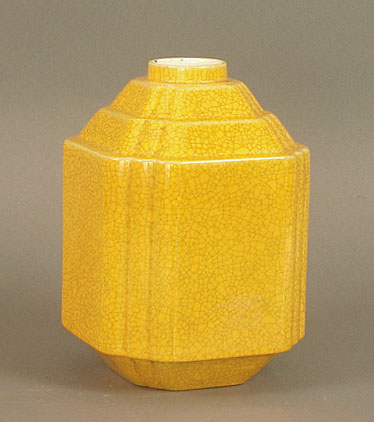 (L) Decorators, man your ships! This baby is (signed) by the Boch company of Belgium, of course. It was originally intended as a lamp base, as there is a cord-exit hole about 3/4 inch up from the bottom. It measures 9 1/2 inches tall and is about 7 across.
Haven't seen it for a while, so it must be SOLD!!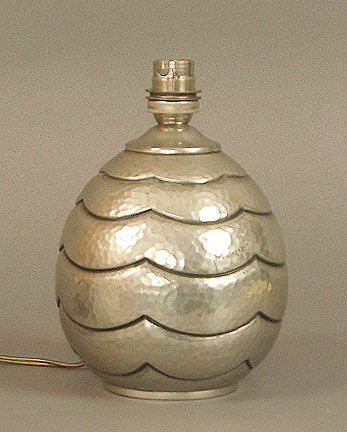 (M) Delavan was to my way of thinking the foremost French etain (pewter) artist. One breath-taking design after another, impeccable execution. Many of his works are hand-hammered, and appear to shimmer like the Pacific Ocean as seen from a tall oceanside hill, at 3 in the afternoon. This (signed) table lamp's about 6 1/4 inches to the top of the base (not including the socket). I can easily fit it with an American socket and a harp, if you want to use it with a fabric or paper shade.
Delavan's work is far too sweet to hang around...SOLD!!