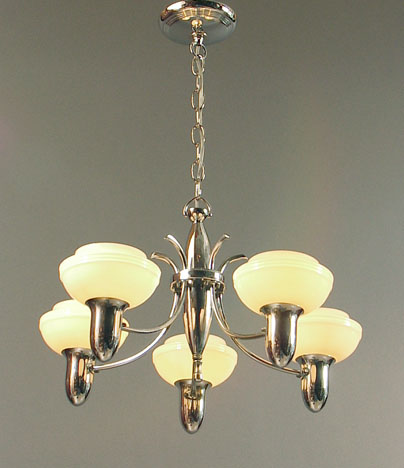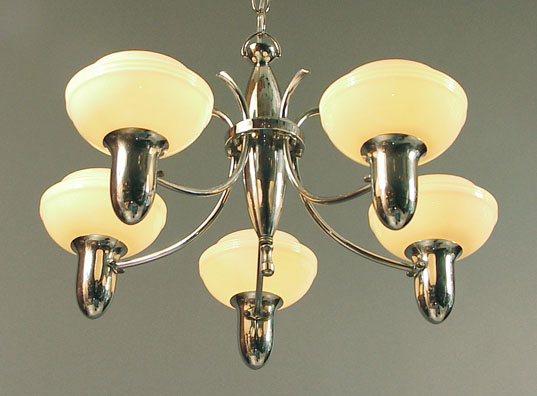 (A) Here's a super-high-quality, solid brass 5-light with its original chrome plating in excellent condition. The shades compliment the metal beautifully and glow like distant planets at night. At 60 watts per arm, a total of 300 watts gives plenty of light. The switch on the bottom works, and as much as 8 inches of chain can be removed for a shorter hanging distance (it's 24 1/2 long as shown, 22 across).
I was keeping this for a project didn't materialize, so now it's available! Don't be bashful, come and get it! (e-mail Jack to start the conversation)
(B) With its slightly less than perfect condition (chips to the paint, some very small rust spots, that sort of thing), this baby fits right into "shabby chic" territory, a place I'd never contemplated finding myself. But, it's a great light, capable of cranking out 500 watts, and the glass, with its fetching water fountain motif, is impeccible. So, ya gots yer practical, and ya gots yer look! BUY IT!!
And guess what, somebody did! SOLD!!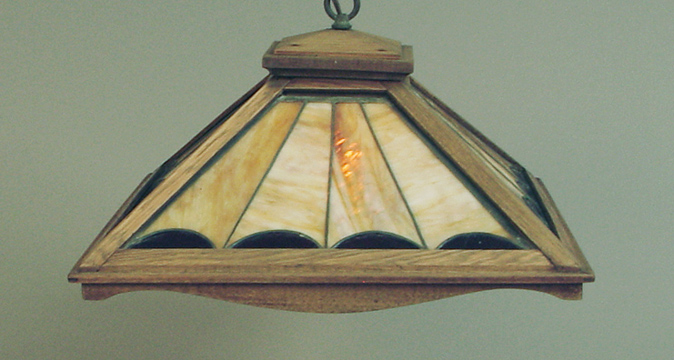 (C) Got geometry?! Well, geometry Art Deco does not make, huh? This shade is clearly earlier, say around 1910, and being of oak and stained glass, it qualifies as "Mission" or "Arts & Crafts." Measuring about 17 inches across, it's got scale, and it can be used as a hanging fixture, a table lamp shade, or even a flush mount fixture, if turned upside down and (easily) fastened to the ceiling. Some very minor issues, small cracks in the glass. (e-mail Jack to start the conversation)
The Decorum Home Page