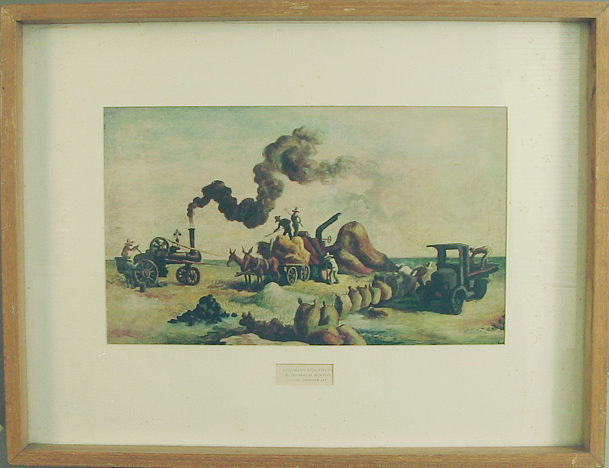 (A) Besides apple pie, what's more American than the art of Thomas Hart Benton? No, Dear Reader, this isn't the original, it's a mere (but "period") print of... Louisiana Rice Fields -- and in its original frame, too! Overall measurements: 28 by 21 1/2; the art itself, 18 1/2 by 11. (e-mail Jack for a price)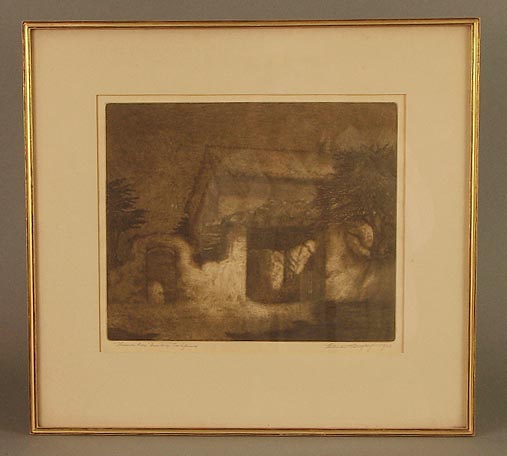 (B) Signed on the right side by the artist Ferdinand Burgdorff (1883-1975); on the left, "'Sherman Rose, Monterey California.'" Yes, that's a reflection in the glass of my yellow shirt and khaki pants; don't worry, the etching is original and mint (even in its unopened original frame). I'll leave it up to you to research the Sherman Rose story, but here's a hint: Google it and prepare for a fabulous read!! The image itself measures 11 3/4 by 9 3/4, and in "real life" doesn't suffer the reflections you see in these photos!!
Awww...all gone to a "very interested party" in Santa Rosa!! SOLD!!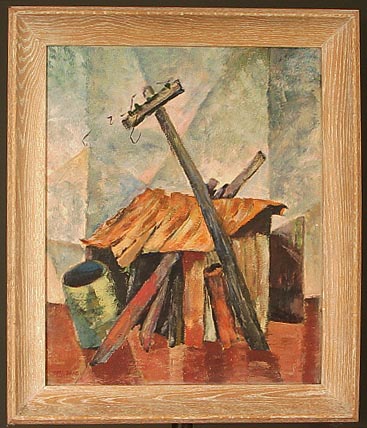 (C) A vibrant, colorful cubist-inspired oil painting on canvas entitled "Workman's Shack" (written in pencil on verso) by Opal Danz (signed lower left), measuring about 26 1/2 high, 20 wide (original limed oak frame included in the measurement, which is about 2 1/4 wide). (e-mail Jack for a price)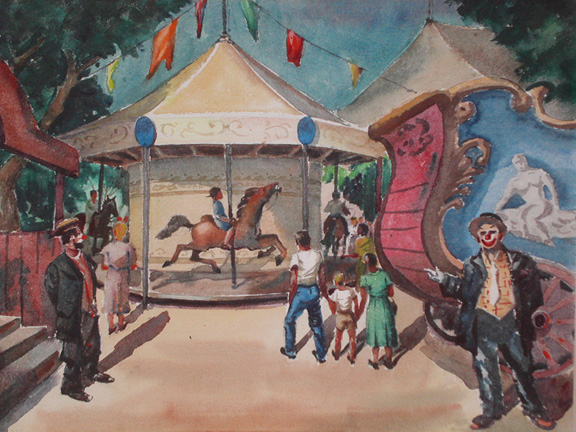 (D) A fine watercolor, with subtle shading and coloration, powerful perspective. It's 15 x 20, signed in the lower right: C. Clayton (and on the back is the inscription: To Dr. Johnson from Candi Clayton). The age of the paper suggests that it's at least 40 or 50 years old.
This engaging watercolor: SOLD!!
(E) Arguably Lyman Byxbe's best known and most coveted etching (and how easily that claim is made!) -- Hallettes Peak. Measurements: 14 3/4 by 13 3/4; the art itself, 6 3/4 by 5 1/4. (e-mail Jack for a price)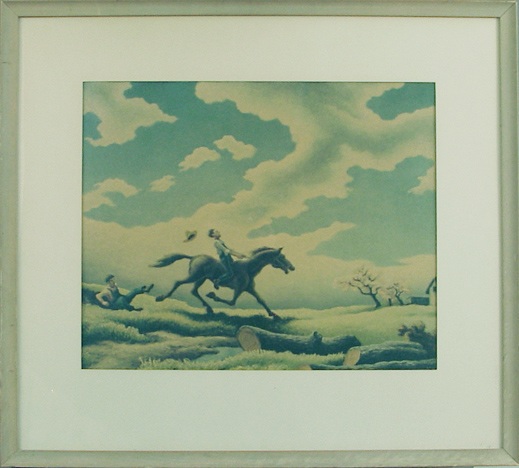 (F) Here's another zinger by one of my favorite American artists, Thomas Hart Benton. This period print is entitled "Spring Training." Ha-ha, how clever... Measurements: 30 1/2 by 27 1/2 including the frame; image, 21 by 17. (e-mail Jack for a price)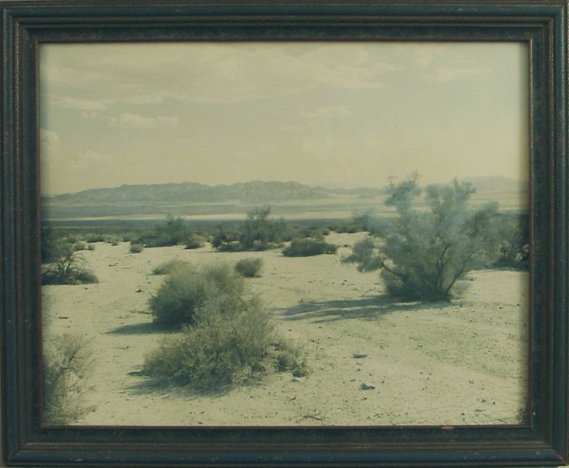 (G) For our desert fans! Really, how much better does it get? Stephen Willard's (signed and dated 1922) photographic, hand-colored print, "The White Noon," measures 22 by 18 inches, including its original frame. (e-mail Jack for a price)
(H) American artist Glenn Wheete's "Ploughing and Planting -- Mexico" (signed and dated 1936, and numbered 2/23) measures 14 5/8 by 17 3/8 with the frame; the artwork is 8 1/4 by 10 1/4.
Love at first sight by Jane -- SOLD!!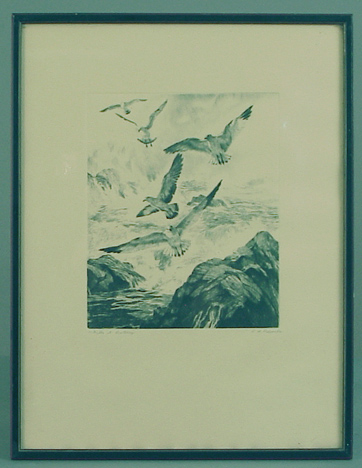 (I) R. H. Palenske's etching "Gulls at Monterey," a classic piece of period California art, measures 12 1/2 by 16 1/4; the artwork measures 7 by 8 1/2. (e-mail Jack for a price)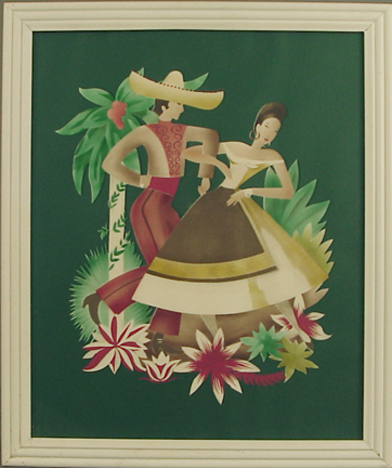 (J) Fun, colorful enough for you? Signed BERNARD, a name you Deco fanciers surely know. Measurements: 20 1/2 by 24 1/2. (e-mail Jack for a price)
(L) This exquisitely rendered representation of what so many love about California is by Marion Kavanagh Wachtel, from 1917 no less. Hmmm... that would make it exactly 100 years old -- yippee, a real antique! It's entitled "The Oaks 'The Santa Paula valley with the last touch of sun in the mountains.'" Is that old-timey enough for you? And cute?!! It measures 16 1/2 by 11 1/2 and, as you can see, is in its original frame. (e-mail Jack for a price)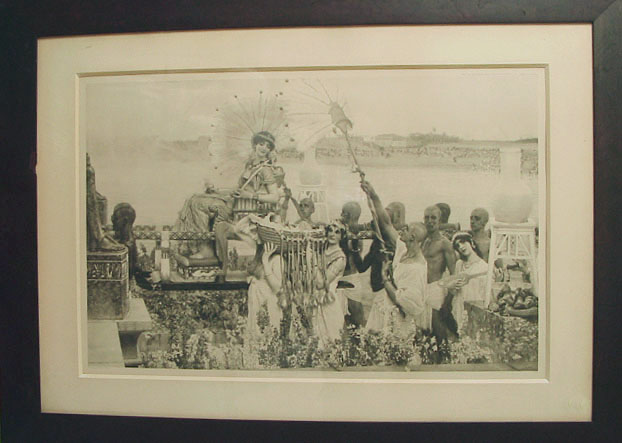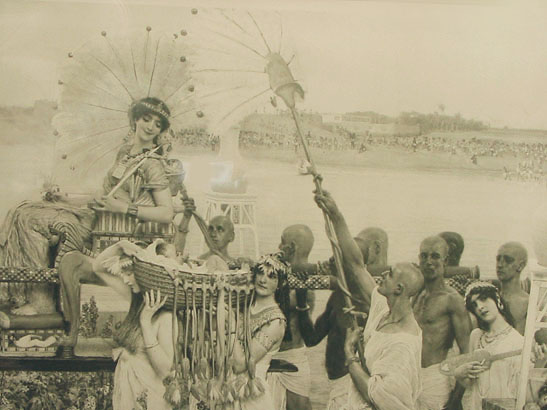 (N) This particular photograveur of that famous moment when Moses was extracted from the bullrushes is copyrighted 1905, reproduced with the permission of the then-owner Sir John Aird. It's the work of the famous painter Alma Tadema. In its original dark wood (walnut?) frame, the art itself measures about 20 by 30 inches. (e-mail Jack for a price)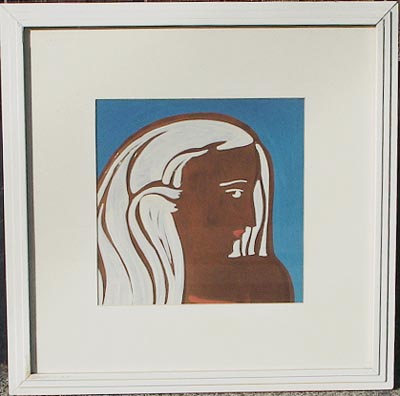 (O) Here's a wonderful pair of original works, probably by an American artist, surely from the Art Deco period, in their original stepped, painted wood frames. They're copper plates which have been scored and painted. Including the frames, they measure about 17 1/2 by 17 1/2.
Jim and Flynette lept at these beauties, so now they're... SOLD!!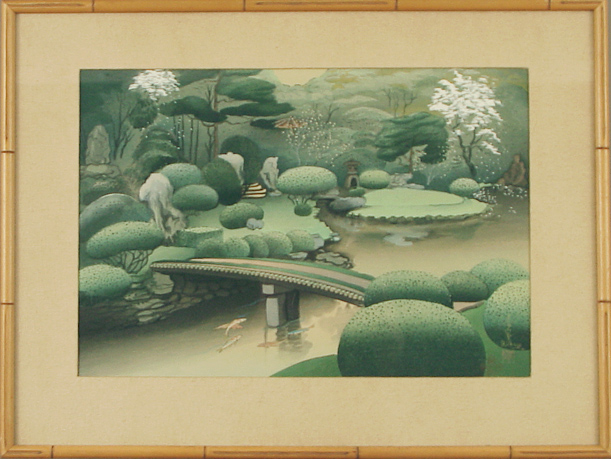 (P) Two of Bafuku Ohno's (1888-1976) compelling, decorative mid-century landscape prints (1951), these entitled "Spring" and "Autumn," printed by Shinagawa and in their original frames, with their original mats. Measurements: about 20 1/2 wide by 15 3/4 high. Image size: about 15 by 10 1/2. (e-mail Jack for a price)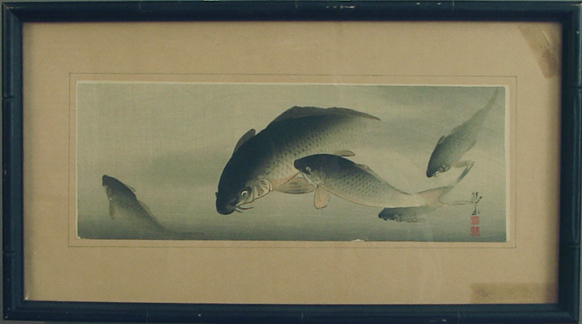 (Q) How Japanese (and how exquisite), both subject and treatment! The image is pasted onto the background paper, so it really just needs matting. Measurements: 20 by 11 inches overall, the image 15 by 5 3/8. (e-mail Jack for a price)
(R) Roubille's transitional drum-wielding clown lends a mischievous air in this small but powerfully decorative lithograph. It measures 11 3/8 by 15 3/4, including the frame; the art measures 4 1/2 by 9 3/4. (e-mail Jack for a price)