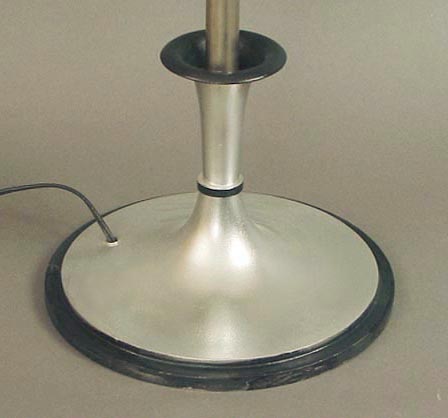 (A) Some clown spray-painted this exemplary American torchiere with silver paint. I removed the paint on the stem and it's in perfect condition! Go figure. Well, maybe that has something to do with the fact that the stem's solid brass with a brushed nickel finish. Anyhoo, our Sunday painter did an excellent job and the paint's not all that objectionable. Or, if you prefer otherwise, you can just take a moment or three and remove the rest of the paint. Or, you could pay me to do it (that will be expensive)! The top part of the shade, the larger element, is not attached to the lower portion as it originally was (three very small tabs which were soldered inside). However, that is totally insignificant, functionally, as the shade centers and sits level and stays that way (unless the cat takes a liking to it and rubs up against it). It could easily be resoldered if you're one of those folks who likes his antiques perfect (or, for that matter, just epoxied into place). The shade is spun steel, and it probably has the same finish -- brushed nickel -- as the stem. There's no evidence of rust or and denting under the silver paint. The base is solid white metal. Are you wondering why I'm going on and on about this?! Well, the lamp is signed The Miller Company. Those of you "in the know" recognize this name as well up in the hierarchy of American lighting companies. Now perhaps you get why it's such a successful design! To its final credit, it stands about 66 inches tall, which is tall (not for French torchieres, but for American, quite tall. This leads one to wonder yet again about our forebearers, huh?). All in all, a striking item!
That a lot of huffin' and puffin' for something that's SOLD!!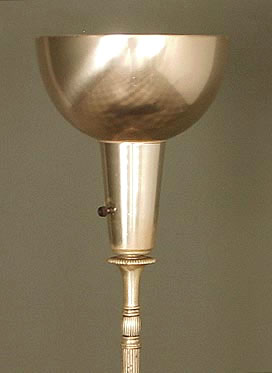 (B) A silver-plated torchiere from the 30's, surely more classical than Art Deco (after all, I found it in Philadelphia, bastion of conservatism that it is). It takes a 300-watt mogul-based bulb, and the three-way switch allows 100-200-300 intervals. The plated silver finish has its original lacquer and that is severely "antiqued" at this point! It stands 63 inches tall overall.
SOLD!!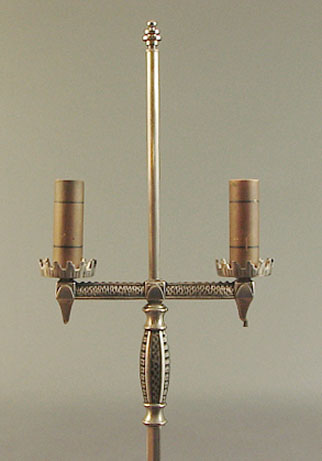 (C) A freshly replated (brushed nickel) stylish Art Deco two-light, an American design that leaps away from the pack!
Now ensconced in my own precious living room: "SOLD!!"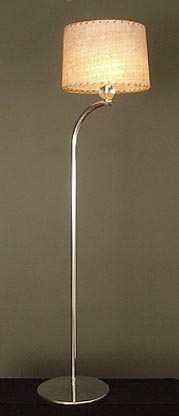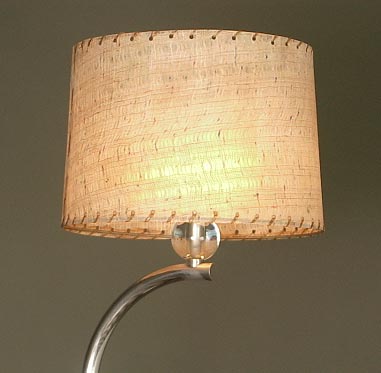 (D) A Bauhaus-inspired floor lamp 57 inches tall with a fiberglass 40's or 50's shade and a glass ball beneath it. The base has been rechromed, the rest of the lamp is in fine condition.
GONE!!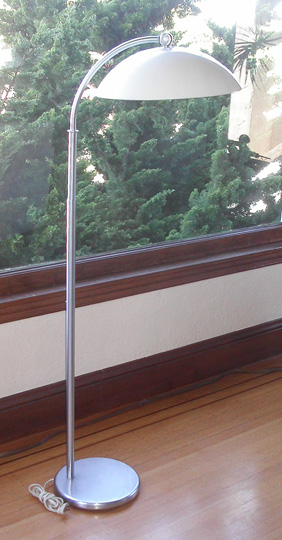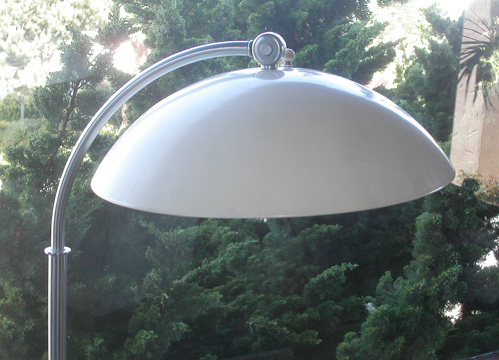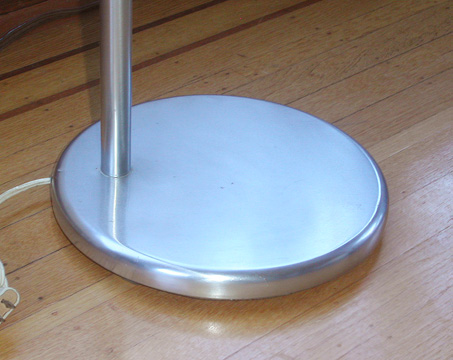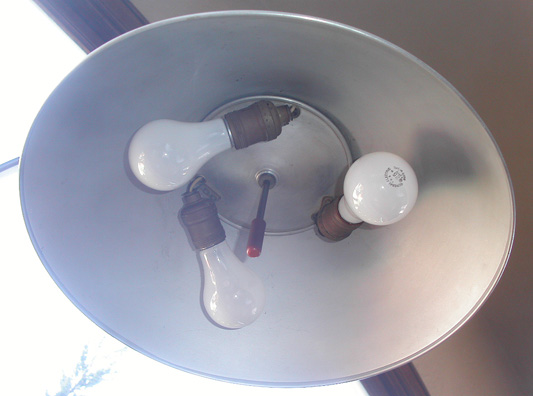 (E) And just how many of these Walter Von Nessen telescoping floor lamps have you seen in your short life? None!? Rarer than the proverbial hen's tooth, and even rarer in this near-mint, museum-worthy condition!! 55 inches of Modernist beauty! Even the cord and plug are original and having that "only driven to church on Sundays" look about them. The brushed nickel finish is exquisite, and the creme-colored paint on the shade immaculate!! That's a three way switch on top!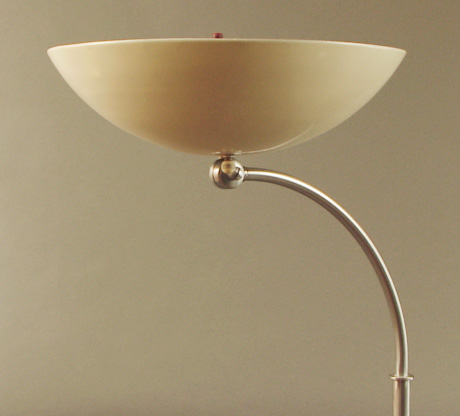 And, for the coup de grace: the shade swivels 180 degrees to rest pointing open toward the ceiling, turning the lamp into an ambient-light-giving torchiere!! Good old Walter, he was a detail-guy!
SOLD!!

(F) Russell Wright, of course...
And correspondingly SOLD, of course!!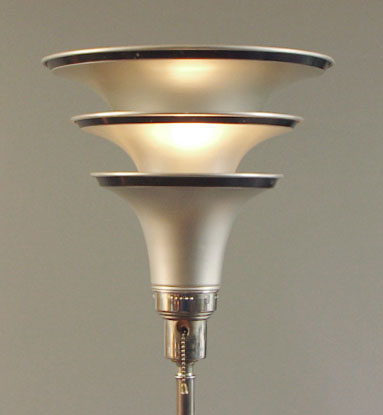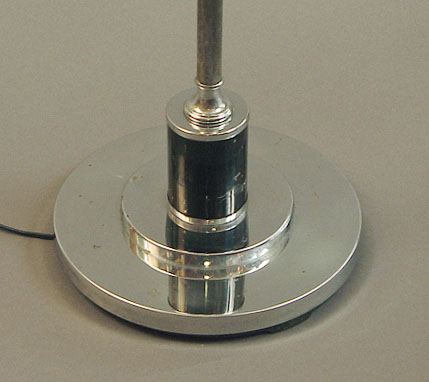 (G) American torchiere.
Several admirers were buzzing around this torchiere, but DAWN didn't hesitate, did she?! SOLD!!!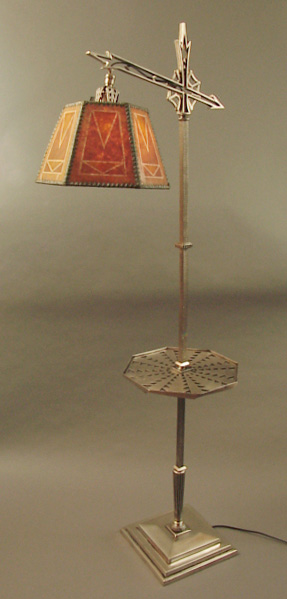 (H) As you know, this is that "one in a thousand" KILLER American Art Deco floor lamp, which I've just replated in brushed nickel. The metal's a combination of solid brass (the table, the bridge arm, other elements), white metal (the base and a few other elements). That mica shade, despite a couple of bumps it's gotten along the way, certainly is a keeper!
This was one fine specimen, no? SOLD!!