(B) I give up! Is it Gilbert Rohde, or Mrs. Rohde?! Some say "oui," some say "non." Whatever it is, it's freaking gorgeous, a stellar manifestation of American Moderne design. It's hard to see in this photo, but there's a clamshell chip at 6:33 and a smaller chip at 1:06.
This was a fab clock -- still is -- only not in MY hands!! SOLD!!
(C) All drama, especially when the light's on at night (the bulb is in the base and the light manifests throughout but particularly along the edges of the glass). By "Mastercrafter," not an inappropriate moniker! It stands about 9 inches tall.
WHO wouldn't want to check the time on this marvel? SOLD!!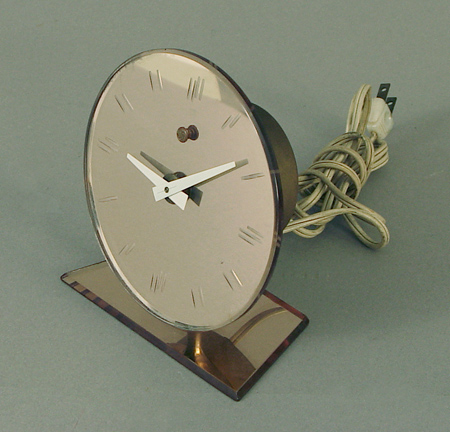 (D) This super-rare item is in excellent condition, save a bit of compromise to the mirror backing around the edges. Hello, you want your antiques "perfect," just like you!? Yes, this is a "perfection-free zone!" It runs nicely, and the spare look is sooo Modernist!
Michael zoomed in on this beauty; the check's in the mail! SOLD!!
(E) A magnificent example of American Modernist design and execution, by the Chrystal Vue Clock Company. Sublime, no? It stands around 5 inches high. The only caveat: it needs cleaning and adjusting! (It does work, but sporatically.)
FAR, far too sophisticated for my humble collection, but not Michael's! SOLD!!
(F) Appropriately named "Zenith," this stellar example of French Art Deco design and use of rich materials (silver-plated brass and this crazily gorgeous onyx) delights the eye. Like many old clocks from this period, its functioning is..."casual," in spite of its having been professionally cleaned and adjusted. Eight inches high, 10 1/2 wide.
Michael knows "the right stuff" when he sees it! SOLD!!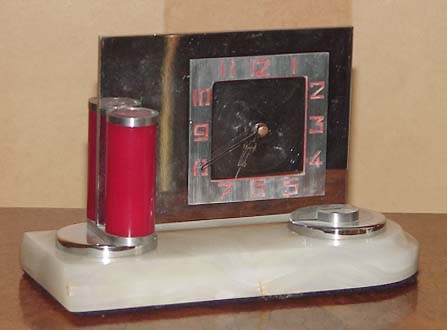 (G) A wind-up, this asymmetrical sculpture from Japan. On an onyx base with red plastic of some sort. It measures 7 3/8 inches wide, 4 3/4 high. (e-mail Jack for a price)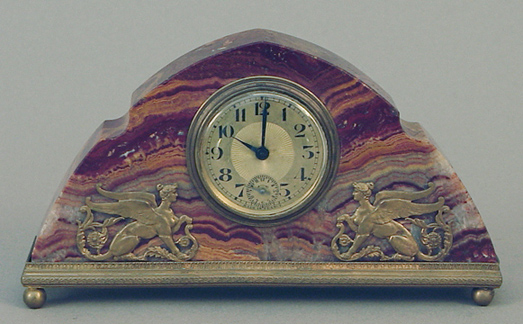 (H) Mythic figurines adorn this exquisite French marble clock. The glass has been replaced with plastic, for an almost perfect fit, and it's been professionally cleaned and runs quite nicely, keeping near-perfect time (it's a one-day, not eight). It has a functioning alarm, too, as if you'd want to use it! Seven and three quarters wide, 4 1/4 high... sweet!! (e-mail Jack for a price)