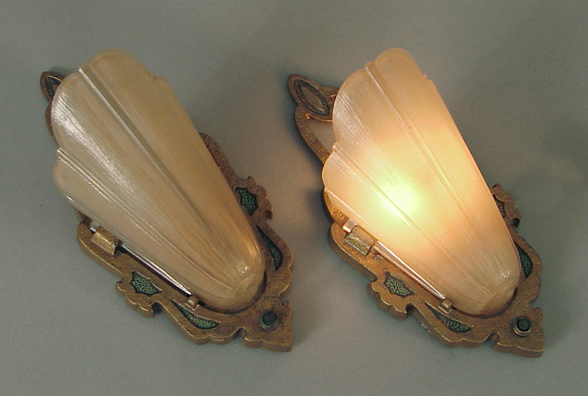 (A) Here's a terrific pair of sconces in the Mission, Arts & Crafts style, but from the Art Deco period! Does that make them "transitional?" They're signed MEP (Markel Electrical Products) and are in original near-mint condition, in working order, with their original porcelain/copper sockets. The wiring's original but in excellent and working order. Plenty of room inside the glass for a 100-watt bulb. Note the lovely colors and texture on the metal, as well as the shades: "a cut above!" They measure about 11 inches high, 4 1/2 wide.
Just shipped out... to Wyoming! Yippee, cowgirl Margaret! SOLD!!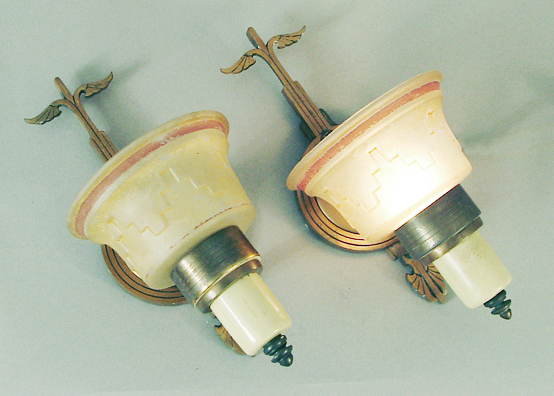 (B) Offering a cool pair of Modernist/Deco bronze sconces from the 30s or 40s These are particularily handsome, as the Southwest-styled shades are warm and inviting and offer a nice contrast to the spareness of the Modernist design of the backs. They're about 12 1/2 inches high and 4 1/4 wide. I'd never sell these if I had even a prayer of using them, but I'm "all sconced out!" (e-mail Jack to start the conversation)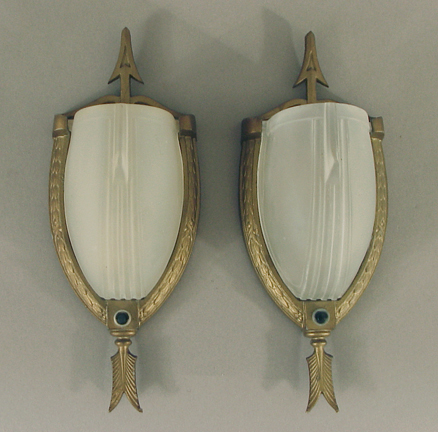 (C) Decorator's delight!! This pair of sconces is 12 inches top to bottom and 4 3/4 across, and that will cover a standard-sized electrical box. Use any size incandescent bulb you want (standard base, standard 100-watt size), or a compact fluorescent bulb. Lots of room inside the shades, in other words. The wiring is original but in excellent working order as are the push-button switches. Ready to hang, should take you about five minutes each. (e-mail Jack to start the conversation)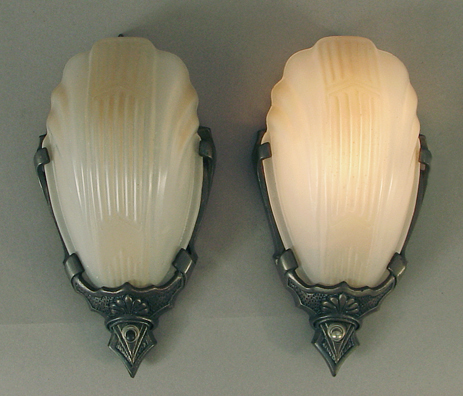 (D) Here's a good pair of (signed) Markel sconces with their original shades in a two-tone painted finish. Most Markel shades had this type of finish, but of course it's ultra-rare to find shades whose paint is in this excellent condition. The backs are cast iron with a fresh plated brass finish that's dulled down to a rich bronzy look. Rewired and ready to hang! They measure about 10 1/2 inches high by 5 1/2 wide. Up on the wall, these hardly shout their presence. You can outfit them with 100-watt bulbs; they're a great light source!
Rod bought these for his pad in Grand Rapids!! SOLD!!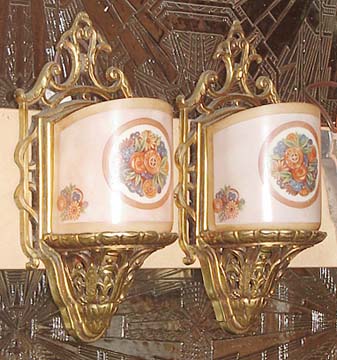 (E) Plated white metal which looks for all the world like gold! These could have started life in the lounge of some "quaint" Midwest theater, for all I know! The painted shades cast a warm, inviting glow when lit. They're about 10 1/2 inches high by 5 wide. (e-mail Jack to start the conversation)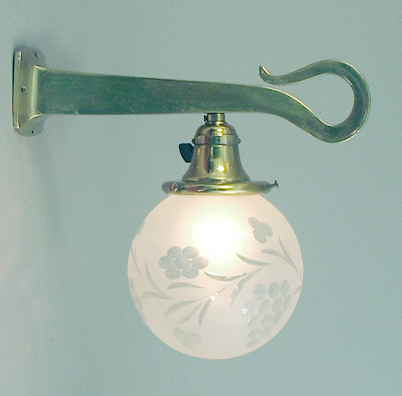 (F) This single sconce is probably from around 1910 (or earlier). It's solid brass and.. do you like that Nouveau-inspired whiplash? The socket cover and shade holder are so 1910! It projects about 11 inches from the wall. Way cool, no? (e-mail Jack to start the conversation)
back to The Decorum Menu....
The Decorum Home Page