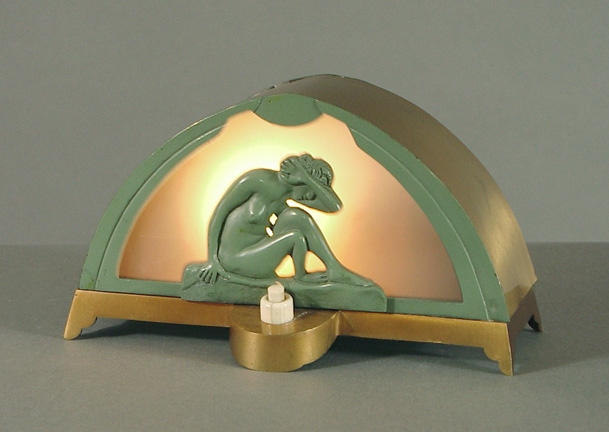 (A) Here's something truly unique! Whereas most Art Deco-era nude or scantily clad ladies are busy prancing or stretching, this one's, well, withdrawn and possibly even self-conscious or embarrassed. What a switch! It's significant and refreshing that one artist chose to express the other side of the "happy dancer" cliché.
There's a combination of metals here -- solid brass and spelter, or "white metal." Have no fears, this won't disintegrate like some of its American lady-lamp cousins; the French made spelter with a different formula and it lasts, and lasts...
Behind the lady and on the reverse side are frosted glass inserts. I've installed an American candelabra socket, and to change the bulb you extract the pin from the bottom right-hand corner of the back. At that point the brass "top" will spring up and give you access to the socket. Slick! 20s or 30s high tech! Seven inches wide, three front-to-back, and five tall. (e-mail Jack to start the conversation)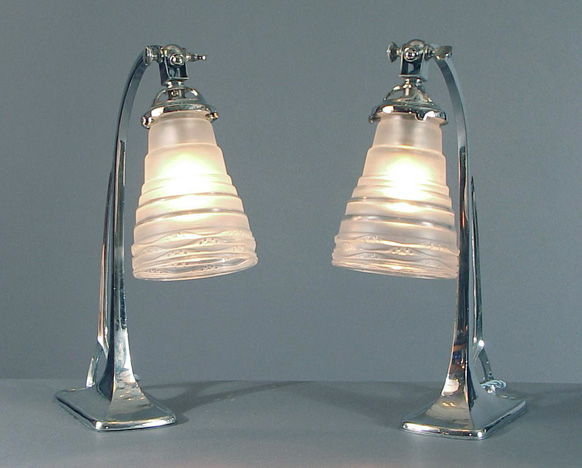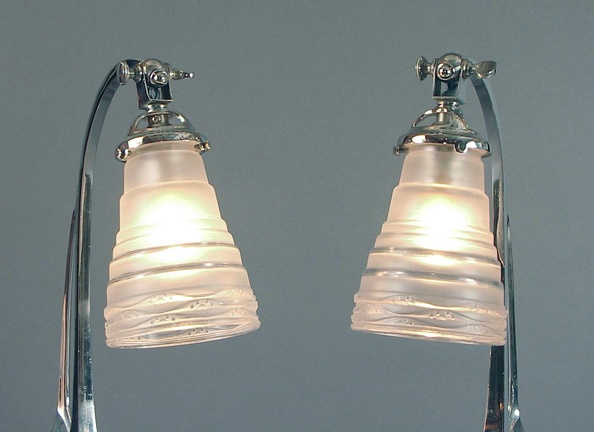 (B) Certainly as much Art Nouveau-styled as Art Deco-styled, this pair of lamps would, nonetheless, be eminently suitable for your Ruhlmann or Dominique rosewood desk -- unless you want to keep it "pure" and install them on your Majorelle desk. They stand a little more than a foot high, and the plate under the base is configured in such a way as to make it possible to use them as wall lamps, if you can stand it!!! They're made of solid brass and the chrome plating, which looks to be original, is nearly mint! With their elegant pressed glass shades, as the French call them! (e-mail Jack to start the conversation)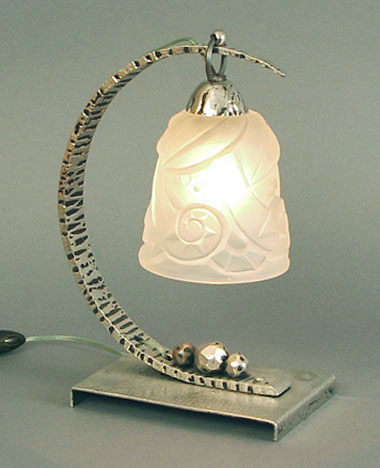 (C) Here's a small wrought iron lamp which succeeds, design-wise, splendidly! Which is more compelling, the three faceted balls or the graceful arc of the shade-holder? Recently redone in brushed nickel, then patinated to avoid that "Born Yesterday" look! (e-mail Jack to start the conversation)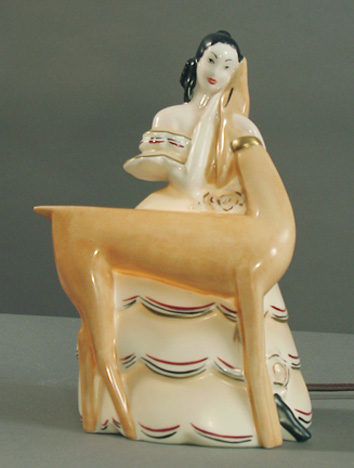 (D) LIMOGES, n'est-ce pas? And what's not to love about France's centuries-old premier porcelain maker? The folks at Limoges clearly hired the finest designers and artists of the time, their product being at the top of the ladder of "things elegant and sophisticated." This nightlight will bring that and more to your boudoir (guaranteed to improve your sex life)... Rewired and fitted with an American candelabra socket. A hi-lo switch has been installed on the wire for versatility. Dimensions: 5 x 4 x 8 high. (e-mail Jack to start the conversation)
(E) Just off the boat (but not subject to immigration authority!), this Art Nouveau inspired table or desk lamp captures the heart! The lily-pad base has its antique gold patina largely intact. The shade, with its deep rich colors, bears the Muller signature (of course!). This beauty stands about 13 inches tall; the "knuckle" above the shade allows the shade to be moved forward or backward. (e-mail Jack to start the conversation)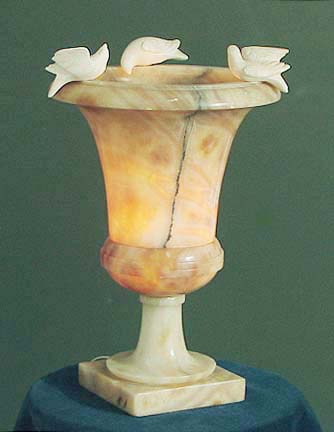 (F) This is probably the finest alabaster table lamp I've had, complete with three carved birds frolicking in their "fountain." Perhaps they're basking in the light... Ahem. Anyway, it's about 15 inches tall and 10 across, in fine condition, and with a warmth of color which approaches the sensual... (e-mail Jack to start the conversation)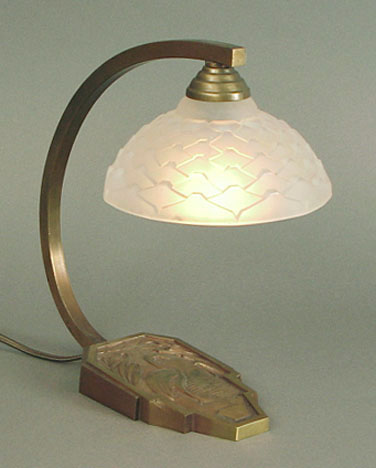 (G) Can you see the flamingo standing in the lake amidst the palm fronds? Don't worry, I can't either, in this moody photo. Oh, well, you'll just have to believe me when I tell you "you're gonna love it!" It stands about 11 inches tall and hosts a gorgeous French opalescent shade suggesting rippling water. The deep brass/bronze finish is original and in excellent condition.
Bye, bye, cher flamingo! SOLD to Joel!!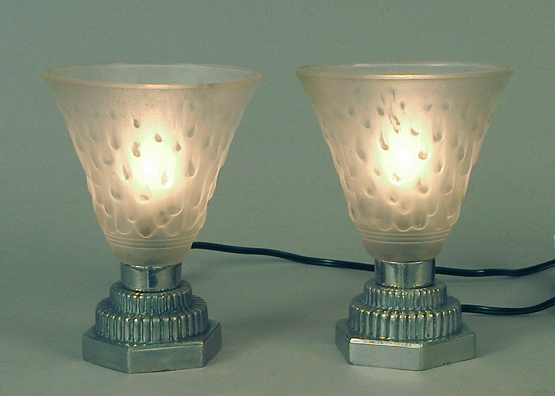 (H) This small pair of table lamps would be comfortable on a sideboard, a vanity, a mantle -- anywhere you want to display some real beauty in your home! The stepped bases are chrome or nickel-plated brass (it's the original finish), pyramiding in the best of Art Deco tradition. The slightly organic nature of the shades provides an interesting countpoint to the geometry of the bases, a French trope (vive la difference!). These lamps are seven inches tall, about 5 1/4 wide. (e-mail Jack to start the conversation)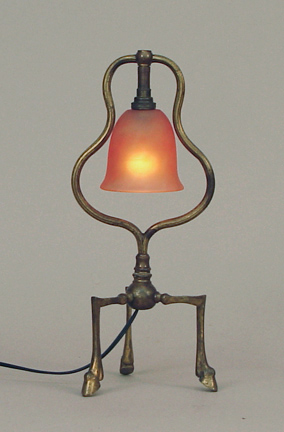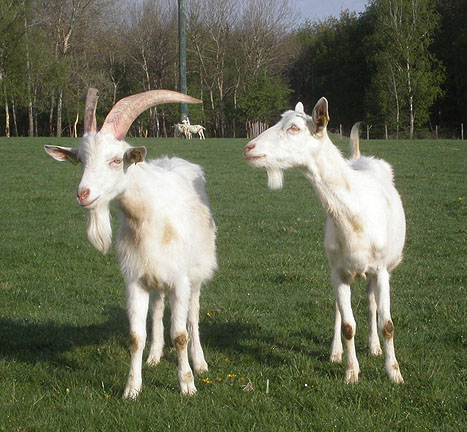 "Honey, I know what I want for my birthday present..."
(I) Goat hooves on a table lamp?! Pass the tin cans!! How French! And it's fitted with a tiny art glass shade, making it the most unique (and fetching) table lamp I've ever had! Perfect in any room, but can you imagine the bedroom? No conversation necessary... Just over a foot high, solid brass, fitted with the original French porcelain socket, which requires a bayonet style bulb (furnished with the lamp, ask for more details). (e-mail Jack to start the conversation)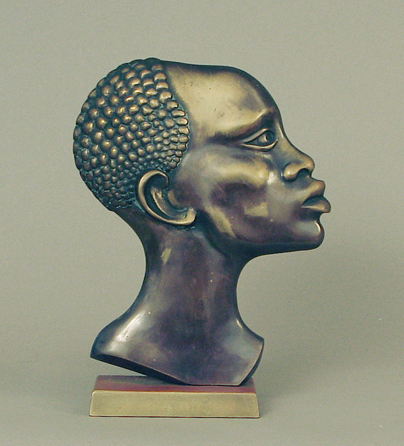 (J) Uh... this is a "table lamp?" Well, it wasn't when I got it, but "Mr. Make Anything into a Light" couldn't resist. So I affixed a socket and bulb onto the reverse side, and now (drum roll)... we have a lamp! If you position this on a sideboard or some piece of furniture that's against a wall, and turn it on at night, you will silhouette the head against the wall, and "wow" is all I can say (as if the profile isn't powerful enough as is)! It stands 10 1/2 inches tall and is made of solid brass with a nice bronze patina. (e-mail Jack to start the conversation)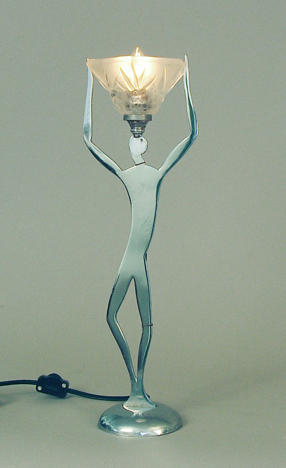 (K) This charmer began life as a lamp and just how slick is that? It's chrome-plated (brass underneath), in the Modernist tradition of lack of ornamentation and sleekness. Standing nearly 15 1/2 inches tall, weighted in the bottom. The shade is signed "Lorrain" and probably predates the lamp, but the combination is ... so French (they who adore contrasts). (e-mail Jack to start the conversation)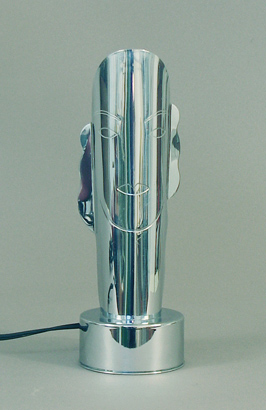 (L) By the famed Revere Company of New York, this 30s, Art Deco era (but really Modernist) lamp typifies that company's high design standards and accomplishments. It stands about 10 inches tall, in near-mint condition.
Gone but certainly not forgotten! SOLD!!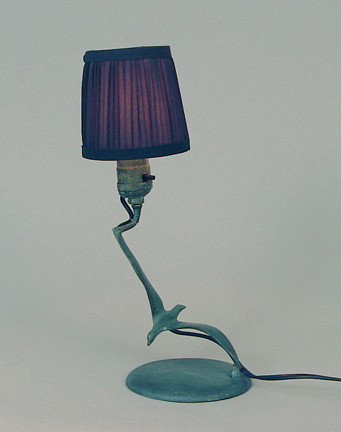 (M) Cast of solid patinated bronze, our seagull lamp evokes the bird's graceful flight. It's about a foot tall with that regrettable shade (I'm sure you can find something more sympathetic!); the base is 5 inches across. (e-mail Jack to start the conversation)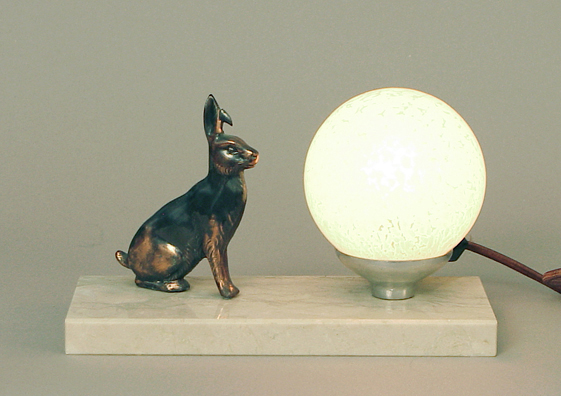 (N) From the sublime (ibis) to ... bunnykins! A far more prosaic subject and treatment, but who's complaining? Still cute, non? The original two-tone patina's in mint condition, and the ball glass shade -- hard to see in this photo -- is mottled white and quite lovely. Perched on a cool white marble base, bunnykins doubtless appreciates the warmth of the bulb. Five and a half inches high, nine across. A terrific night light for a youngster's room (and there's a hi-lo switch on the electric cord, for low-level illumination). (e-mail Jack to start the conversation)
(O) Wow, a Limoges (unsigned but of this quality and age, what else could it be?) "head lamp," aka "night light" or "sex lamp" (when the lamp is lit....). A fabulous piece! When the lamp is lit (which cleverly enough is not the case in this photo), light gathers in the crevasses making for a most esoteric effect. The lady herself brings to mind the 20s and 30s fascination with exotic lands and cultures, along with outer space and other "distant worlds." She's about 7 inches high and -- double bonus! -- the back features the same face you're looking at here! In other words, she's "two-faced," which is slightly scary if you're unprepared psychologically. (e-mail Jack to start the conversation)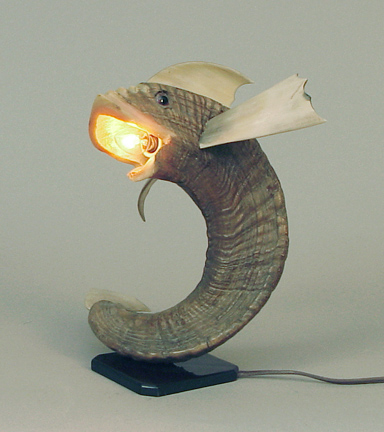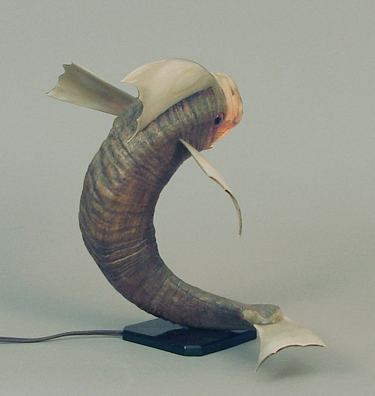 (P) I can just hear you, "Whhhaaaaaat?" Yes, your chief hunter-gatherer brought this back from France just to fiddle with your brain! I think of it in "flying fish" terms, although real flying fish look soooo different! Created from sheep's horn, with horn fins, it has a deep maroon bakelite base, which gives a clue to when it was made. It stands about 10 inches high. Pure whimsy from our French friends! (e-mail Jack to start the conversation)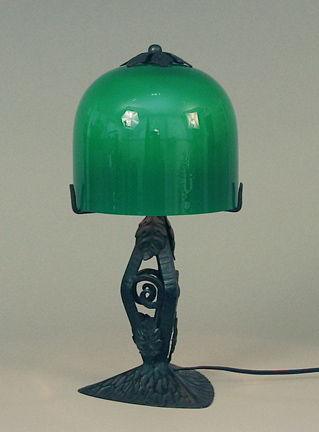 (Q) Such a handsome little lamp, only 12 1/2 inches tall! Too "masculine" to be called a "boudoire" lamp?!! Good enough for my boudoire!! Or, corner table, bookshelf, you name it. The shade is, of course, a deep green cased glass, in mint original condition! (e-mail Jack to start the conversation)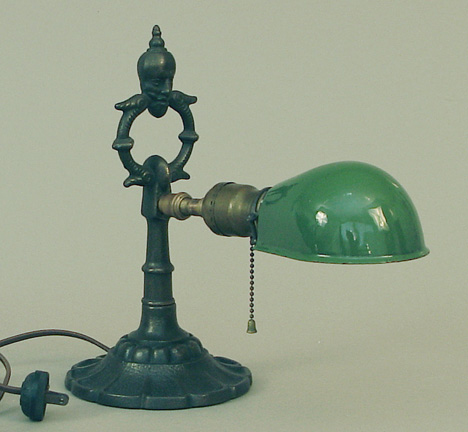 (R) ... is for Rembrandt, a top-flight American company which specialized in, of all things, LIGHTING!! Often Rembrandt's designs summoned up the mythological, and in this instance don't we have Mephistopheles, a demon featured in German folklore (Faust). What might Mephisto be observing as you work at your desk? He's there to keep you on the up-and-up! He's about 10 1/2 inches tall and that ultra-rare metal shade, the exact shape and size of the shade that originally came on this lamp, swivels up, down, left and right.
(e-mail Jack to start the conversation)
The Decorum Home Page