(A) Here's a beautifully proportioned, fully restored pair of wrought iron sconces by Degue. The iron backs have been plated in brushed nickel and then patinated. The result? "Jewelry for the home." They're 13 inches top to bottom, 10 1/2 across, and they project about 6 1/2 from the wall. Lucky you, I have a ceiling fixture with these same shades, for your decorative tour de force!
Bruce & Diane stepped up and grabbed these AND the matching fixture!! SOLD!!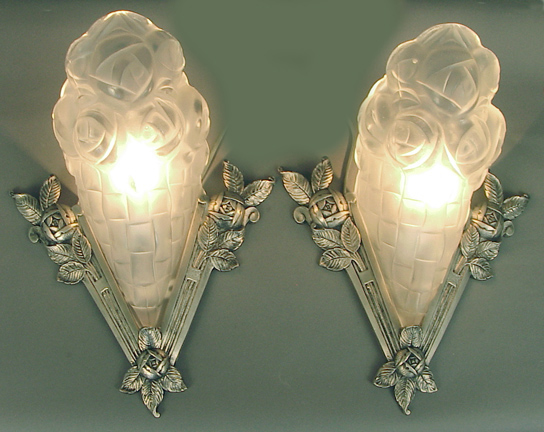 (B) And... if the previous pair got you going, just take a gander at these beauties!! Same signed Degué shades, but this time backed by brushed nickel-plated cast bronze. Just how we like our "jewelry for the home!!" They have what I call "serious presence," measuring 14 high, 11 wide (across the top) and projecting 6 1/2 inches. Wow...
All gone! Jack (yes, there's another Jack and his last name isn't Nicholson!) swooped down and eagle-like carried them off! SOLD!!