Where else but DECORUM can you choose from a truly fantastic group of French antique lighting bowls, match them with the canopy of your choice, and have them custom-configured to your length requirements? These "pressed glass" bowls, as French dealers call them (most of which were made in the 1920s), are excellent lighting choices for situations where substantial light is needed and ceiling height is limited. I usually position just one standard-base socket right in the center of the bowl to light it evenly (three sockets can also be fitted if necessary). You can use a 150-watt, even a 250-watt bulb in it if you like (and if the Global Warming Cops don't arrest you)! Put the fixture on a wall dimmer and get mood when you want -- the incandescent bulb at a lower wattage will deliver a warmer light, often giving a golden glow to the bowl. Crank it all the way up and bring out the Scrabble board!
Generally these bowls measure about 14 inches in diameter. Without their hardware, the depth of the bowl varies between two and seven inches. In these photos I've rigged the bowls with pretty short hardware; most hang between 14 and 18 inches from the ceiling (I can make them slightly shorter, the shortest being about 10 inches from ceiling to the bottom of the bowl). That means they qualify for your short, eight-foot ceiling, leaving you with only slightly less than seven feet of head room, clearance for most of your non-basketball-champ friends. Length beyond 18 inches? No problem!
Choose your metal finish! Like brushed nickel best? Chrome suits you? Polished (bright) nickel? No problem (just time and money). The components are all solid brass or bronze to begin with so you'll be getting a top-quality plating job, and there will never be any deterioration due to rusting or corrosion of the metal. I use brass tubing which is 1/4" square, and it can be cut to whatever length suits your purposes. I've reproduced four impossible-to-get vintage canopies (all compelling, original French Art Deco designs) in solid bronze. Here they are in all their glory, freshly plated in brushed nickel and patinated. (And, for your consideration about whether they will cover the electrical box you have, the specs: Top left, the "star," will cover 3 7/8" ceiling opening; the round one to the right will cover an opening of 4 1/16"; the hexagonal one will cover an opening of 4 1/4"; and the one shown by itself below those three will cover an opening of 4". The four-hole canopy, the last one, will cover an opening of 3 7/8". You can easily fill in any gaps around the periphery with spackle or caulk.
These canopies are available for sale by themselves or with the rest of their hanging works, fashioned to your custom length.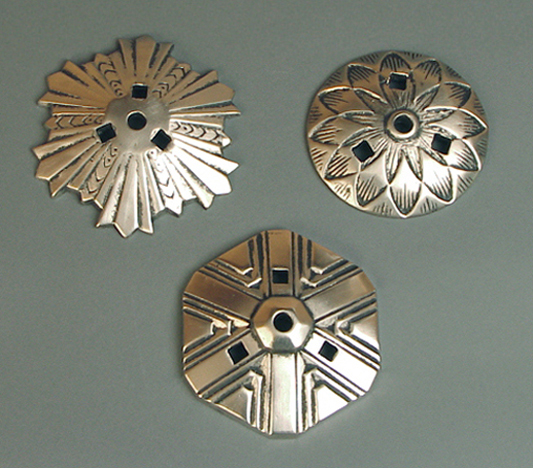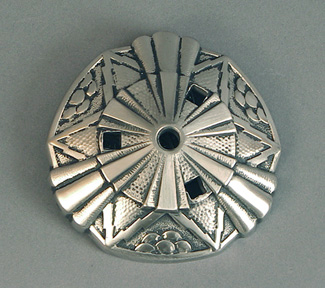 And... in an amazing flash of glory, my newest creation (below), a four-hole canopy for that rare four-hole bowl, which includes many Lalique bowls. At last you can use that Lalique treasure that's been in the closet all these years, because you've had no way to hang it! Like the others above, it's made of cast bronze, with a brushed nickel finish (other finishes available), and it's about four inches across. I'll create the rest of the hanging works to your exact specifications!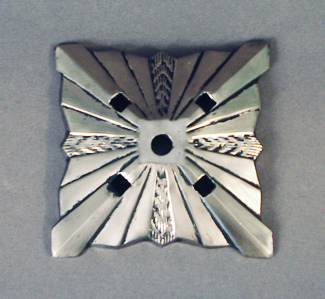 Here's an example of this last canopy splendidly doing its job: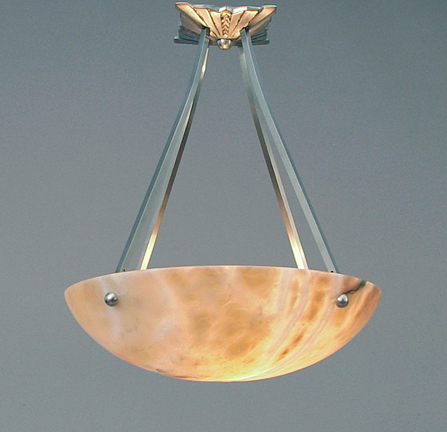 This alabaster beauty hangs about 16 1/2 long (I can make it longer or shorter).
Onward with more items currently for sale. Keep in mind as you're looking at these bowls that most of them are made of uncolored, frosted glass. Unhappily, photographing them with incandescent bulbs yields results that suggest warm colors in the yellow-pink ranges. NOT TRUE in reality!!
(A) This opulent bowl has that "cornucopia of nature" look so popular with the French. And why wouldn't it, having been designed by one of their very top design guns, the inimitable Pierre d'Avesn (unsigned, but widely attributed to the master)! Configured with curved brushed nickel tubes (as seen above) and the canopy of your choice (also as seen above), to your custom length specifications. Note: the glass is colorless, frosted. (e-mail Jack to start the conversation)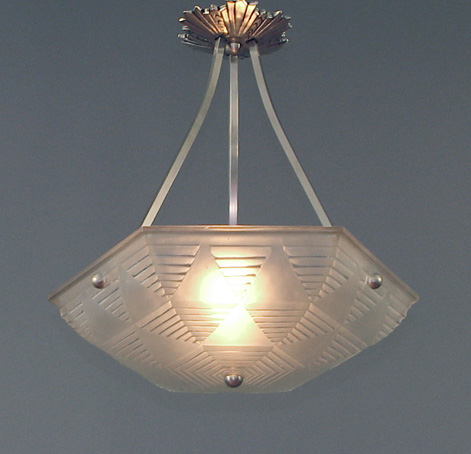 (B) This geometric (frosted white glass) marvel is the product of the Atelier Petitot (it's signed on the rim). From its main showroom in Paris the Petitot firm sold chandeliers and other lamps throughout France and Europe, their principal aesthetic being the Modernist look, as exemplified by the spare, geometric design seen here. Nearly a hundred years later, Petitot's Modernist designs set the world standard! Smaller than "usual," this bowl measures just 12 1/2 inches across, making it ideal for an entryway or smaller room. Supported by this appartus, its drop is only 15 inches. Configured to your custom length. (e-mail Jack to start the conversation)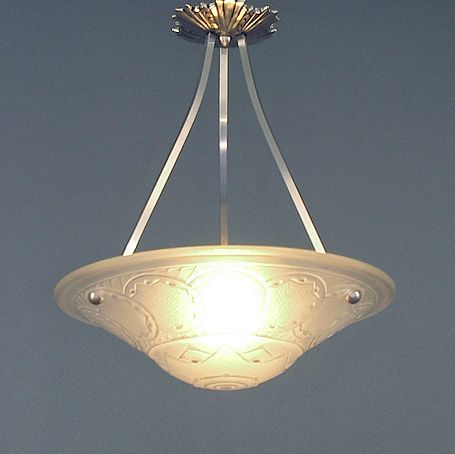 (C) With its delicate geometric designs, this shapely (frosted white glass) bowl exudes a soft, calming tone. It's about 14 inches across and hangs down about 17 inches, configured to your custom length. (e-mail Jack to start the conversation)
N.B. The bulb used in the above photo is a "compact fluorescent" and you can see, especially relative to the photos taken below starting with item "J", the huge difference in how the light fills the bowl (and, unfortunately for the purposes of the photography, floods out the details!). On the other hand, in "real life," the compact fluorescent does NOT create this washed-out effect, and provides a very even, white light which you'll probably like better than the light from an incandescent bulb.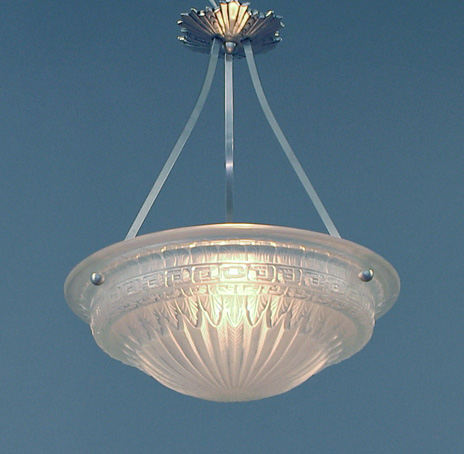 (D) Schneider's designs typically convey the French national passion for Nature. The quality of Schneider's glass was paramount, the delicacy of their work, as evidenced here, sans égal. This bowl measures about 14 inches across and as shown hangs down around 17 inches (re-configured to your custom length). Remember, this Schneider bowl has frosted, non-colored glass! (e-mail Jack to start the conversation)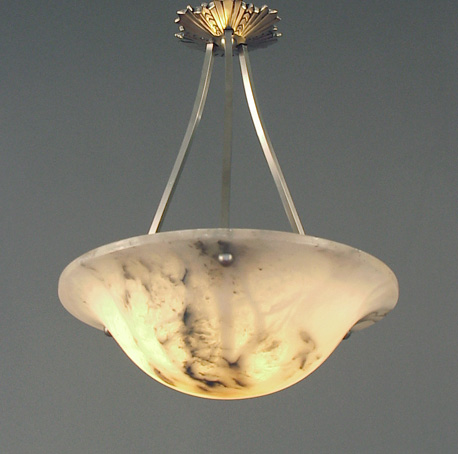 Don't forget to check out my alabaster bowls -- of which this is one fine example, on this page!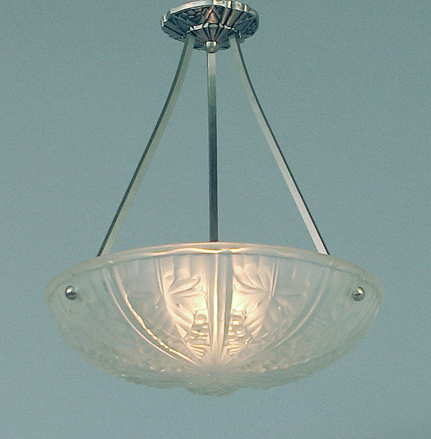 (E) In days of yore, I'd have said "just off the boat," but now, my container-importing thrill sated, it's "just off the plane." This Noverdy bowl seemed totally irresistible, festooned as it is with grapes and leaves (all nine "panels" of them!), nicely signed on the rim, in perfect condition, so on the plane it went. Wow, solidly "good as it gets" territory! As shown, 14 across and 14 1/4 long, but I can make the drop shorter, or longer! (e-mail Jack to start the conversation)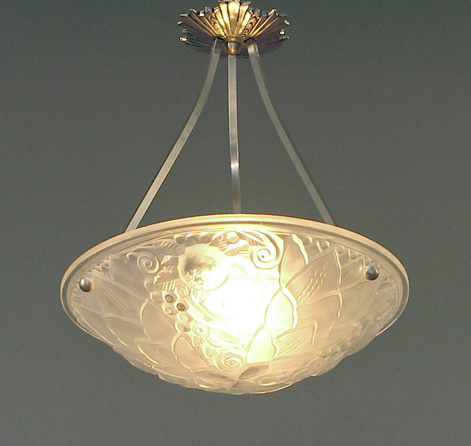 (F) Looking for all the world like the work of Degué, this luscious "fruit and flowers" basket measures up to the master's standards, without the signature. Measuring about 14 inches across, it hangs down about 17 as shown. Configured to your custom length. (e-mail Jack to start the conversation)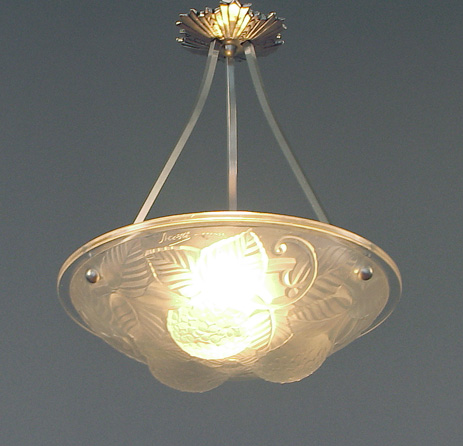 (G) "G" is for hydranGeas, and the blossoms couldn't be more pronounced (and gorgeous) than on this bowl signed Arrers, a maker of extremely high quality glass "back in the day." It measures about 13 1/2 across, and hangs around 16 inches long as shown here. Configured to your custom length.. (e-mail Jack to start the conversation)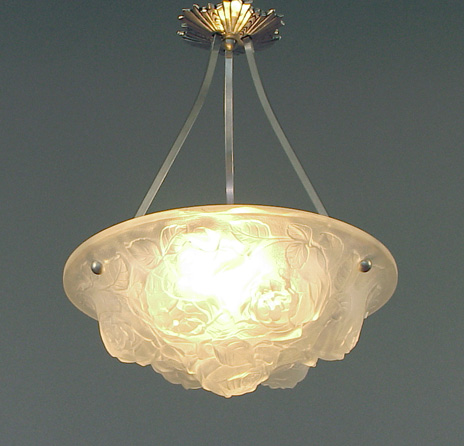 (H) Rose fanciers will flip over this fussy floral festival! A bouquet of seven huge roses, "blown out" from the glass like the flowers on Pairpoint lamps (leaving us to guess which came first, the French or American concept!?), it hangs about 18 inches long, as shown, with a diameter of about 14 inches. No weed-pulling or trimming necessary! Configured to your custom length. (e-mail Jack to start the conversation)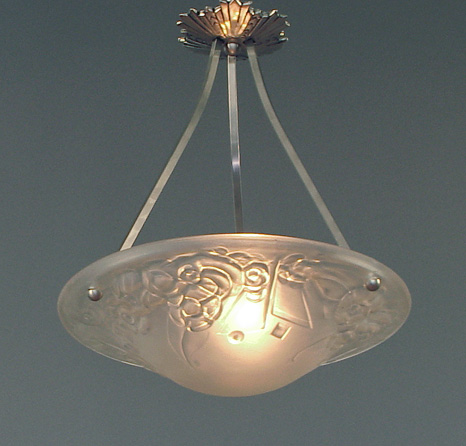 (I) This bowl is signed "Loti, Nancy," one of a myriad of small-time lighting producers, most of whom never marked their product. It's got a very neat, 1/2 by 1/4 inch chip close to one of the holes where it attaches to the metal apparatus, which is reflected in the price ('natch!). Configured to your custom length. It's about 14 inches across.
Gone and, quite frankly, forgotten! SOLD!!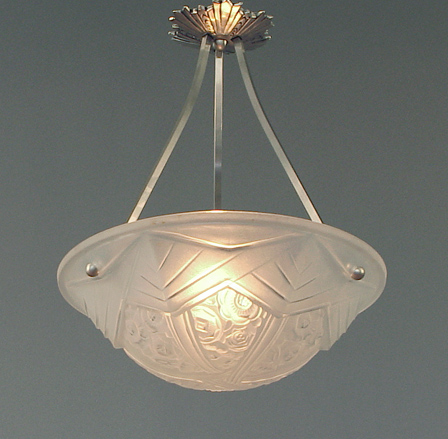 (J) Here's an unsigned "generic" bowl of large proportions (deeper by an inch or more than most) and spectacular design. It's about 14 inches wide, but the extra length brings the entire affair to about 17 inches long. Configured to your custom length. (e-mail Jack to start the conversation)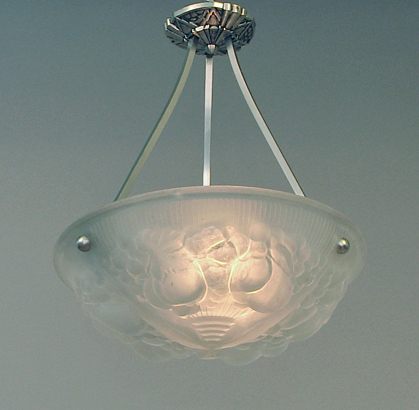 (K) This extremely unusual (dare I say "one of a kind?") signed Muller bowl depicts a fruit bowl brimming with fat, ripe pears, grapes, and other fruit. Hanging down 16 inches in the photo. (e-mail Jack to start the conversation)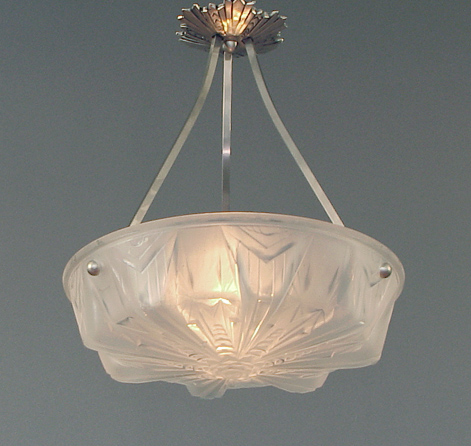 (L) This signed Muller, with its multi-faceted, intricate design, typifies the level of excellence of that firm from Luneville. There are a couple of very minor flaws in the glass, probably there since "birth." It's a very special, visually compelling light! Configured to your custom length. (e-mail Jack to start the conversation)
(M) Here's a handsome geometric bowl by Degué which looks like cubes of ice (great for the bar!) It's 13 3/4 inches across and with the apparatus shown, about 17 inches long. Nicely signed Degué in the mold. Configured to your custom length.(e-mail Jack to start the conversation)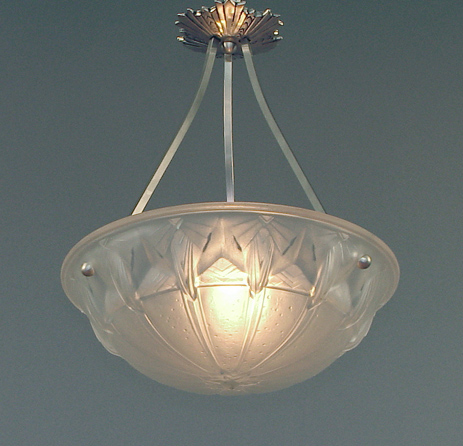 (N) This unsigned bowl has the complex, highly detailed geometric designs one associates with Muller glass. A real beauty! It's about 14 inches across and hangs down about 17 inches, as shown. Configured to your custom length. (e-mail Jack to start the conversation)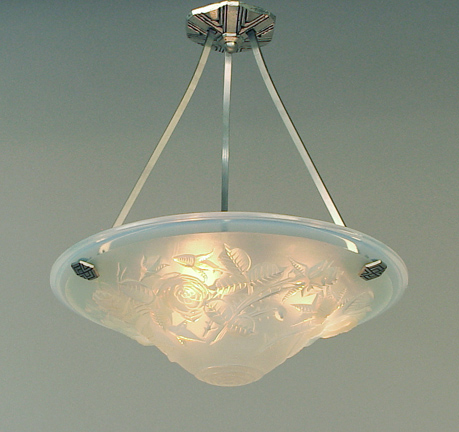 (P) You'll go a hella-long way before you bump (gently!) into another one of these, a truly exquisite, sparkling opalescent bowl by that rare, sought-after maker, Maynadier! The bluish opalescent rim surrounds a floral festival, and to top off the good news, this bowl is 40cm in diameter, an extra two inches over the norm, for a total of 16 inches! (e-mail Jack to start the conversation)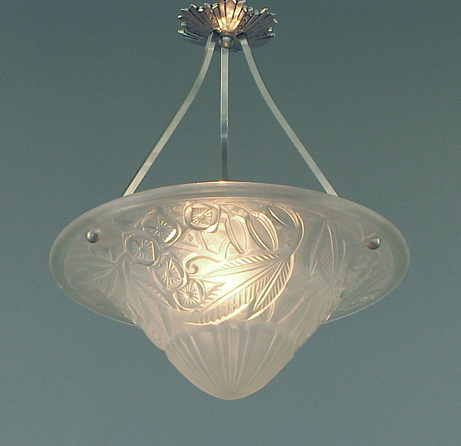 (Q) Here's another truly stunning (and how seldom I use that overworked term!) bowl by the Grand design Master himself, Pierre d'Avesn, for the Lorrain factory. This particular design, featuring stylized floral elements, veers close to our "best of the best" Art Deco design territory! It's also extra-wide, at 40 cm (16 inches). Configured for your custom length. (e-mail Jack to start the conversation)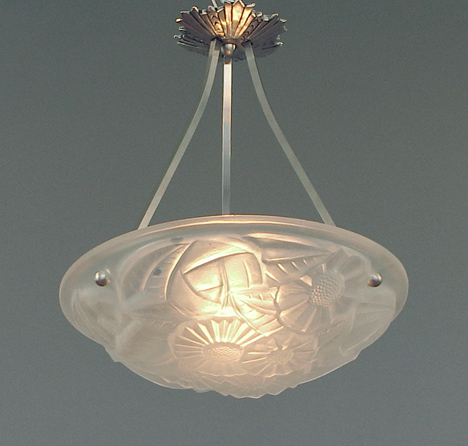 (R) Huge stylized flowers make for another floral bouquet in the manner of Degué, although this bowl's unsigned. About 16 inches as shown, it can be shortened or lengthened; 14 inches in diameter. (e-mail Jack to start the conversation)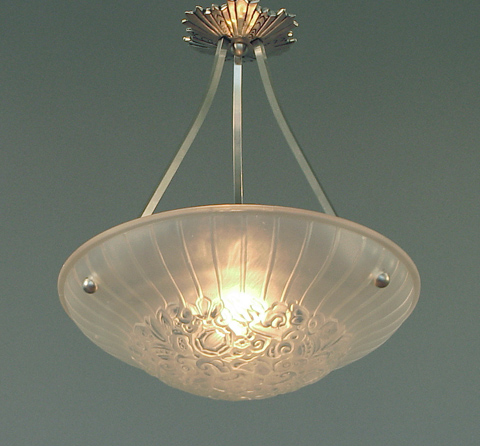 (U) A spare but elegant design...about 14 inches across and hanging down around 17 inches. Configured to your custom length. (e-mail Jack to start the conversation)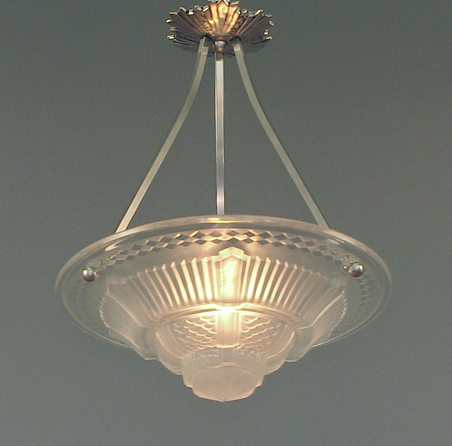 (V) Another festival of geometry, with an interesting pyramiding aspect. It's about 14 inches across and hangs down about 17 inches; the quality of the glass is superior. Configured to your custom length. (e-mail Jack to start the conversation)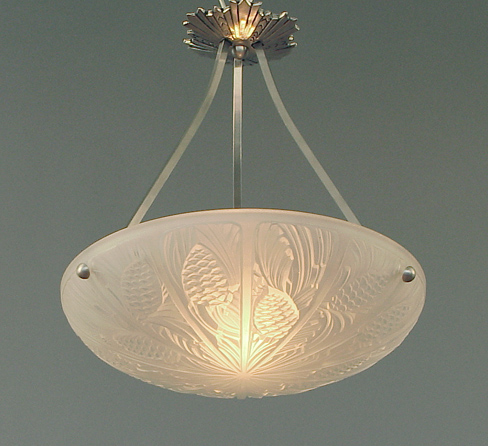 (X) A pine cone motif brings memories of the forest into the home. This bowl's about 14 inches across and hangs down around 16 inches. Configured to your custom length. (e-mail Jack to start the conversation)