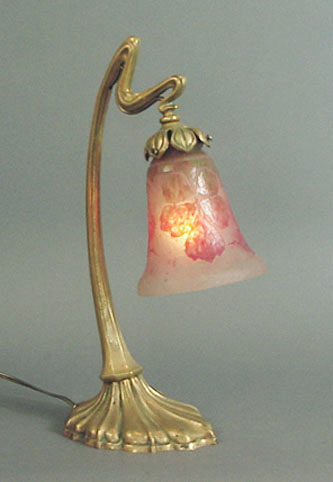 (A) Such an embarrassment of riches!!! Arguably the finest lamp I've ever had, impoverished collector that I am. Dare I say it? Yes: museum-worthy, this, like, totally awesome French Art Nouveau desk or table lamp with its signed, acid cut-back, multi-colored Le Verre Francais shade. Seventeen inches tall, perfect antique condition, a once-in-a-lifetime moment!
As befitting "the best," this FLEW out the door! SOLD!!! As impolite as it is to have a sold item on the site, I can't resist leaving this here for those who might appreciate it as much as I.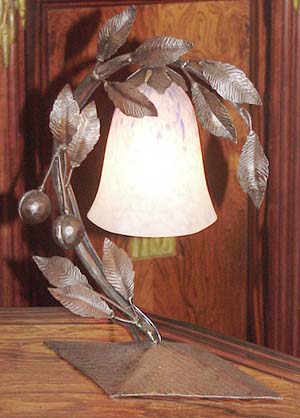 (B) This lamp is hovering around the top of my Personal Favorites List. A deep, rich patina, wonderful iron work on an unusually-shaped base, and those NUTS... not to mention the Schneider shade with its purples, blues, and mottled whites and grays (not so well represented in this photo, sorry)... It measures 13 high, about 10 wide. (e-mail Jack for a price)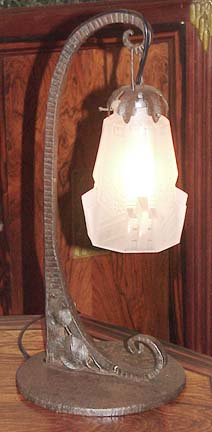 (C) Again, to my consternation (nice word, huh?), the shade on this beauty doesn't quite come across in the photo. It's a very rare and extraordinary Muller shade, with angles and edges that defy even my attempts at description. The wrought iron base is handsome and amply sized, at 17 inches tall, suitable for a desk. The base is about 7 1/2 inches in diameter.
Sorry, this one's found a happy new home! SOLD!!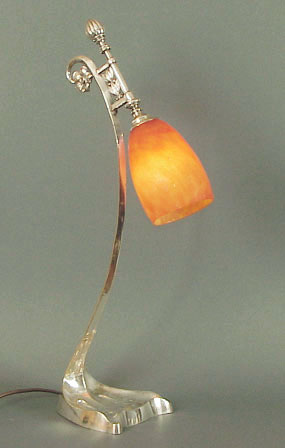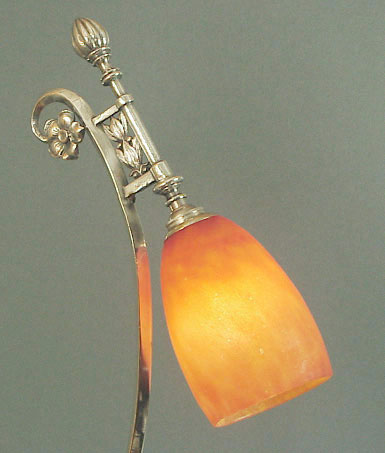 (F) Sporting a signed Daum shade, this silver-plated brass, 23-inch high Art Nouveau lamp is perhaps the prize of my current Nouveau lamp collection! The graceful curve, the stylishly decorated base... ooo la-la! There's some silver loss (that over-zealous Fifi the French maid thing again!), giving it even more antiquity!
Sorry, far too cool to hang around... SOLD!!