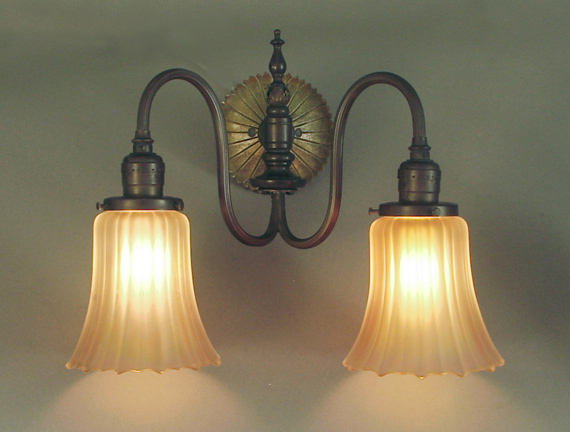 (A) Here's one of a matching pair of about a hundred year old brass wall sconces with attractive carnival glass shades. They're about a foot wide, a foot high, and project about six inches from the wall. Rewired and ready to install! (e-mail Jack to start the conversation)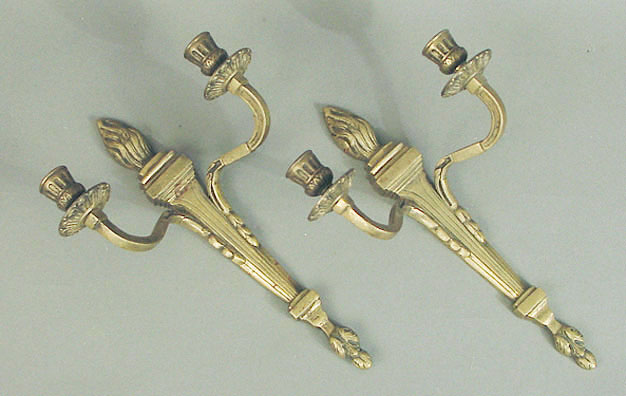 (B) Possibly 19th century, these solid brass French candelabra sconces have that good ol' "timeless quality" about them. They're about a foot tall. They're wired for electric use, but at present without sockets. But why not use them for actual candles?! Think of the ambiance! (e-mail Jack to start the conversation)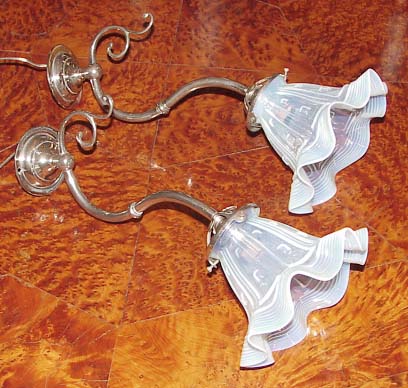 (C) Eggshell-thin opalescent shades, each a delicate jewel itself. Whimsical nickel-plated brass sconces, probably from the Victorian era. If you have children under 35 you're not allowed to buy these!
And fittingly, an "oldster" scarfed these up. Let's hope the grandkids don't play football in the living room... SOLD!!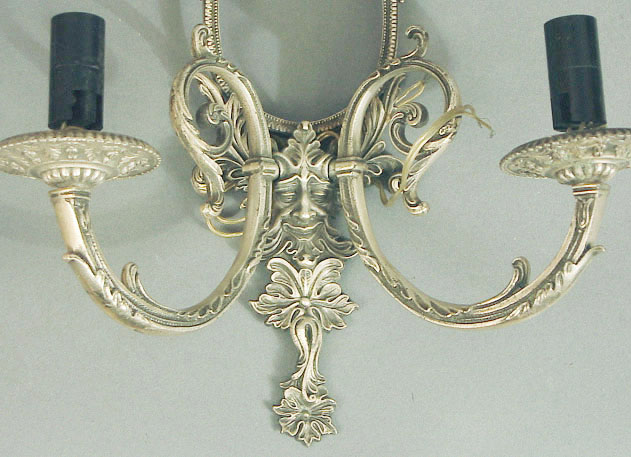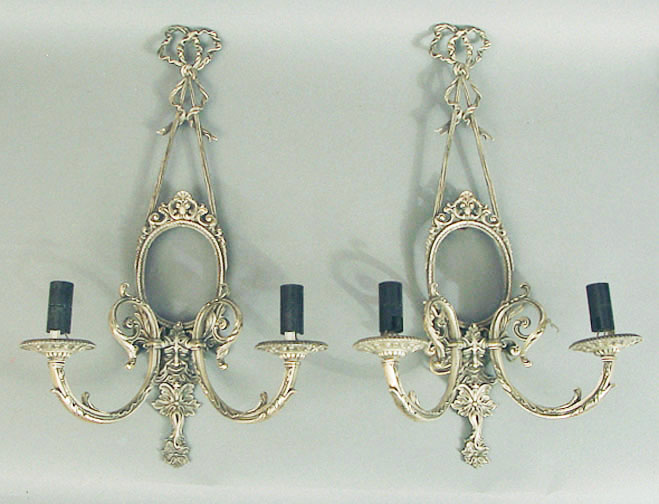 (D) These are my "Iron John" sconces. Perhaps overall they're a bit fussy for our Green Man, but perhaps there are aspects to his personality we haven't learned yet! In any case, that face will launch a thousand conversations. Beautifully silver-plated and lacquered, in pristine condition -- with the exception, I'm sure you noticed, of the missing oval decorative elements in the middle. I'd vote for Wedgewood plaques, but I don't have any available. Perhaps etched mirrors? I'll let you be the "decider" if that title doesn't evoke too many painful memories...
I'd love to see where these are hanging now...SOLD!!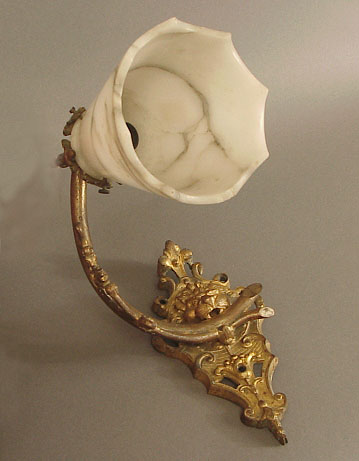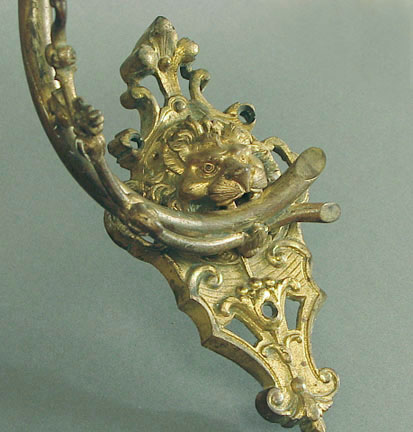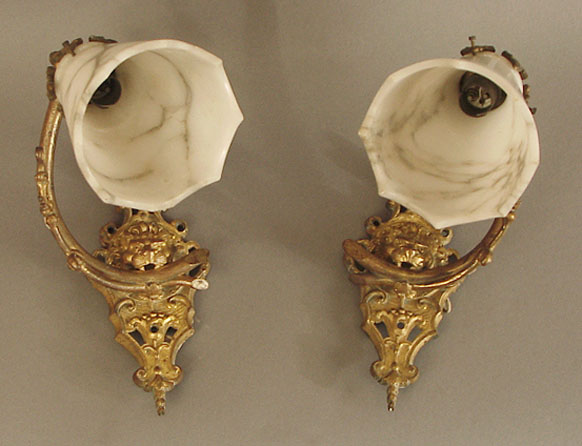 (E) What's a wall without a couple of fierce lions perched upon it? These gilded brass sconces, probably about a hundred and ten years old, have alabaster shades and certainly add a decorator's touch. The alabaster's a bit funky, in terms of discoloration from excessive heat, but doesn't that just add a bit of "patina?" I have several sets of French glass shades which might replace them... (e-mail Jack to start the conversation)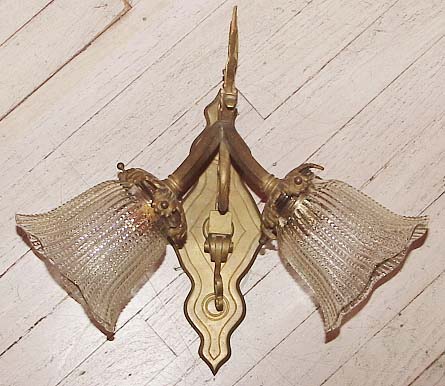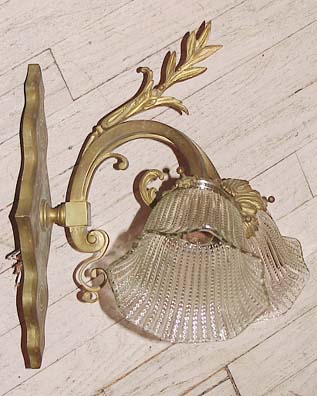 (E1) Two views of a pair of brass French wall sconces with holophane shades. These measure about 13 inches top to bottom, and about 11 across, with the shades in place.
Bye, bye, y'all... SOLD!!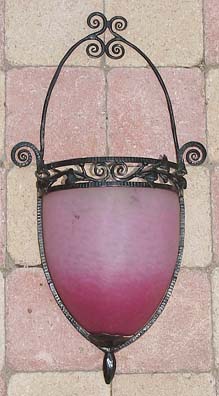 (G) A very agreeable wall sconce by Schneider ,just plain sexy as hell when lit! Entryway to the ladies' powder room?! Uh-huh. On the order of 7 inches wide, about 13 or 14 high. What an elegant concept -- doesn't everything French eventually come down to the panier motif? (e-mail Jack to start the conversation)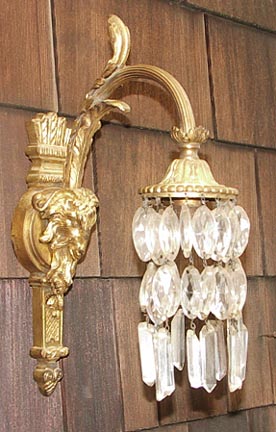 (K) A pair of these gilded bronze/brass sconces sporting none other than ram's heads has plunked itself into my life. They measure about 13 1/2 top-to-bottom and they project about 8 inches. Tres chic for a hundred years old, n'est-ce pas? (e-mail Jack to start the conversation)