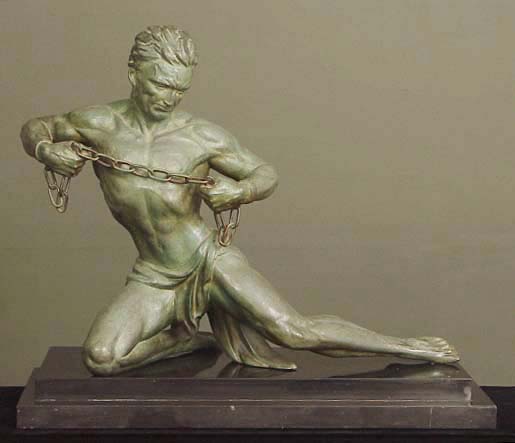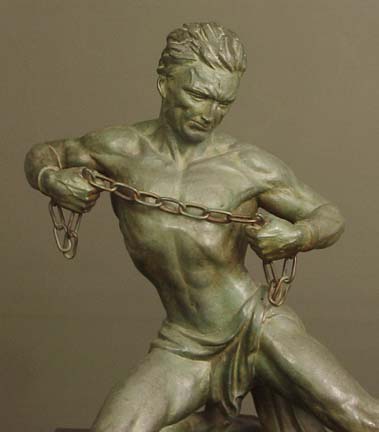 (A) One of my all-time favorites, "l'homme enchainé." Hmmmm, I wonder why I, whose life is but a bed of roses, might vaguely identify with this piece!? I'll leave that for you amateur psychologists to muse about... and in the meantime, getting back to Monsieur en Douleur... well, I'll just bet that he broke those constrictions, and that he's moved on to a happy, productive life! Again, as most of de Roncourt's work, it's spelter (white metal) with a bronze/verdigris patina, on Belgian black marble. He's in the neighborhood of 20" tall and about 26 wide. The slight hangup here, mes amis, is that l'homme enchainé resides in France, of all places! I bought him over the stupid Internet, at a time when I thought I might bring back another container, but alas it was not to be. SO: if you're hot to own him (and who wouldn't be?) you can either go to France yourself and pick him up, or have one of those friendly French (or English) shippers like "Hedley's Humpers" pick him up (he's at a friend's in Toulon, near Marseille) and whisk him away back to your pad. It's only money, Honey!! (e-mail Jack for a price)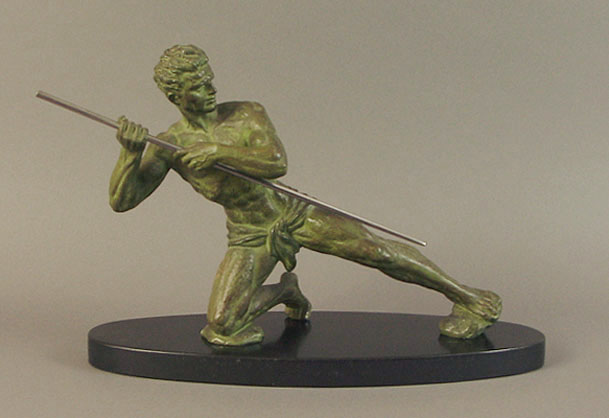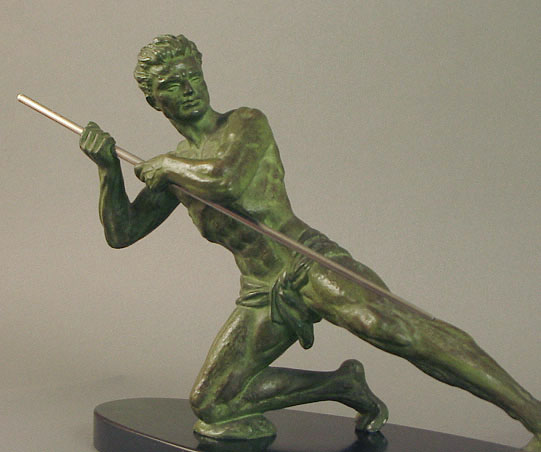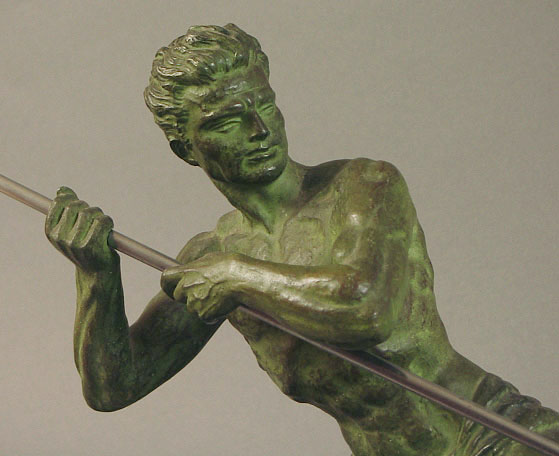 (B) J. Rudens created an identical patinated spelter statue which I just sold to Robert, in NYC. This one, magically just arrived, is signed "Hervor." I've had other Hervor pieces and can only assume that one or the other (or both!!) of these gentlesculptors was employing a pseudonym. Speculation as to why -- so tempting, so delicious... Our handsome young lad measures 18 1/2 wide, 7 1/4 deep, and 13 high; the base is made of black Belgian marble. (e-mail Jack for a price)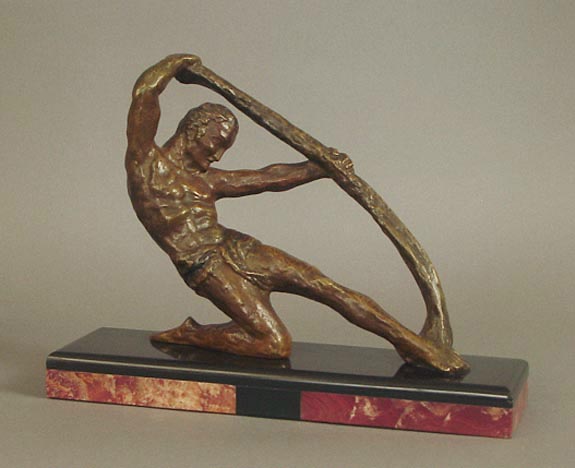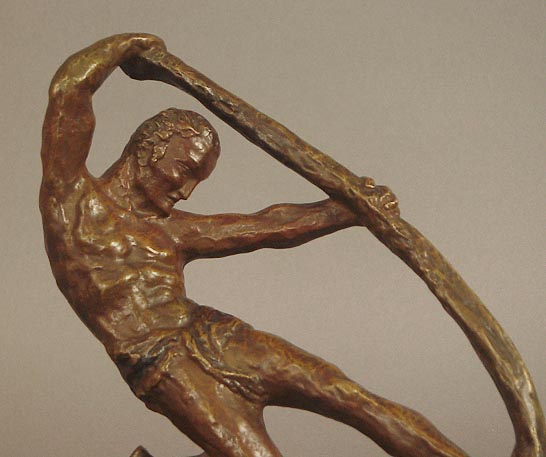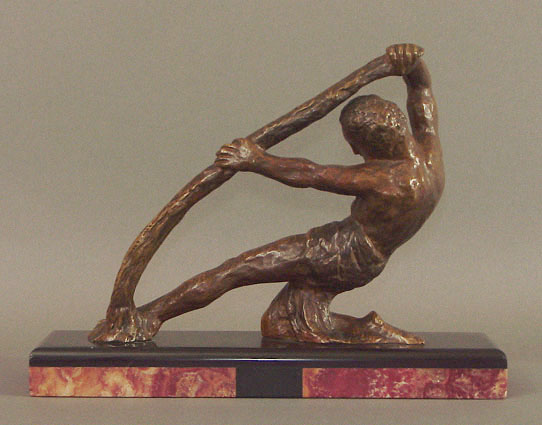 (C) Our sculptor in this instance is looking to convey not so much the literal man as his energy, so the interpretation is not so literal physically. Signed on the patinated bronze figure as well as inscribed into the black marble: Decoux, a noted sculptor of The Period. The marble base, in near-mint condition, emits a rather forceful energy in its own right! (e-mail Jack for a price)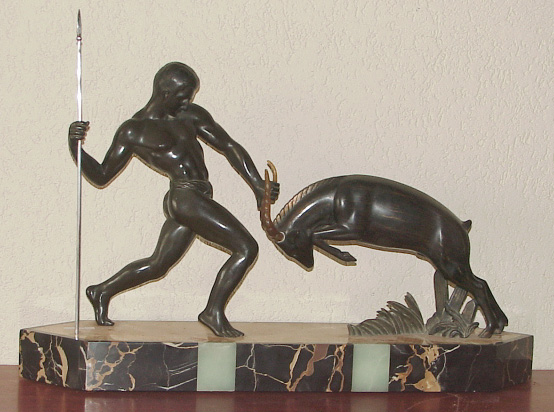 (D) A white metal statue on onyx and Portoro marble base; the spear is silver-plated, the horns an early type of plastic. Great tension in the figures!
This guy was stolen from my store on 5 Jan 09 -- if you happen to bump into him or his gazelle friend, would you please let me know? Jack: 415 518 2123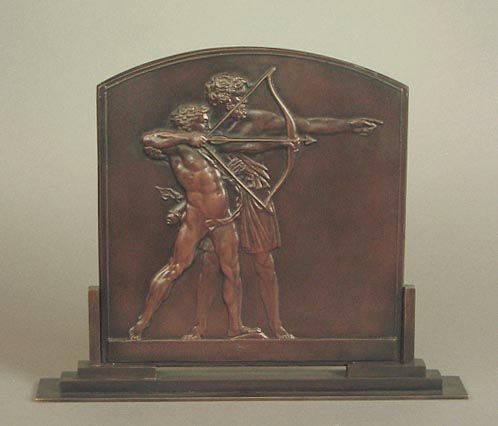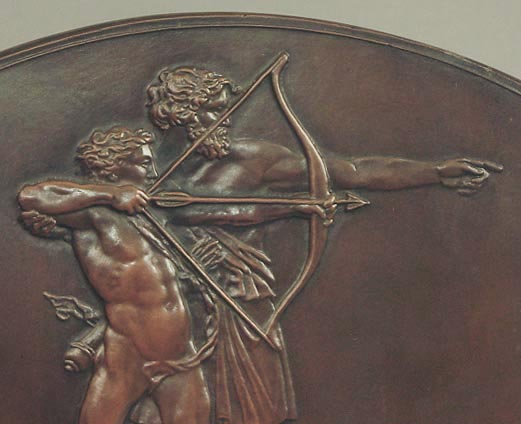 (J) Want to know what the real manly men are doing? They're teaching their boys how to be men, that's what they're doing! If you're one of the lucky ones whose father or uncle or neighbor helped you attain your manhood, perhaps you'll honor him with this bronze plaque by the famed French artist Dropsy. Or, lacking those regrettably infrequent circumstances, buy it for yourself, to honor the way you've brought yourself along! It measures about 8 inches tall, 10 wide, and is dated 1924.
REAL men don't last long around here! SOLD!!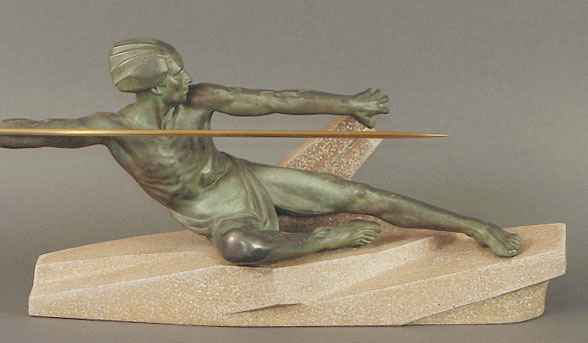 (E) This gleaming, muscled javelin thrower is by none other than Max Le Verrier (signed on the back of that glorious stone base). He's patinated by time and 24 inches long; about 8 deep and 11 high. Beware, his chiseled beauty just might send you to the moon! This sculpture is fittingly titled, by the way, "L'Embuscade" (the ambush).(e-mail Jack for a price)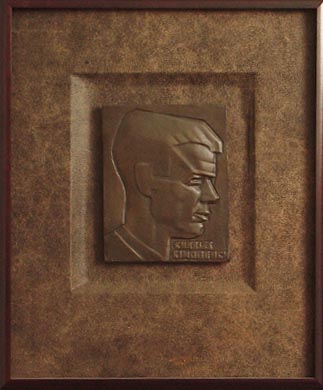 (M) This bronze plaque, highly stylized in the Art Deco manner, depicts one of the icons and heroes of the period, Charles Lindberg; there's a "W" on the bottom left that, I'm told by an "interested party," stands for Joseph Witterwulghe (1883-1967), the sculptor. The plaque is framed in a shadow box surrounded by the sort of leather you might find on... a Navy flier's jacket!!! Sexy, huh (yes, my idea)? The bronze plaque is 5 2/3 by 7 and the entire affair, frame included, is about 15 x 18.
FAR too cool for this dull school! SOLD!!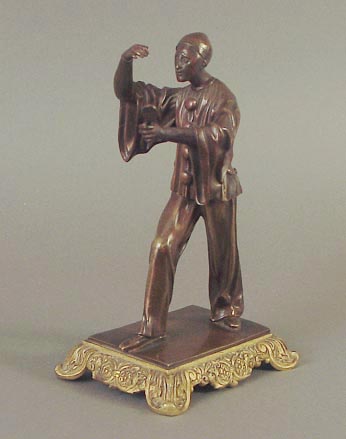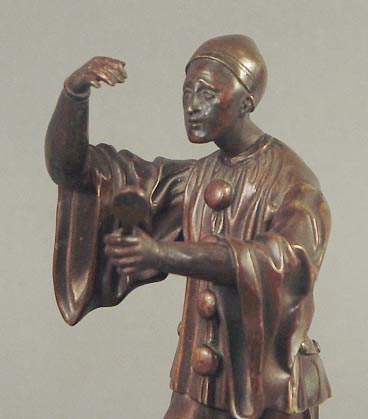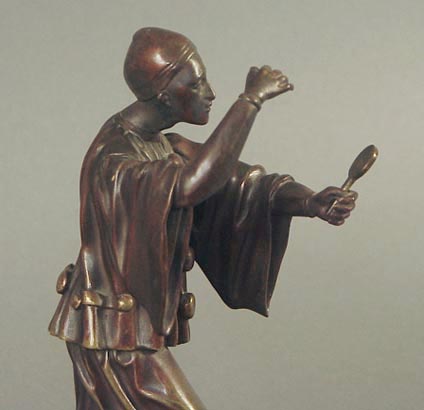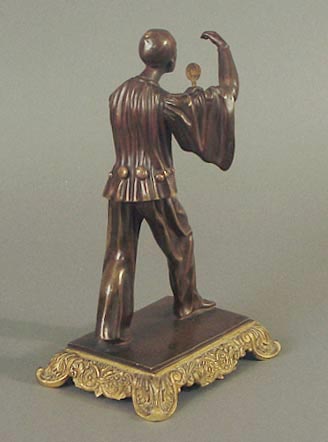 (F) Why have I included this jester amongst the "manly men," perhaps for balance? He's checking himself out in his hand mirror --maybe he's feeling sensitive and vulnerable, especially in this company of rugged he-men. But, he's bronze, and beautifully cast, so he's got that going for him. I like his little foo-foo base, too. He could probably toss any of those muscled guys over his skinny shoulder and then laugh about it. (e-mail Jack for a price)