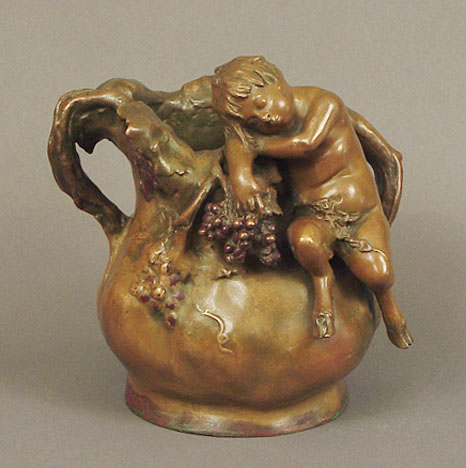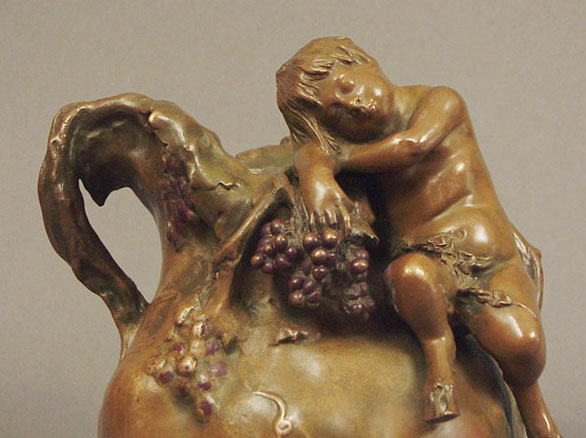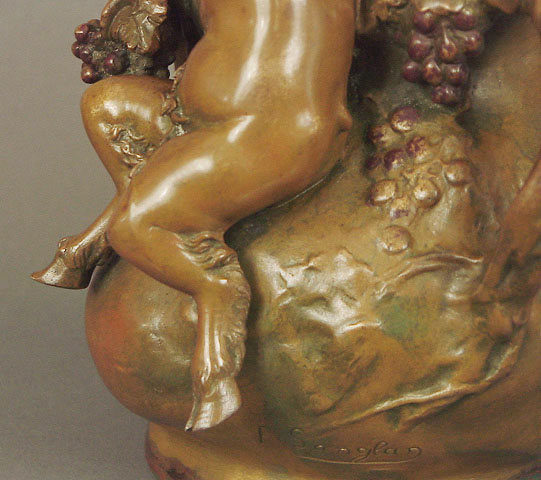 (A) My piece de resistance this time is a brilliantly conceived and executed bronze vase (weighing nearly nine pounds!) by E. Sanglan, an important French sculptor. This organic fantasy features a young and darling satyr (note the emerging tail) who has just harvested grapes for his drunken lout of an old man -- or somesuch story! It's a magnificent work by any interpretation, worthy of the finest Art Nouveau collection. It stands just under seven inches tall. (e-mail Jack for a price)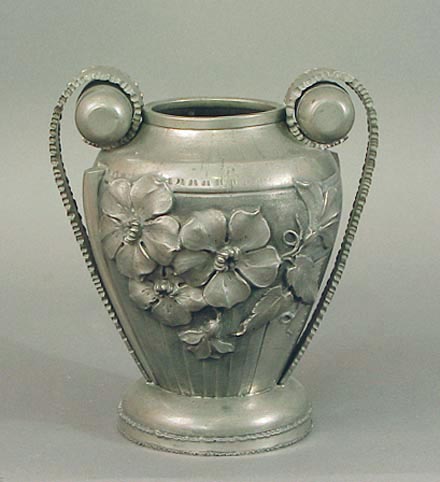 (B) This pewter vase propelled its way into my life at 5 AM... woke me right up, it did! It's incredibly well crafted, along with its glorious design... and signed by the artist, R. Silofeux. The etain (pewter) medium was highly respected and drew gifted and talented artists to the medium. It measures 10 high, 9 wide. (e-mail Jack for a price)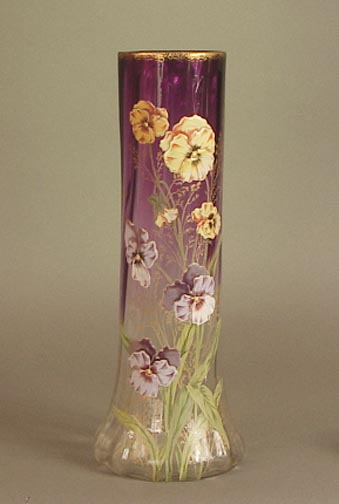 (C) My inner Little Old Lady ("Grace") picked this up, no regrets. Exquisite, dimensional enamelling, hand-blown glass with the most vibrant amethyst color at the top imaginable. It's 14 1/2 inches tall.
GUY 's inner LOL responded and took this marvel of craftsmanship away! SOLD!
(D) A 14-inch hand-hammered WMF brass vase, circa 1900... what an organic beauty! Plenty of presence for a striking arrangement... (e-mail Jack for a price)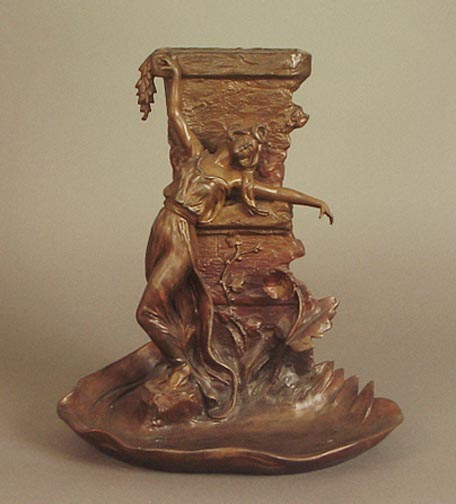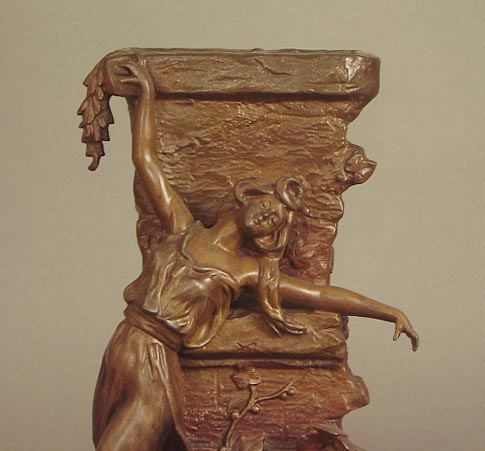 (E) This bronze-patinated white metal combination vase and tray would be a lovely addition to a lady's vanity. Or perhaps on a CEO's desk... to remind her underlings that Her Majesty is also tres feminine... It stands 10 3/4 inches high, and is signed E. Cardier. Francais, sans doute!
Say "au revoir" to this splendid Art Nouveau example! SOLD!!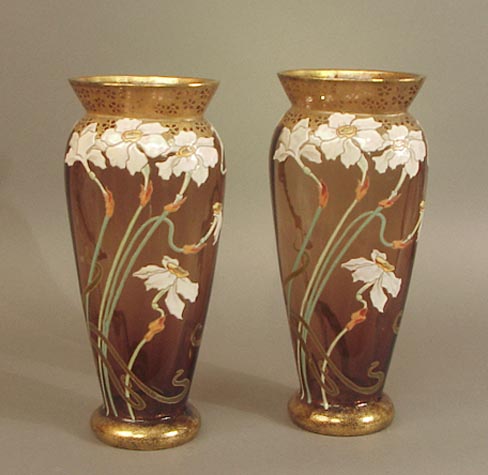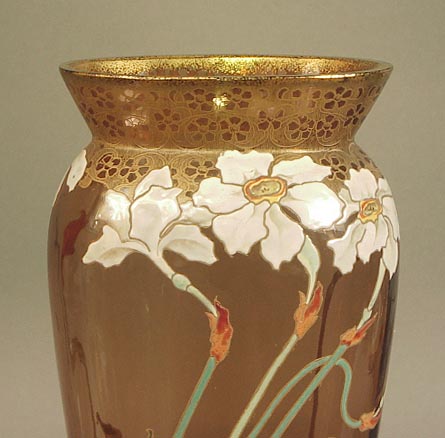 (F) Dramatic, state of the (then) Art Nouveau vases, probably mold-blown, 14-inch enameled amethyst glass vases. Mint condition! Tall enough to command presence in a large room, and certainly tall enough for a formidable floral display!
Their new owner, so enameled... sorry, I meant enamored! SOLD!!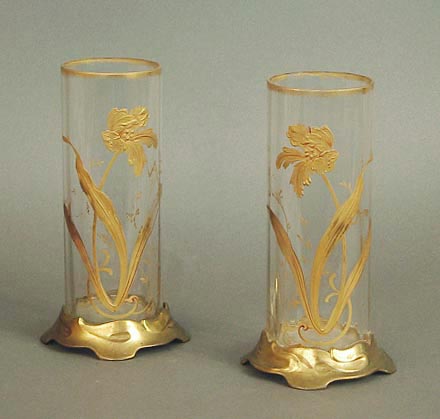 (G) These just took my breath away when I found them! The gilded metal bases are of white metal, and the gold-embossed vases of clear glass, standing about 7 1/2 inches tall. This mere photo doesn't do them justice, unfortunately... (e-mail Jack for a price)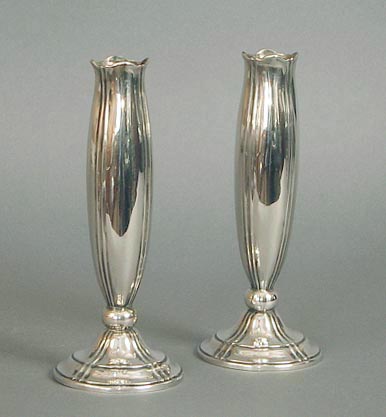 (H) A pair of beautifully designed sterling silver vases of a decidedly organic, Art Nouveau fashion... about six inches tall...signed Roca, a Spanish silversmith. (e-mail Jack for a price)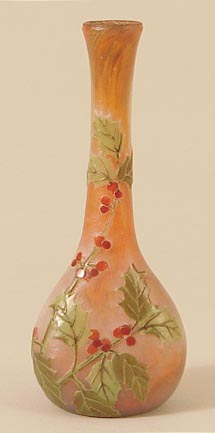 (I) "Benteja...?" and "Bordeau" appear to be present in the form of a very subtle acid-etched mark on the bottom of this 7 1/2 inch tall acid cut-back vase. There's a lot of opalescence in the bottom of this exquisite cabinet piece, and the artwork is compelling. (e-mail Jack for a price)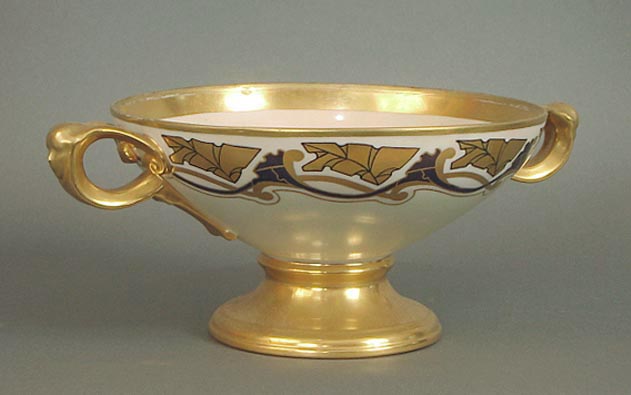 (K) How could I resist putting a picture of this electric Art Nouveau bowl in with the "vases"? It's probably by Limoges, who knows who the painter was (hint: "R.A.B." marked on the bottom!)? It's about 11 inches across, plus the handles. (e-mail Jack for a price)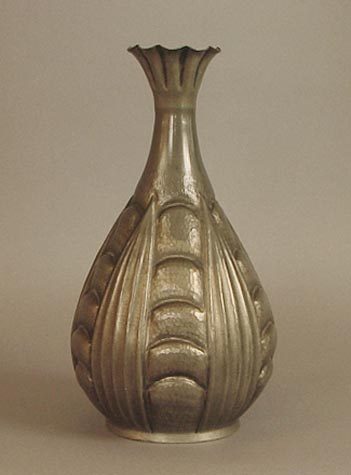 (L) An imposing etain (pewter) vase signed A.E. Chanal, an important name in this realm of artistry; it stands 13 1/4 inches tall.
Transitional art, now transitioned from Jack to Albert... SOLD!!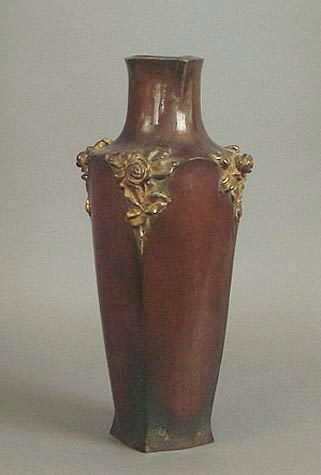 (M) Signed A. Marionnet, a well-known French Art Nouveau bronze sculptor; it stands a full 14 1/2 inches tall, and has a tin liner for water. (e-mail Jack for a price)
(N) This cache pot is hiding nothing of its vibrant beauty, thankfully. It measures a substantial 8 inches high, 10 wide. No marks... except an A+ in my book! A couple of short hairline cracks near the top...
SOLD!!