As you might imagine, photographing mirrors is no picnic. True to form, there was a bizarre element to photographing this group... namely that the glass ended up looking like green mud, how attractive... In actual fact, in reality, they all look like normal mirrors! But here the glass has this weird color (a reflection of the ceiling, since I put them on the floor to make the photos); and, speaking of reflections, just what are those strange patterns? Extraterrestial space ships? Ancient Mayan crop rows?
Most of these mirrors are beveled, usually an inch or slightly more -- hand-wrought as was the iron. Consider the immense number of hours to create each and every one of these beauties!!
(A) Thistles! The width 27, the height 17 (that's overall). Nice iron work, charming design. (e-mail Jack for a price)
(B) Perfect patina, strong design, the silvering in excellent condition. 31 wide, 15 1/2 high overall. (e-mail Jack for a price)
(C) A most handsome configuration, with appealing hammerwork. 30 inches wide, 18 high. (e-mail Jack for a price)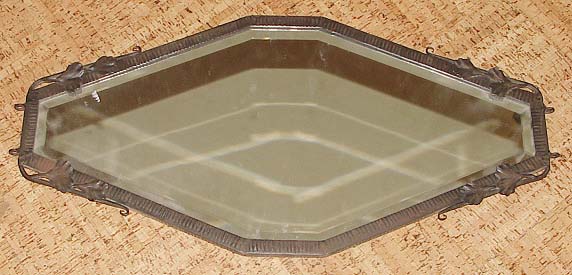 (D) Ginko leaves, one of Edgar Brandt's favorites! What a wonderful diamond shape, too! Overall, 30 wide, 15 high. (e-mail Jack for a price)
Here's a close-up.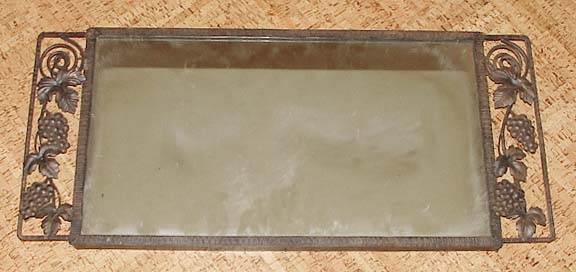 (E) Gee, looka them grapes, Guido. 30 inches wide overall; the mirror itself, 23 wide, 13 1/2 high. Below is another view. (e-mail Jack for a price)
*****
(F) Yow and meow! Shaped like a cat's eye, with a gold paint wash over the nicely worked iron. 33 wide overall, the glass about 26; 14 high including the metal. The glass has an ample bevel and other than about a half-dozen little black spots, is in great shape; it has its original wood backing. (e-mail Jack for a price)
(G) A nice little walk through the woods... somewhere in Northern France. The overall dimensions: 27 1/2 side to side, 13 high; with the chain figure on an 18" overall dimension. The mirror itself has "issues," but hey, it's "antique." (e-mail Jack for a price)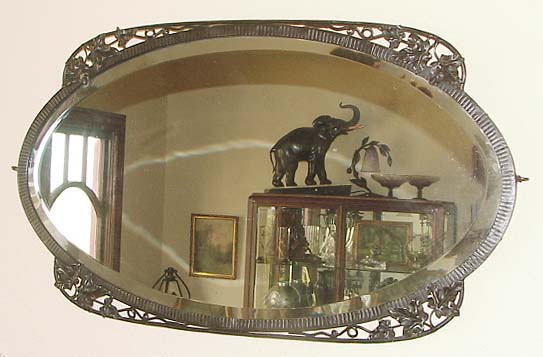 (H) Again, more "transitional" than either Nouveau or Deco, but... is someone judging? It measures 33 wide by 19, and the patina on the very substantial and well-constructed iron is original and in excellent condition. Note the 1-inch bevel. (I'll bet you covet the elephant! Sorry, sold!) (e-mail Jack for a price)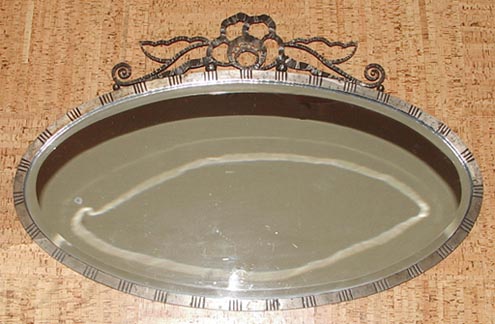 (I) This gorgeous mirror has a beautifully hand-wrought stylized flower on the top. The bevel on the glass is about an inch, and the glass is in excellent condition. You can see one small spot on the left side and there are a few "ghosts" near the bottom in the center. It's got great presence at 33 1/2 inches wide, 21 1/2 tall. (e-mail Jack for a price)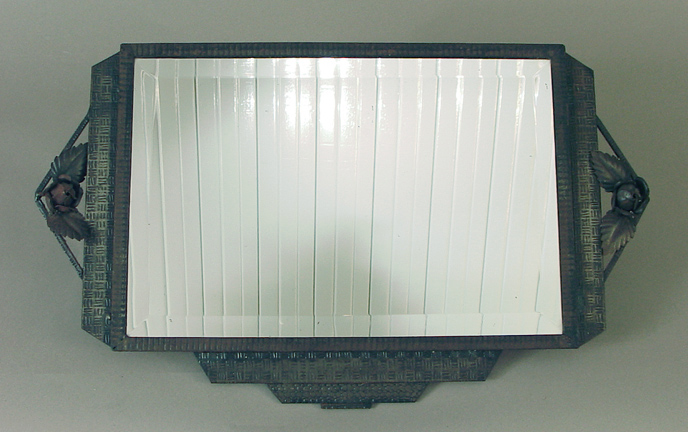 (J) This handsome mirror measures 25 side-to-side and 14 3/4 high, but with its original chain in place (hidden behind it in this picture), from the top of the chain to the bottom of the frame, think 20 1/2 (if the chain doesn't suit your situation, just hang it with the picture frame wire that I'll provide).
FAR too nice to stick around! SOLD!!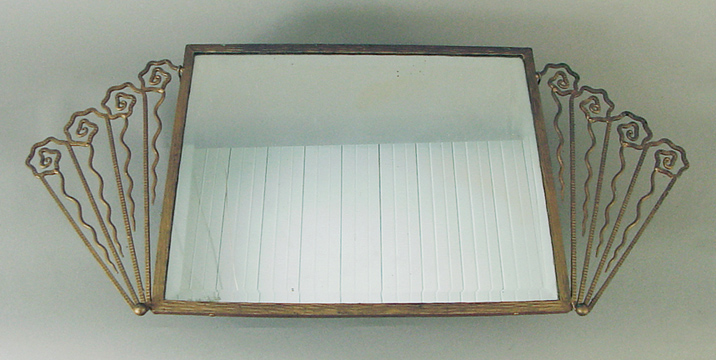 (K) The gold color suits this sunburst shape well, but it's the work of a "Sunday decorator." However, it can be (relatively) easily removed, if you prefer the original wrought iron look. It's a large affair, measuring 36 1/2 inches side-to-side and 28 top-to-bottom with the chain in place (hidden behind the mirror in this photo). Without the chain, you can hang it by the picture frame wire that I'll provide, and then the height will be just 16. In any case, it's got lots of presence, and can easily serve as the focal point for your room.
I truly marvel how long it took for this beauty to fly away, but...SOLD!!
(L) Nothing particularly "important" about this mirror...just that it's French! Roses, are of course, the very favorite French fleur. Measuring 23 1/2 wide by 14 top-to-bottom, with its original wood backing. (e-mail Jack for a price)