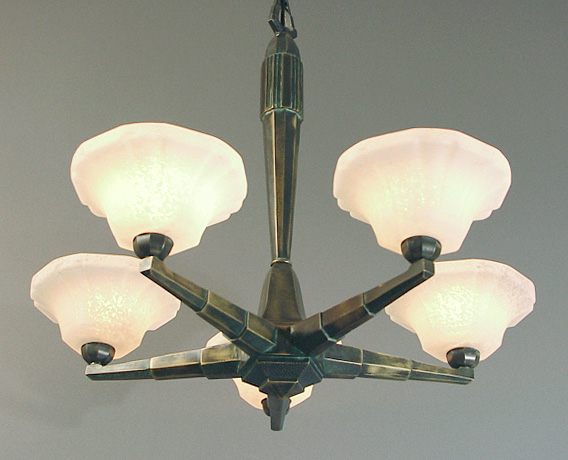 (B) Some folks enjoy ascribing certain human attributes to chandeliers (or coffee tables, you name it); and who am I to deny them that pleasure!? Or myself! So, I hereby dub this baby "Butch." "Butch," as you might know, far surpasses the realm of casual masculinity, perhaps even into Terminator territory. Great weight, bold, no-nonsense lines, this buster makes my mustache hairs twitch. It's 28 long, about 22 across, "just right" dimensions for that smokey, dark, library/office where you sprawl in your French leather club chairs and plot your next stock market triumph. That rich verdigris patina can be switched out to brushed nickel if your decorator insists on a lighter touch in your cave. The mottled white shades, in the manner of Schneider, reflect and support the bold and angled themes of the fixture itself. Or, for the ultra-testosterone experience, buy it with these brazen opalescent shades:
*****
(C) A handsome, sparely designed wrought iron fixture from the 20's,this piece hangs about 27 inches long, about 18 across. Shown with a set of three beautifully designed frosted shades, but available as well with three Delatte art glass shades with purple and yellow and brown colors. (e-mail Jack to start the conversation)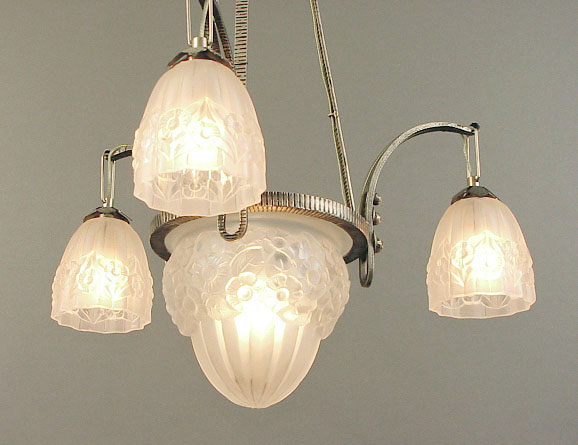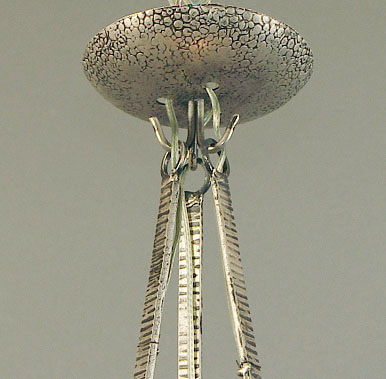 (D) An unsigned Gilles, with an opulant geometric floral design on the shades and bowl. The glass is of normal French quality, very thick and heavy. The wrought iron metal has been nickel plated and patinated. It hangs at 32 inches, about 20 across. I have two of these -- almost perfectly matching chandeliers. The one pictured here has sold, but the other is still available. The difference? It's shorter, having a total length of around 26-27 inches. (e-mail Jack to start the conversation)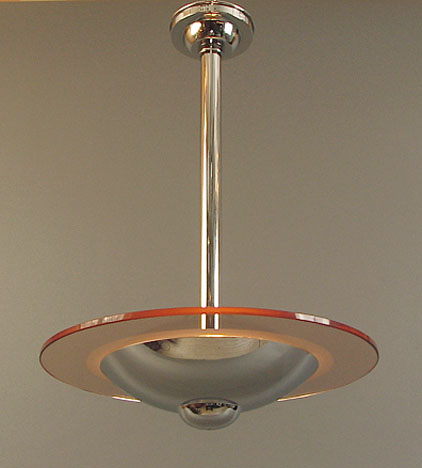 (G) A recently-acquired French auction catalogue shows an almost identical Modernist chandelier "attributed to" none other than Genet et Michon, no real mystery considering the impeccible minimalist design ethic present. Peach glass nearly one-half inch thick with a frosted circle where it meets the chromed metal (solid brass underneath, of course). Wow! Recently replated, this 30's, possibly 40's chandelier looks as pristine as when it first jumped out of the box when Pierre brought it home some 60 or 70-odd years ago! Can't you just imagine the conversation? 28 inches long, 19 diameter.
One's memory being less than perfect, I can't say as I recall selling this, but since I can't find it, it must be SOLD!!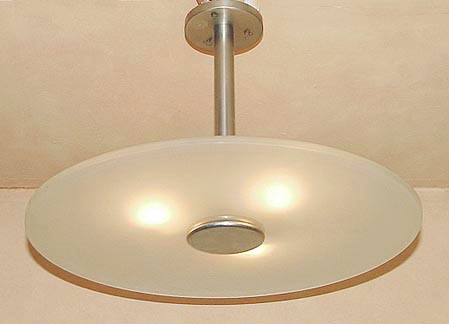 (I) "Less is more" wins the day once again, with this cute little Moderne fixture. It hangs 14 inches long, and is about 24 in diameter. The glass, that very rare clear etched 30's glass, is thicker than 1/4 inch.
Yet another goner!! SOLD!!
(J) This is one of those rare times when I just feel like shutting up and letting the SHEER BEAUTY of the piece do the talking! Alas, I'm incapable of not mentioning that I've never had another asymmetrical Moderne fixture... Freshly rechromed, and with newly made, sand-blasted glass discs. Who could imagine? It hangs 24 long and is about 16 across the bottom.
Whilst you were marveling, Doctor Dave stepped up and grabbed this incredible Moderne jewel for his Florida digs! SOLD!!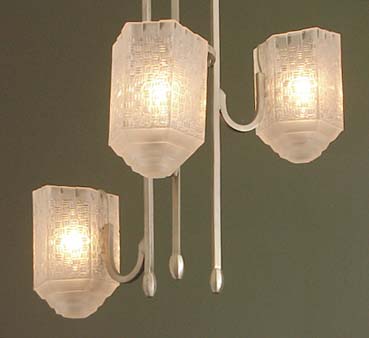 (L) Hanging 26 long and about 17 in diameter, this interesting asymmetrical form is refinished in brushed nickel. The shades have a lovely ice-like design in relief, and note their pyramiding bottoms! (e-mail Jack to start the conversation)