(A) This is my latest heart-throb, a positively smashing Degué four-light with bowl. The wrought iron is decorated beautifully along every last centimeter, as you might expect. About 30 long, 29 across.
So FABULOUS, so SOLD!!
(B) Fresh from Jack's famous restoration cannon, this exquisite Modernist beauty hangs about 17 inches long and is about 22 inches across. The metal is all solid brass and it's just been entirely rechromed; the glass is all original, and perfect! Rewired, it takes three bulbs, so you'll have lots of light.
SOLD at a chillingly low price!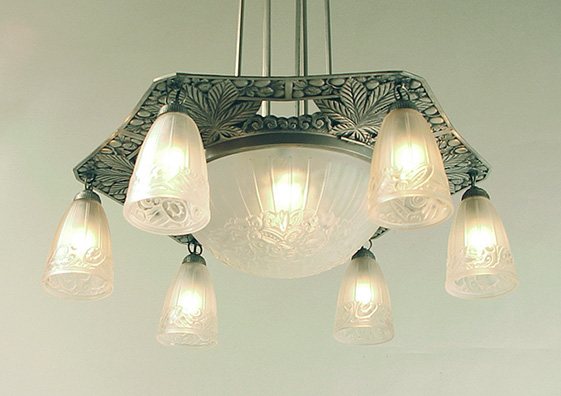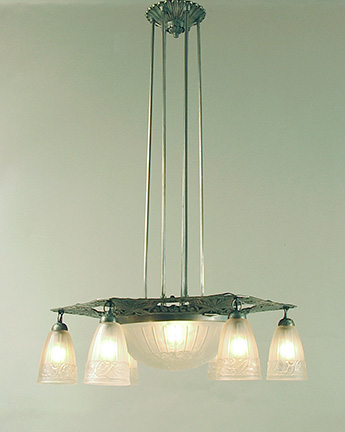 (C) It took three dogs' ages to get up the energy to restore this monster, but aren't you glad I did? The nickel finish is original and in A1 condition; as for the chestnut leaves and nuts motif, ain't it positively the nuts?! About 39 long, 38 across; if you have a shorter ceiling than this would warrant, no problem, I can shorten the rods. (e-mail Jack to start the conversation)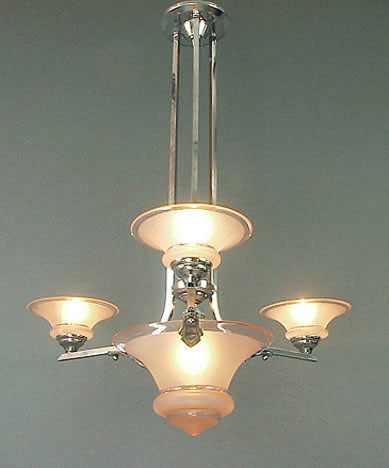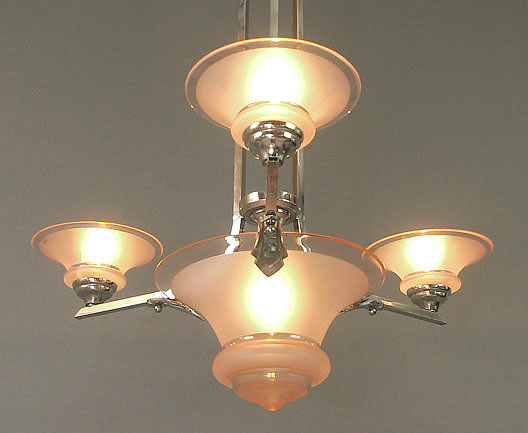 (D) An original chrome finish in excellent condition (a rarity in itself!) supports four light pink glass elements. It's about 28 inches long, a delightful minimalist design which celebrates the beauty of the glass and its fetching color. Rewired, of course. (e-mail Jack to start the conversation)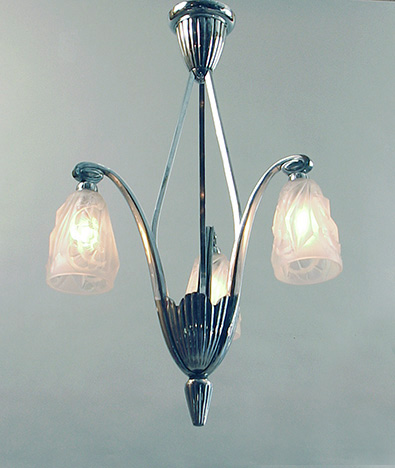 (F) Such grace, such elegance! And, a fixture with authority, I should say! The finish is chrome, and original and in super condition; the shades are extra-large and in the design manner of Degué, as if I needed to tell you experts! Hangs about 31 long, 19 across. (e-mail Jack to start the conversation)
(G) Here's a rare Modernist show-stopper by Petitot, one of the more revered French lighting designers. The little "wings" on each corner are acid-etched with a Modernist design, as is that massive piece of glass (about 38 by 22 inches). I've installed four sockets inside the housing so you'll be able to light it up to your heart's content. It's been totally refurbished, including chrome-plating, wiring, you name it (the standard here at Decorum). This just kills over a dining table! That would be a Leleu dining table, 'natch!
So sorry, but a delicious memory! SOLD!!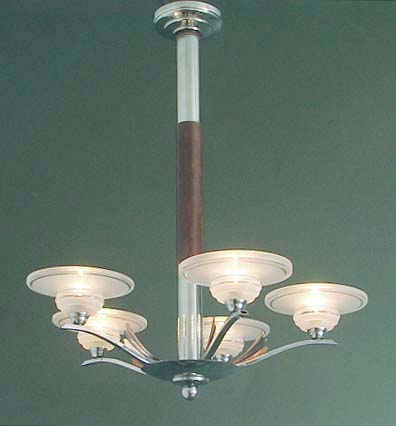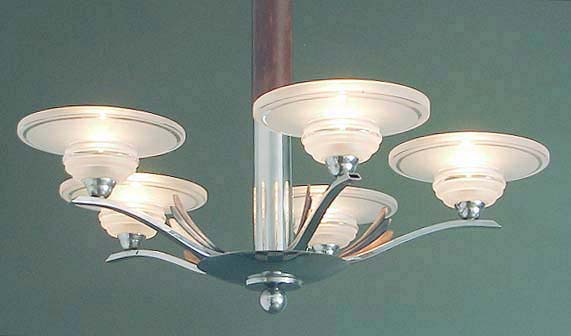 (H) Chrome, copper and wood, a likely combination!! Hence my delight when I stumbled upon this one in La Belle France. I suspect it was fabricated in the 40's, but who knows, perhaps the late 30's. After all, who was doing much of anything in France in the 40's besides recovering from The Second you-know-what? In impeccible condition, measuring 32 long, about 26 wide. (e-mail Jack to start the conversation)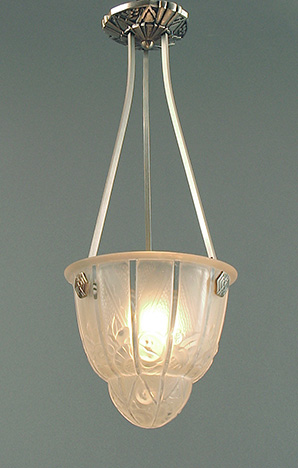 (I) Robert probably designed this beauty; with such stellar Art Deco motifs could it be otherwise? I've created the hanging apparatus, and I'm ready to stand up and take credit for that! It hangs about 20 long, 8 across. (e-mail Jack to start the conversation)