(A) Elegant, seemingly sculpted, fluted ends lift this coffee table w-a-y beyond the ordinary! And, it's (quite possibly) the design work of none other than that American lion of design, Gilbert Rohde, which of course would handily explain its "furniture as art" aspect! It measures 33 1/2 wide, 21 1/2 deep, and stands 18 inches high. The condition's not immaculate, but it's definitely "excellent," and clearly has been treated with respect and now that I own it, reverence! (e-mail Jack to start the conversation)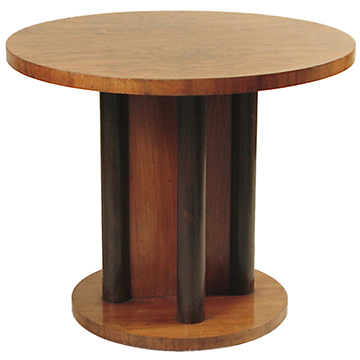 (B) This manly beast in the French late-Deco or Art Moderne style just steals the "gueridon" show. It's about 24 inches high and similarly wide. It's been "touched" by my restorer and is in excellent condition. (e-mail Jack to start the conversation)
(C) Normally when I visit a dealer-friend's home in France I try to figure out what's their personal space (and stuff) and what's for sale. It can be a delicate balancing act. When I saw this table in my friend's living room I didn't dare ask whether it was for sale, but lo and behold he promptly informed me that it was available, to my delight! SOLD!! I used it in my own home for years and beat back the local dealer wave of "how much is that?" Now I've moved and am making the table available!
Classic French over-achieving here -- in terms of the thickness of the marble and the excellence of the ironwork. Whether the table's from the 30's or 40's, I'm not sure, but it's certainly plenty OLD. I think of this particular style of ironwork as being more post-WWII than prior. Anyway, it's a bold, unusual piece of furniture, one which I've enjoyed mightily for years.
The dimensions of 39 x 31 inches include the parts of the iron which protrude beyond the edges of the marble. The dimensions of the marble top itself: 25 1/2 x 33 1/2. It's 21.25 high.
Slight scuffing along the edge of the marble, here and there...no chips that bear mentioning.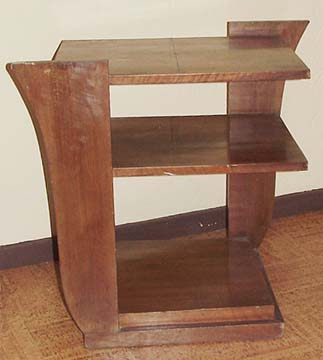 (D) It might be difficult to imagine just how cool (not to mention USEFUL) this French Moderne occasional table will look (and be) after it's restored. But at the "ridiculous" price of only $325, you're not exactly going out on too thin a limb...(e-mail Jack to start the conversation)
The Decorum Home Page