Get a load of these African chairs, featuring stylized gazelles. They're not for sitting (too fragile!), but they display beautifully (if you can keep the kids off them). The backs detach instantly from the seats, and make fabulous wall decoration. The left-over seats can be used as paddles for naughty children... (e-mail Jack to start the conversation)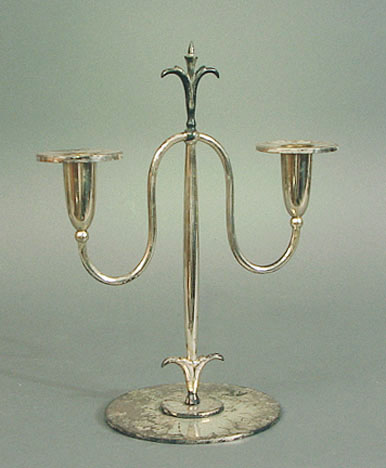 (R) Brilliant design, n'est-ce pas? By Hallberg, I presume a Dane. It would make sense, no, with that delicate design? Can you feel the influence of Jensen? Originally silver-plated and lacquered, and as you can see it has "the patina of the ages" upon it. I should double the price!! (e-mail Jack for a price)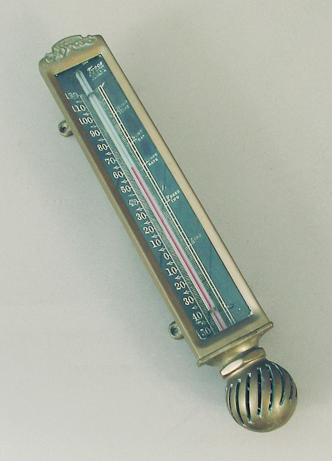 (T) is for TEMPERATURE, and just how HOT or COOL is this baby?!! It's bronze, of course, and O-L-D... maybe about a hundred years? When did you stop calling it "blood heat?!" Oh, you're not a hundred? This beast, by the Tycos Company, is over 16 inches long and tips the scales at over four pounds! A total MUST HAVE. (e-mail Jack for the price)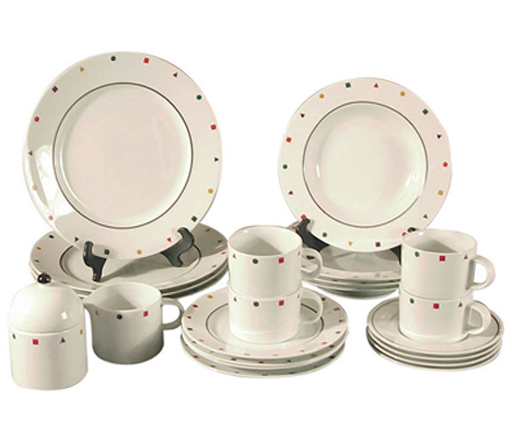 (S) ... is for SASAKI! And yes, of course I have a set of this dinnerware and could I live without it? Hardly!
The bone-white, super high quality porcelain with its jaunty, colorful decorations sets the mood for a fun meal every time. That is, unless somebody at the table's harboring resentments (they just might be jealous of your impeccable taste).
The dinner plate is just under 11 inches in diameter; the soup bowl, about 9 1/4, the salad plate, just under 8 inches. The cups are a nice size and the handle design, sublime. The sugar and creamer are a bonus, especially with the black finial for the sugar lid (it came in white as well). The sugar bowl lid has been "lightly" damaged you can see the chip in the close-up photo; there's a hairline crack as a result. I will say that this is nowhere near the breaking point, as long as it's treated with care and kept out of the dishwasher. One salad plate has a flake near the rim about the size of a pinhead. Otherwise, like new! Dishes to die for!!!
Finally, a client with sublime but fun tastes! Thomas knew as soon as he saw this that he'd soon be dining in splendor! SOLD!!