(A) What self-respecting oenophile (aficionado) could be without this gem on his dining table? Silver-plated and in excellent condition, just rarin' to hold a bottle of something a lot better than my model! (e-mail Jack for a price)
(A-1) And while we're on the drinking theme, why not gab about the ultimate martini mixing vessel, this Hawkes crystal cocktail -- I want to say "shaker" but...I don't want the martinis all over the walls and floor. Anyway, whatever it is, it's got a sterling top, so marked and emblazoned with "HAWKES" to boot. It's undoubtedly a Steuben blank, as that's how things were done in those days of yore. The wheel-cutting is top, top quality in execution and design. It stands about 11 inches tall, large enough to quaff the thirsts of four at the bridge table. Then they'll be too plastered to care how they do.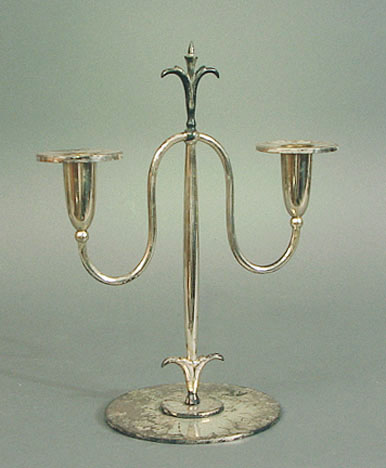 (B) Brilliant design, n'est-ce pas? By C.G. Hallbergs; not marked, but by the noteworthy Swedish silversmithing firm of long ago. Can you feel the influence of Jensen? Originally silver-plated and lacquered, and as you can see it has "the patina of the ages" upon it. I should double the price!!
Brilliant design? How long will that stick around? SOLD!!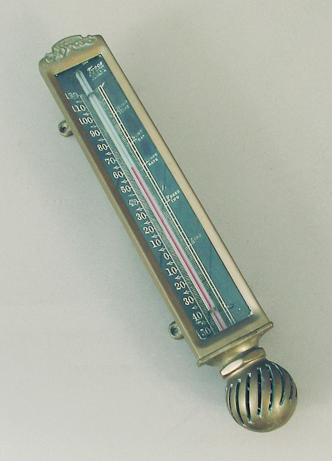 (C) is for Celsius, but here we have only Fahrenheit! Our thermometer is bronze, of course, and O-L-D... maybe about a hundred years? When did you last call it "blood heat?!" Oh, you're not a hundred? This bronze beast, by the Tycos Company, is over 16 inches long and tips the scales at over four pounds! A total MUST HAVE.
Someone, somewhere, knows what "blood heat" means! SOLD!!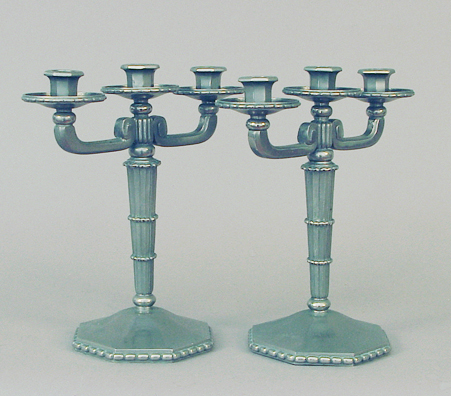 (D) Pure brute Art Deco power here -- in the design of these candelabra --sufficent for placement on a grand dining table, a sideboard, a mantle. Quelle presence, one might say (at about 13 inches tall)! They're nickel or nickel-silver plated, over bronze or brass (probably the former). They were originally created to hold electric candles, but beeswax would be my preference... (e-mail Jack to start the conversation)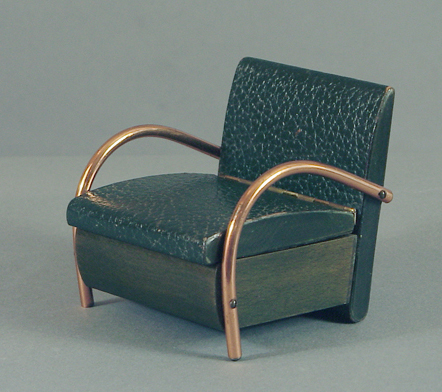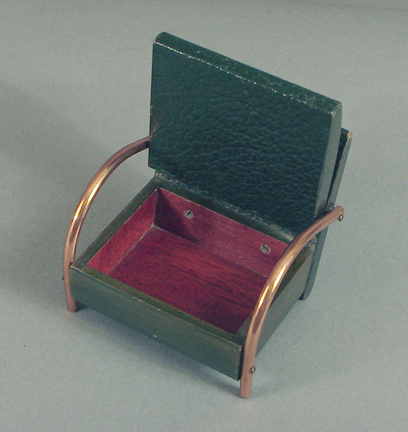 (E) One of the cooler things I've dragged, kicking and screaming, out of la belle France. It's either a jewelry box, a cigarette box, or a "stash" box, your lifestyle choice! Perch it next to your modernist chair, on your Hoffman chromed table, and watch your friends' eyes pop! It's about 4x4x4. (e-mail Jack to start the conversation)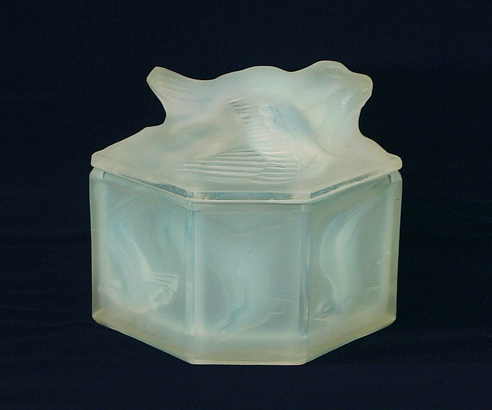 (F) Tthis opalescent box isn't by Lalique, but the quality is consummate! Both design and craftsmanship, tops! The seagull motif shows up again and again in French art, and our friend on top of the box is lunching on a fish. These things happen. The box is signed on the bottom of one of the larger "panels" but illegible, at least by these eyes. The beveling on the top of the box itself and the bottom of the lid will impress you, guaranteed! "Made in France" is molded into the glass on the bottom, as if we had to guess! Measurements: about 4 inches tall, 5 across. So fine!
Gone... but well remembered! SOLD!!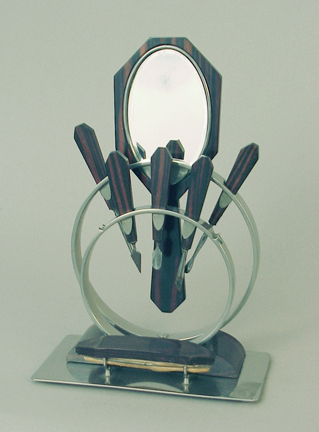 (G) I'm told that the French word for this item is "necessaire." What could be more obvious to a lady of high standing and sophistication? The finest materials have been brought into play here, chrome or nickel-plated brass and yes, that would be Macassar ebony, aka "zebra wood." There are a two empty holes where ?? used to reside, but the visual impact of this testament to the "swell life" remains entirely intact. I suspect some movie scout will find this and you'll see it in the remake of a Fred Astaire, Ginger Rogers film. (e-mail Jack to start the conversation)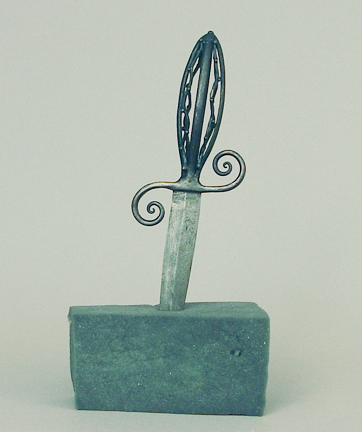 (H) Excalibur!! Yes, I'll send you the foam, then you can pretend it's stone and impress your date. The dagger/letter opener is just over 11 inches long, all together, and has a very sharp point. Great for opening letters, especially if you're hostile to what arrives in your mailbox. (e-mail Jack to start the conversation)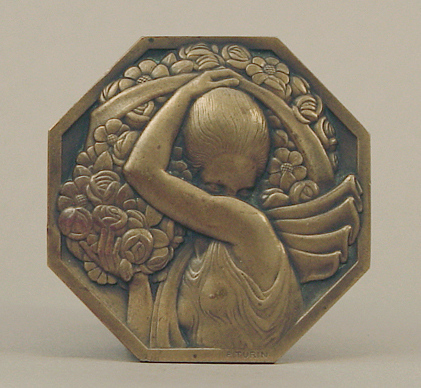 (I) This exemplary bronze by Pierre Turin -- France's premier bronze medal artist -- typifies the sensuous quality of France's contributions to the Art Deco movement. It measures 2 3/4 across and is signed on the lower right. The edge under that bottom of the hexagon has "bronze" stamped in it. (e-mail Jack to start the conversation)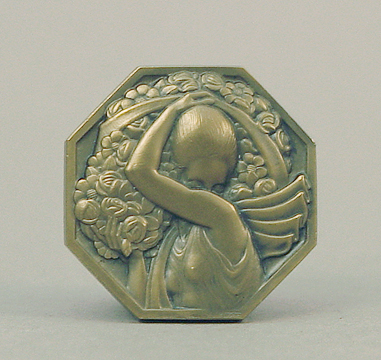 (I-A) Yes, this medal's a bit smaller than her mother above, measuring just an inch and a half across. Curiously, the word METAL is stamped where BRONZE is on Mama. Being non-ferrous, it must be mere brass. Whatever! It's in near-mint condition and has definition even superior to Mama's. I guess that's really just the story of life itself, huh? (e-mail Jack to start the conversation)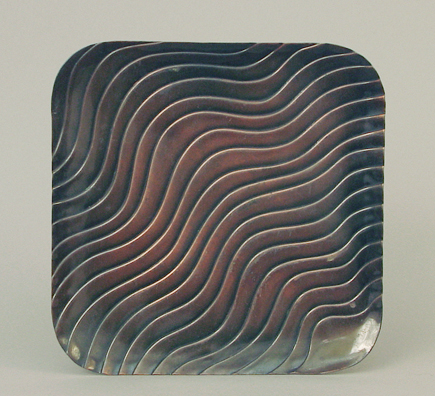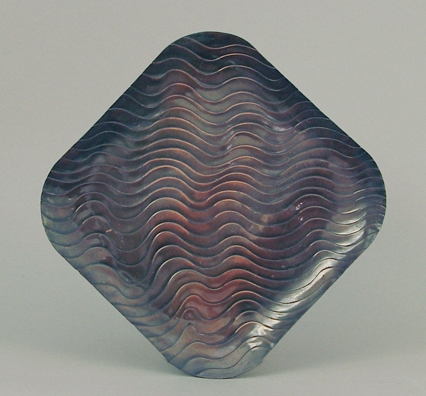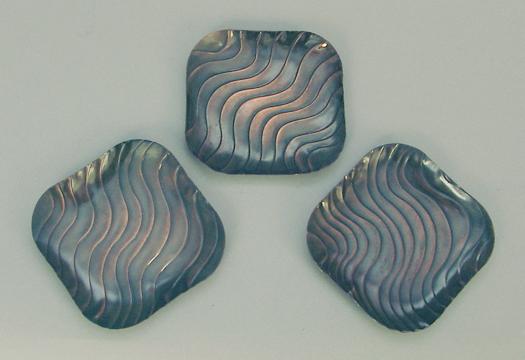 (J) Nothing particularly French about these stunners, they're by REBAJES, no news to you "in the know." The top two measure about 12 inches across. The first one is a tray (or whatever), the second one a wall decoration (!); the set of three smaller "plates" are 5 1/2 inches square. All are signed. Where else to find treasures like this but...(ta-da)... DECORUM! (e-mail Jack to start the conversation)
(K) The "Continental" coffee set, by the renowned master designer Walter Von Nessen (for the Chase Company), combines classical and modernist design elements. Here shown with the "Festivity" tray in walnut, a super-rare item (especially in this excellent condition, with just light scratches on the handles!). The coffee set itself is in near-mint condition, including the coffee straining apparatus inside the pot! Museum-worthy, I dare say!
The curator (apparently) came along and... SOLD!!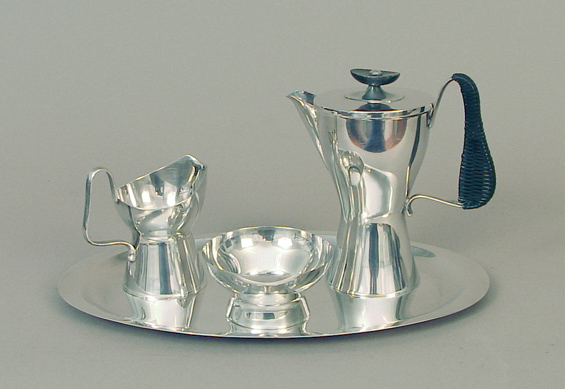 (L) You're thinking Italian, right?! Guess again, and it starts with GERMAN! Wow, maybe Giuseppe crossed the border and designed it for WELLNER, a formidible German silversmithing firm. Soooo absolutely fabulous! Small (six inches high, the coffee) but packing such a design wallop!
It was a delight just to own this for a short while... SOLD!!
(M) If you're looking for Art Deco, or Art Moderne, or German high 20s/30s design, or a fine example of early "women's liberation" (note the daring hairdos), or you're just out there to have some fun, you've landed on the right lily pad. Mint condition, with daubers, signed "Bavaria."
Off to NYC the ladies have gone, being the sophisticates we knew they were all along! SOLD!!
(N) This ring tray (probably conceived as an -- ugh -- ashtray) sports a delicate ballerina in bronze, almost undoubtedly the work of Austrians (who specialized in this sort of thing). With its original felt on the bottom, probably covering up "Made in Austria." (e-mail Jack to start the conversation)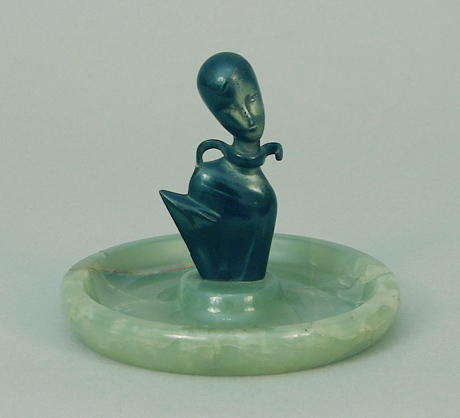 (O) Guess what's signed "Austria?" Another exquisite bronze by the master Austrians, this one a highly stylized Modernist lady worthy of a magazine cover. The onyx base is suitable as a vide poche or ring tray, whatever your delight! (e-mail Jack to start the conversation)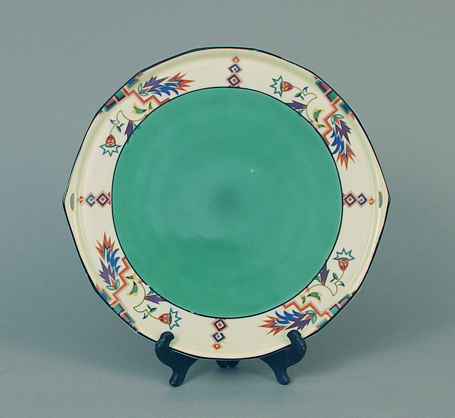 (P) A stunning (and how guardedly I use that clichéd term) German serving platter, probably for that special pastry. It's about a foot across, with decidedly "High Deco" styling. (e-mail Jack to start the conversation)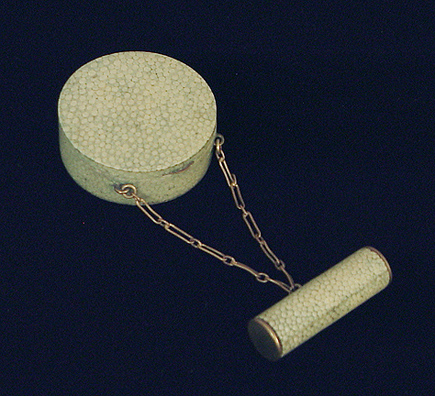 (Q) Shagreen (sharkskin), so esteemed amongst the purveyors of the finest accessories. There's a beveled mirror inside the gold-washed powder; and really, what lady could venture outside without it? (e-mail Jack to start the conversation)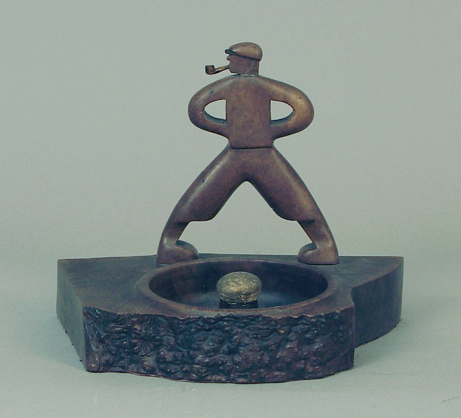 (R) Our gentleman needs his toys as well, and what better symbol of his masculinity and power than this ashtray and pipe tamp? Could that be golfing attire that our hero wears so proudly? The wood is probably Carpathian Elm, a rarity; the burl evident to reinforce that "rough-tough" image of The Man. (e-mail Jack to start the conversation)
(S) If there remain any lingering questions about who's running the show, Max Le Verrier's bronze ... dare I speculate... ashtray... puts them to rest. It's just 5 inches across, but such a design tour de force! Well, you're dealing with a brilliant, gifted artist, no? (e-mail Jack to start the conversation)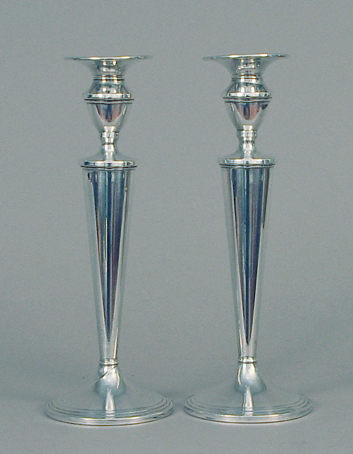 (T) Sterling candlesticks get the nod around my house... but how I yearn for a maid to polish them! Fortunately, once or twice a year suffices. Well, they're from San Francisco's legendary Gump's, and along with that provenance, they're a knock-out design, no; so who's to complain about anything? 10 1/8 high. (e-mail Jack to start the conversation)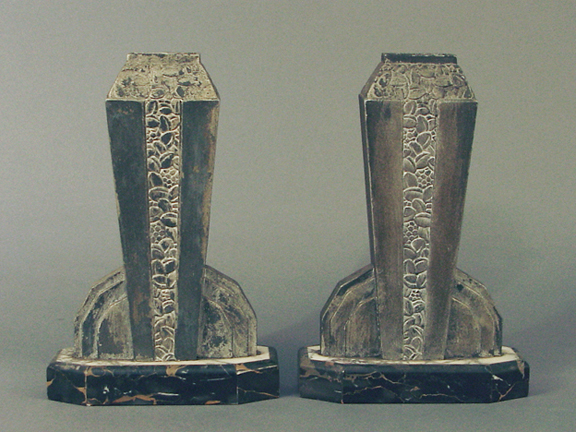 (U) The French call these decorative puppies "garnitures." Typically they would have flanked a massive clock. They're terrific on a mantle or a buffet by themselves. I have a pair on my mantle and they set the stage, shall we say! This pair has inserts which hold water and thus a few flowers. Nice. They're 11 1/2 inches tall, and sport two gorgeous marble types on their bases. Wow! (e-mail Jack to start the conversation)