(A) What's a bridge party without a festive tray? This one's signed Datty, clearly a talented artist. The hand-wrought iron tray itself stands on four little ball feet and measures about 16 inches across including the handles. (e-mail Jack for a price)

(B) These two gorgeous silver-plated vegetable/whatnot lidded serving containers will spruce up your holiday table! They were made in Belgium, probably in the Roaring Twenties, and are proudly hallmarked in the European fashion. The silver's in excellent condition (one very faint 4" scratch on the top of the left-hand vessel). The server on the left measures about 13 by 8, the other 11 by 9 -- plenty of room for rolls, mashed potatoes, brussel sprouts. (e-mail Jack for a price)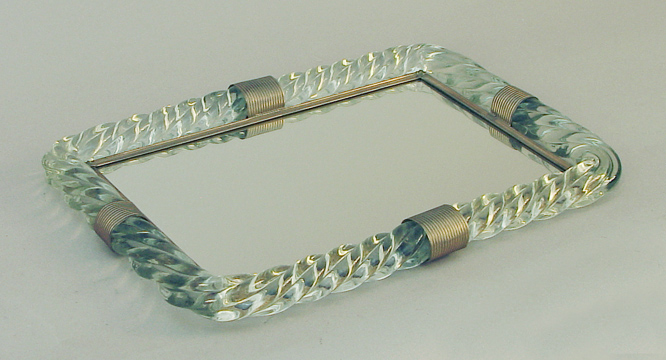 (C) This elegant tray hails from the magicians in Murano, it's "twisted rope" one of their favorite and most visually compelling techniques. This one separates the men from the boys in that it has an interior frame around the mirror (which I've replaced); its velvet back is in great shape, too. It measures 16 1/2 by 11 1/2, plenty large enough to show off your Lalique perfume collection or for serving martinis to four of your closest friends.
Another "top flight" item spirits out the door! SOLD!!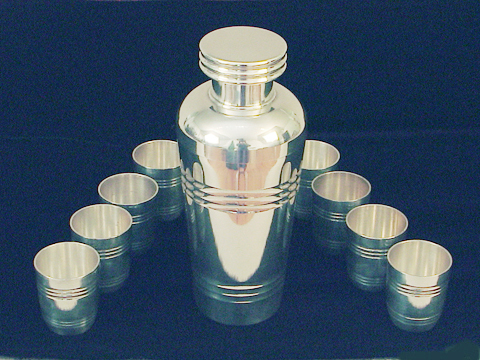 (D) Marked St. Medard, a noteworthy French silversmith, this striking set of eight "cups" and shaker proves the "less is more" notion, its elegance instantly noted. The silver plating is in excellent condition (I don't think the set was ever put to use). I'm on the lookout for the matching tray... stay tuned! (e-mail Jack for a price)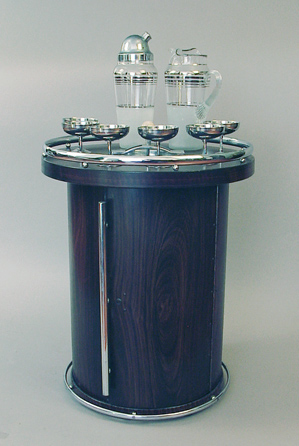 (E) And speaking of cocktails... this American cocktail bar would look even better with the St. Medard set perched on top, n'est-ce pas? Pull the handle and the door swings open to reveal a revolving shelf and below that, a storage compartment. On the top there's an ash receiver, de riguer for its time period. The entire unit's metal, and that's a lovely and intact faux rosewood finish you see. All the chromed elements are solid brass underneath the plating, so they're in great shape along with saying "we're top quality!" (e-mail Jack for a price)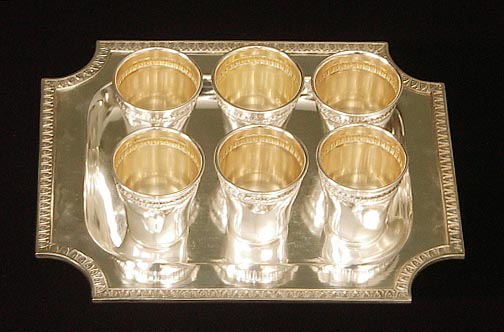 (F) Moving right along with our having way-too-much-fun theme, we have six diminutive sterling silver liqueur "cups" (with gold wash interiors) on a lovely silver-plated tray, all from La Belle France. The tray measures about 7 by 5 1/2. (e-mail Jack for a price)
(G) You're wondering what a whiskey flask is doing here? It was my grandfather's, let's leave it at that! Marked Royal Doulton, of course, and with a sterling stopper. It's about 7 inches high, and that slightly loaded but happy fellow on the front is none other than John Barleycorn. (e-mail Jack for a price)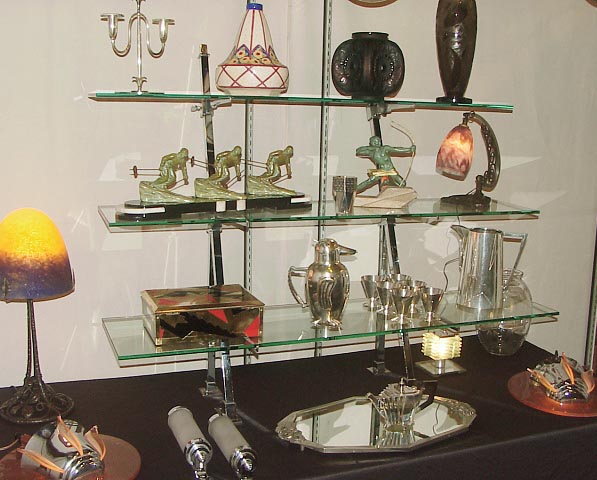 (H) Here's a photo from my last (and I mean LAST!!) antiques show. Since it's my VERY LAST show I'm selling my French chromed display stand, which you see here showing off a few of the gems I exhibited at the show. The three glass shelves are custom-made, 48 inches long and about 1/2 inch thick (for that "extra rich" look). The structure is made entirely of solid brass and has its original chrome finish. Each shelf can be raised or lowered. In this photo I've got the unit screwed onto a standard six-foot long show table which I've custom-drilled for that purpose. This display unit is about as eleganza as it gets! Pure French Modernist/Art Deco, fit for a king, queen or even prince of the trade. Or not! Why not have this unit in your home, showing off that collection of Tiffany, Longwy, or pre-Columbian pottery? You will have to be able to anchor it to a table of something you build. (e-mail Jack for a price)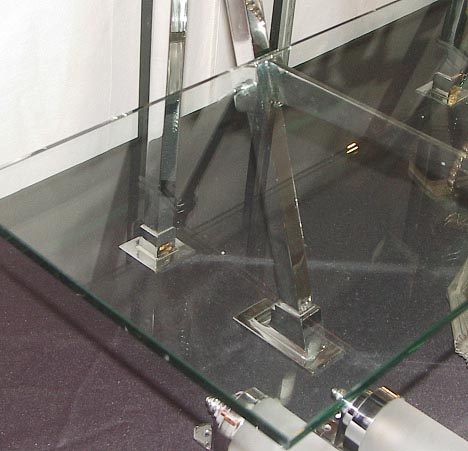 In this photo you can see how the stand sits on the table, the back support providing stability.