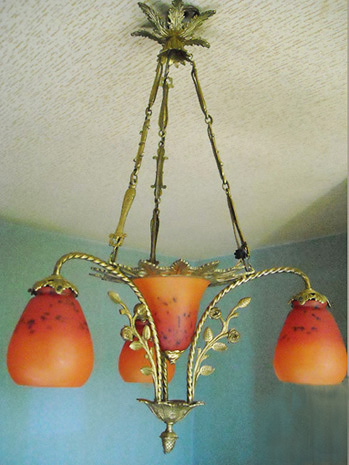 (A) We're breaking the "ooo-la-la" barrier with this Schneider, so magnificent it would seem to be alive. What a perfect blend of Nature's colors and forms, what harmony and proportion! It hangs about 33 inches long and is about 25 inches across. (e-mail Jack to start the conversation)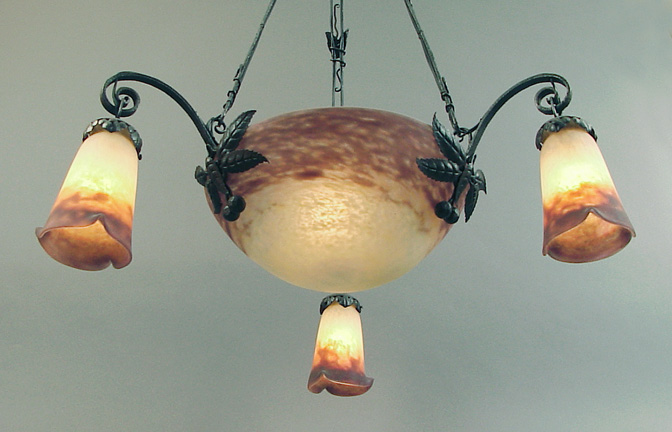 (B) I'm convinced that the French got their inspiration for their art glass lighting fixtures by watching sunrises (few) and sunsets (many), which can be utterly spectacular, with a wide range of intensities and colors. Of course in France it's all about the vineyards, so why wouldn't the metalwork reflect the leaves and twisting vines of their favorite plant?
Wouldn't this light just be the soup-to-nuts in the entryway to your Napa wine cellar? Those luscious purples will have you drooling before you've opened that next bottle. If you're not fortunate enough to have that Napa weekend home, put it in your New York Soho apartment and pretend, just pretend...
Fully rewired and outfitted with American standard-based sockets, allowing you to install whatever size bulbs you like. Measurements: about 28 x 28 x 37 long (e-mail Jack to start the conversation)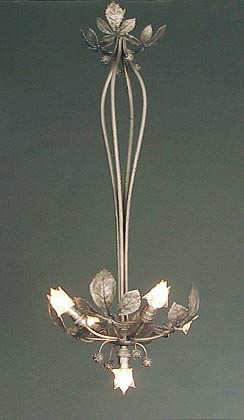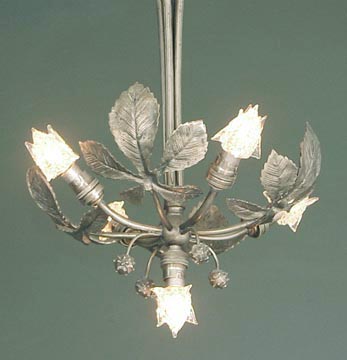 (C) Now we're moving into the naturalistic side of the French artistic temperament, with this rare and unusual thistle and leaf nickel-silvered bronze chandelier. It's shown with "starlight" bulbs. I also have little crystal beaded "jackets" which slide over candelabra-based bulbs, for a similar but even more special look. Dimensions: 34 long, about 13 in diameter.
SOLD to Heather for her South of the Border digs!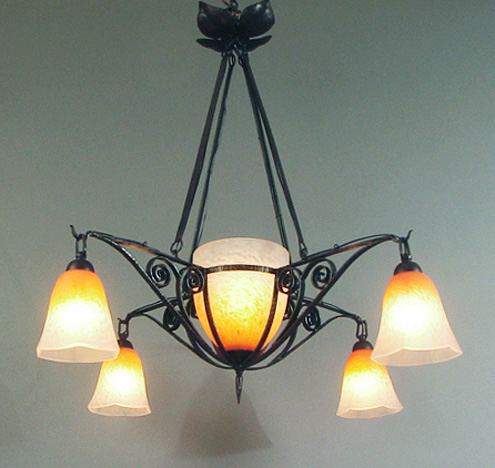 (D) Schneider rules!! Four mottled glass "tulipes" and their matching bowl make for a festival of color; their wrought iron conveyor further emphasizes their "lightness of being!" (e-mail Jack to start the conversation)
(E) This beautifully and deeply bronze patinated French four-light sports four Victorian American stained glass shades. A marriage made in Heaven? The shades have a very Handel-like quality, and the French mount is nicely detailed and perfectly crafted. It's about 28 inches long and 22 across. (e-mail Jack to start the conversation)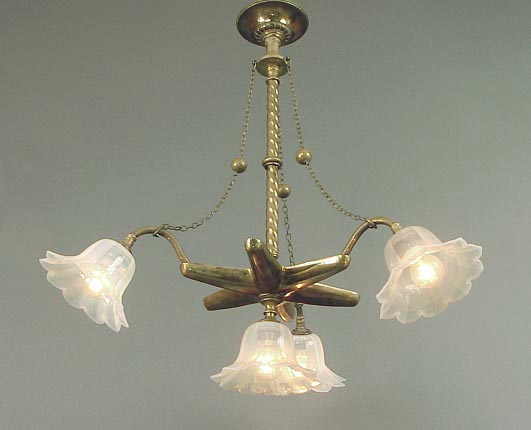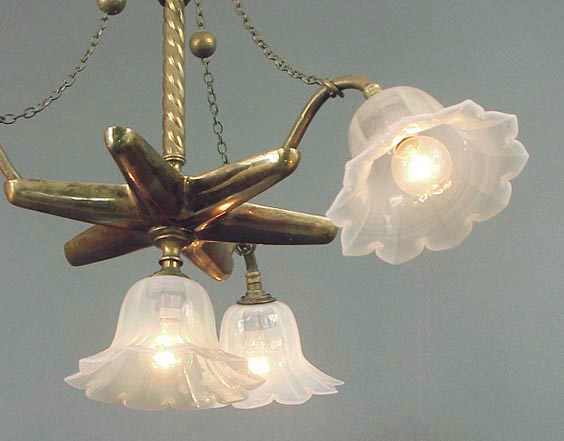 (F) Here's one of a pair of exceptional early 20th century solid brass quasi-Victorian chandeliers. The shades are hand-blown with gorgeous opalescent coloration. Two of the eight shades have a crack -- almost, but not quite, the end of the world! The fixtures hang down around 27 inches and are about 24 in diameter. (e-mail Jack to start the conversation)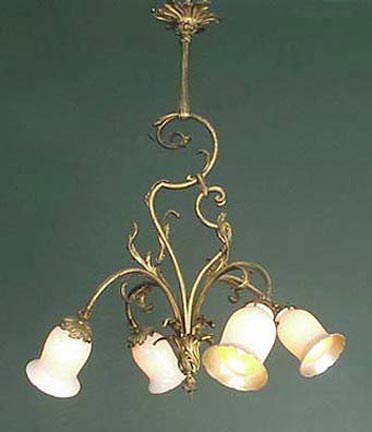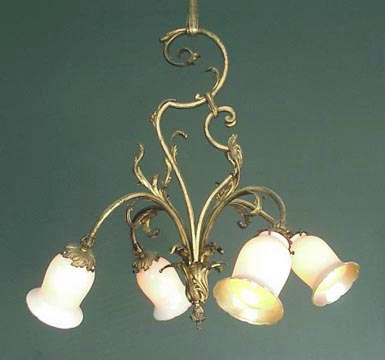 (G) Here's a not-your-everyday item, a gilt-bronze finished Art Nouveau chandelier sporting American art glass shades (signed Lustre Art). The shades are "calcite" on the outside, a warm and rich gold aurene on the interior. The fixture itself was made in France anywhere between 1895 and 1910. How complex, asymmetrical, playful! It hangs 35 long, and is about 26 in diameter. (e-mail Jack to start the conversation)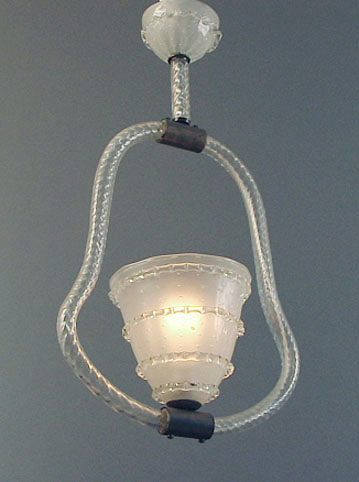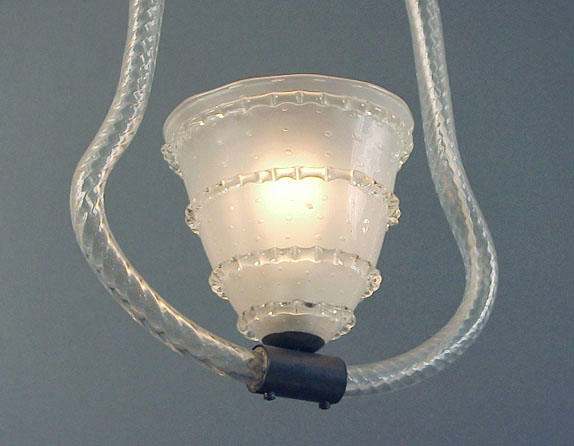 (H) A little Venetian beauty, an extreme rarity. The glass is in mint condition, the canopy and the bowl have matching applied bands; the metal is brass. The length, 24; the width, about 13. (e-mail Jack to start the conversation)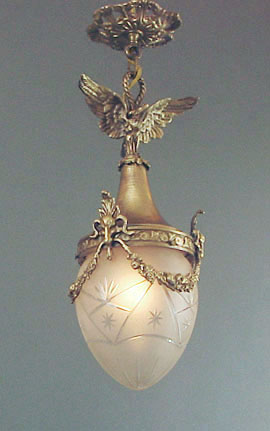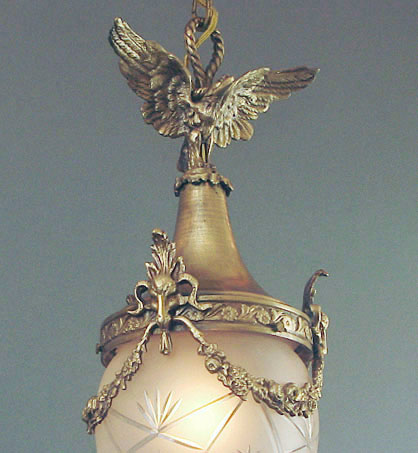 (J) It's an Old World eagle flying across your screen this time!! Flanked by his three goat buddies? It's a bit less "deco" than my normal fare, more "formal, classical" but it's so well designed and crafted I just had to say "Oui!" You too?! It hangs around 22 inches long as shown, but I can add chain if necessary for a longer application. (e-mail Jack to start the conversation)