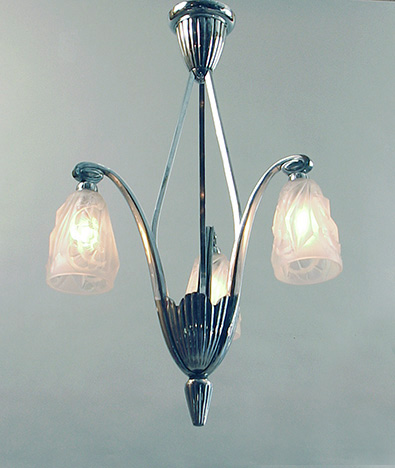 (D) Here's a powerful, cohesive design from 1920's France. The solid brass castings are crisp and the chrome finish (original to the piece) in overall excellent condition. The various elements of this chandelier flow gracefully together, how French! The shades, which have that "Degué" esthetic (bold geometry, Art Deco stylized floral motifs, thick molded glass that has clear-polished highlights), are unusually large and in perfect proportion to the fixture. It hangs about 30 inches long and is about 20 in diameter. Renovated and rewired for your home. (e-mail Jack to start the conversation)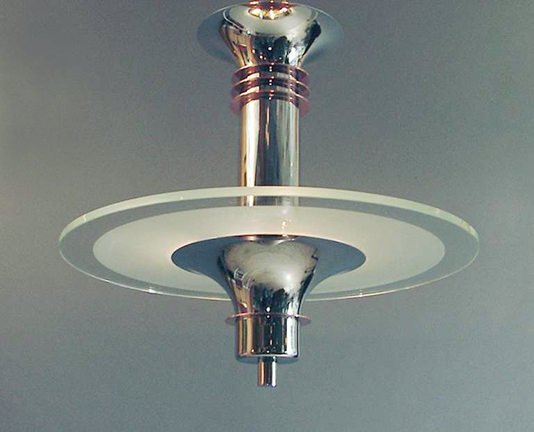 (F) Words practically fail me in the face of this knock-out Modernist fixture, which I've been nursing back to health for well over 3 years. A "lighting scout" near Lyon purchased it and sold it to me "as is," which as usual meant ravaged by time. So I dutifully disassembled it and had it re-chromed. The platers did a phenomenal job, as you can see, and I followed the original concept of chrome body with copper rings (mixed metals being a staple of good Modernist design). The "scout" had traveled to a top-notch glass factory and had this disc fabricated using the type of glass which best duplicates the original, glass with low iron content (we call it "starfire"). It's an amazing piece of glass, about 25 inches in diameter and a half-inch thick! The canopy, an exquisite spun piece of metal, is 9 1/2 inches across! Our Deco Forefathers were fairly obsessed with the notion of outer space and space travel, and the design of this fixture embodies that sense of exploration. All things seemed possible to the citizens of this New Age, and this fixture handily shows all that optimism and promise. It's about 21 inches long, 25 across.
SOLD and they're still crowing about it!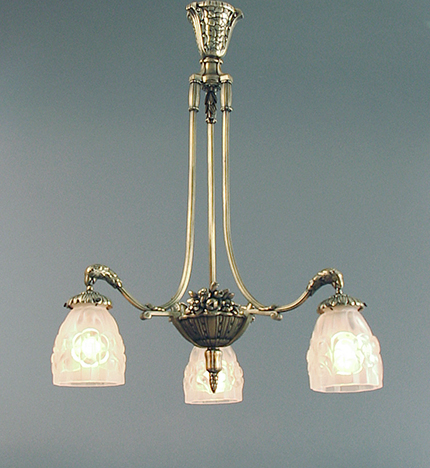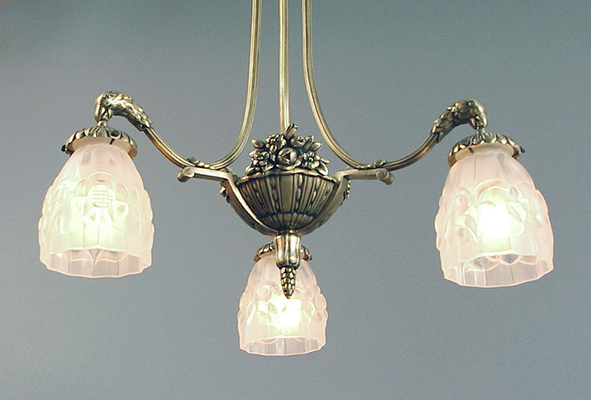 (G) Every element -- the design, the materials, the craftsmanship -- of this fixture is top notch -- from the bottom finial to the canopy! Study the pictures carefully, and you'll agree that you'll seldom find such an amazing variety of details so beautifully executed. I've taken it apart and had it polished (it's solid brass) in a satin finish and then patinated it for the antique tone that it now conveys. Many of the design elements that we associate with the voluptuousness of the Art Deco movement are present -- the basket of flowers, the birds, the intricately decorated canopy and shade fitters. Rewired, of course, with three candelabra sockets each capable of hosting a 60-watt bulb. At $2175 too good to be true!
And at that price you WAITED??!! SOLD!!