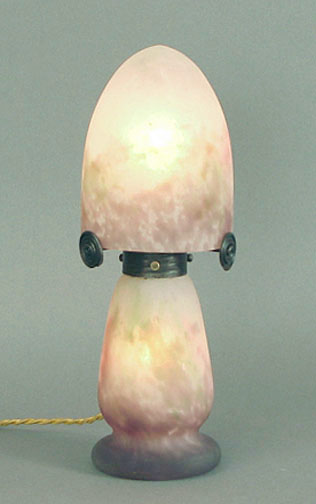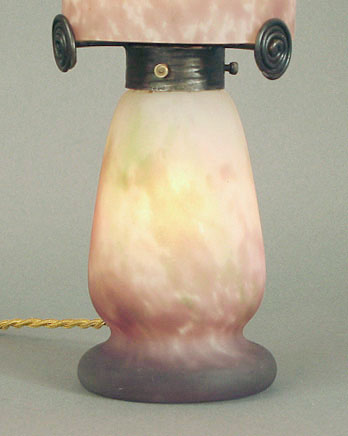 (B) Here's a rare Muller (signed top and bottom) petite boudoire lamp, "little mushroom." This one has the most delicate greens and purples, the glass like fine satin. It stands 12 inches tall and has a light in the base as well as under the shade. (e-mail Jack to start the conversation)
(C) I don't seem to have a "task lamps" division so I've included this gem under "table lamps." Clamp it to your table at home or the architectural office where you hang out! Again, superior French design and craftsmanship, including that preferred metal, brass. The shade, being solid brass, has an impeccible chrome plating that won't be compromised by atmospheric conditions, at least in your lifetime! Or your children's! (e-mail Jack to start the conversation)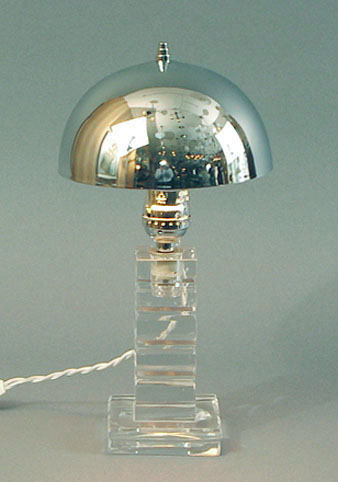 (D) Signed Jean Sala, and if that isn't esoteric enough for you, I can help no further... Sala, 1895-1975, a contemporary of Argy-Rousseau et al, worked in Paris (where else?); he was known for his individualist bent and particularly creative tendancies. This cut and polished crystal lamp, with a freshly chromed (American) brass shade and its tiny Modernist stepped finial, belongs on a Park Avenue vanity, nothing less. Sorry, the rest of you... it's about ten inches tall... (e-mail Jack to start the conversation)
(E) Monsieur le Vipeur was probably fashioned in Syria around 1910 for the French or American markets. Solid brass, so no need to have any anti-venom serum around! He's about 11 inches tall, poised to strike your decor! (e-mail Jack to start the conversation)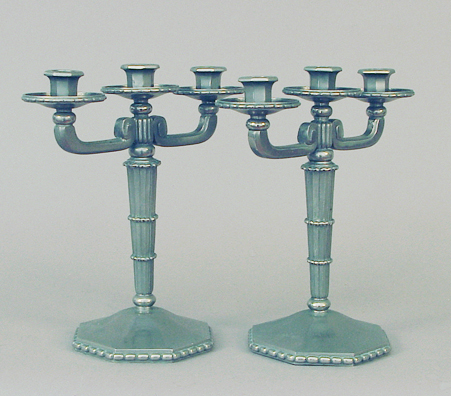 (F) Candelabra on my "lamps" page?! Well, curiously, these stunners were originally made to be...ta-da... LAMPS!! Imagine six "electric candles" with shades (or not). "But, Dear, where do we put the cords? You're not drilling a hole in MY dining table!!" And so, without another word, our hero took out the cords, and the electric candles, and went to the store and brought home beeswax candles. And harmony was thus restored to their mansion.
Getting back to the candelabra: Pure brute Art Deco power here -- in the design of these candelabra --sufficent for placement on a grand dining table, a sideboard, a mantle. Quelle presence, one might say (at about 13 inches tall and wide)! They're nickel or nickel-silver plated, over bronze or brass (probably the former). (e-mail Jack to start the conversation)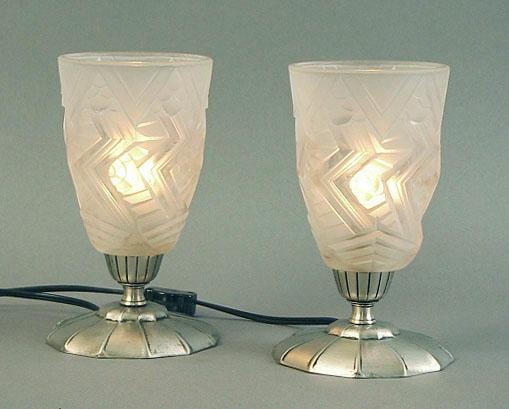 (G) About seven inches of pure Art Deco zig-zag on brushed nickel bronze bases! So cute, about 7 1//2 inches tall, 4 1/2 wide... (e-mail Jack to start the conversation)
(H) Sixteen and a quarter inches of pure Art Deco geometry! The original nickel plating on the base is in better than "decent" condition and the signed Muller shade, perfect. I've installed a nickel-plated standard based American socket (which looks like it was born there!) so you can use any size bulb you want (the "hi-lo" switch on the line allows full or half power). (e-mail Jack to start the conversation)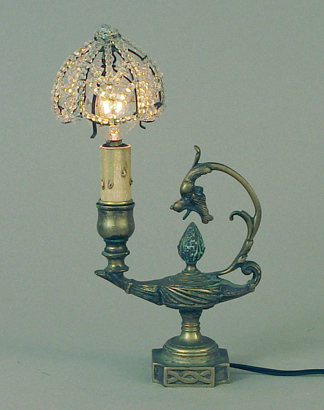 (I) This little solid brass gem depicts a dragon chasing an elongated flaming pearl, presumably a French interpretation of the Chinese myth. The glass-beaded shade reminds me of a crystal palace! About 10 inches tall, re-wired and fitted with a "hi-lo" switch. (e-mail Jack to start the conversation)
(J) Shall we say that's Christopher Columbus on this porcelain vessel? There's a clue on the reverse side, which depicts a sailing ship from about, say, 1492. Wasn't that the year he "sailed the ocean blue?" The lamp's 21 inches tall overall, including the finial. Won't this "wow" them all when it's in a corner of your library? A "real antique!" (e-mail Jack to start the conversation)
*****
SORRY, EVERYTHING FROM HERE TO THE BOTTOM OF THE PAGE IS SOLD, SHOWN HERE FOR YOUR ENJOYMENT!
One of my all-time favorites, a signed Muller shade on its bold, beautifully crafted hammered wrought iron base, with certain Henri Fournet overtones, n'est-ce pas? It stands 10 1/2 inches tall.
Christine was swept off her feet, lover of Beauty that she is... SOLD!!