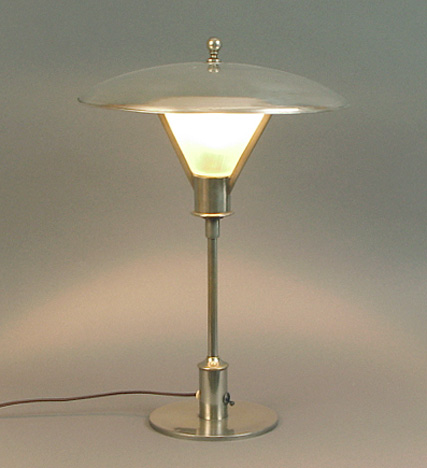 (A) Rather Poul Henningsen-esque, n'est-ce pas?! Certainly amongst the finest of the Modernist lamps I've dragged, kicking and screaming, out of France! I'm letting the picture do the talking beyond that brilliant disclosure! Eighteen inches tall, the shade in recently brushed nickel, the rest with its original nickel patina.
Now really, how long would you expect this beauty to stay in this shoemaker's hands?! SOLD!!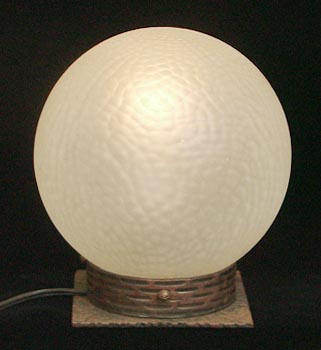 (H) A spare way to light up a corner or shelf, a French wrought iron base with a glass ball shade. This lamp's about 7 inches high and 6 wide.
Gone, but still round, still square, still SOLD!!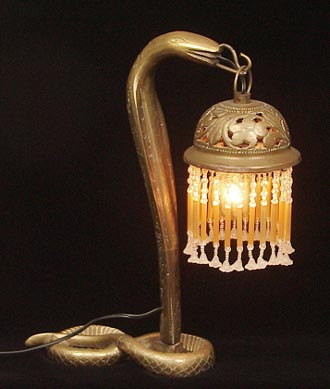 (I) Monsieur le Vipeur was probably made in Syria around 1910 for the French market. Solid brass, no need to have any anti-venom serum around! He's about 11 inches tall, poised to strike your decor! (e-mail Jack to start the conversation)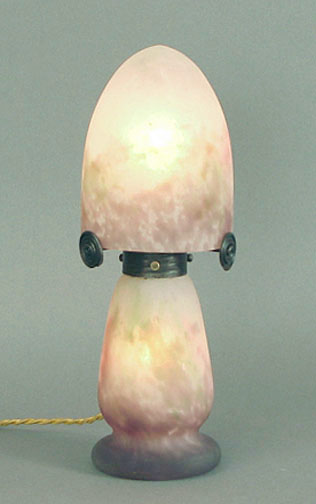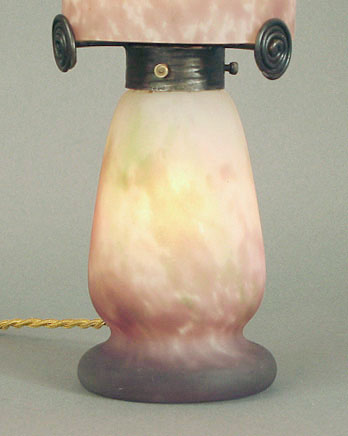 (K) Here's a rare Muller (signed top and bottom) petite boudoire lamp, "little mushroom." This one has the most delicate greens and purples, the glass like fine satin. It stands 12 inches tall and has a light in the base as well as under the shade. (e-mail Jack to start the conversation)
(N) "N" is for NOT a Thing Wrong with this gorgeous creature! The finish is a just-accomplished brushed nickel, with my famous patina. I've got a hi-lo switch on the line (just out of sight, to the left) and isn't that French 1920's shade a beauty?! The entire lamp is 8 1/2 inches tall. The perfect lamp for that dim corner or bookshelf in the... bedroom?
Yes, it is the perfect lamp for the lady in Australia who bought it! SOLD!!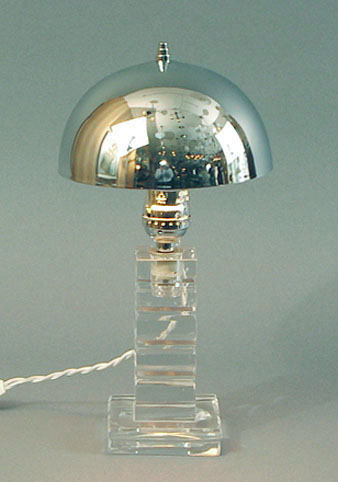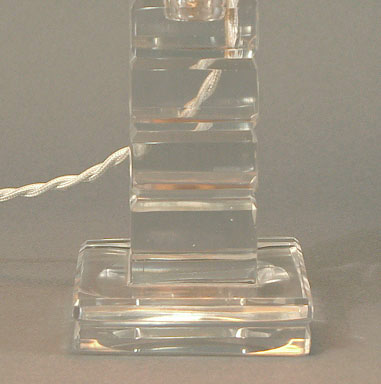 (R) Signed Jean Sala, if that isn't esoteric enough for you! Sala, 1895-1975, a contemporary of Argy-Rousseau et al, worked in Paris (where else?); he was known for his individualist bent and particularly creative tendancies. This cut and polished crystal lamp, with a freshly chromed brass shade and its tiny Modernist stepped finial, belongs on a Park Avenue vanity, nothing less. Sorry, the rest of you... it's about ten inches tall...
(e-mail Jack to start the conversation)
Everything from here to the bottom of the page is...
SOLD!!
(D) One of my all-time favorites, a signed Muller shade on its bold, beautifully crafted hammered wrought iron base, with certain Henri Fournet overtones, n'est-ce pas? It stands 10 1/2 inches tall.
Christine was swept off her feet, lover of Beauty that she is... SOLD!!
(B) It's been fifteen years since I've even SEEN this Degue shade, and here it again, at long last! The base, a machine-age marvel all by itself, couldn't be more comfortable than under this spare, brilliantly designed glass shade. The lamp's 14 3/4 inches tall.
GREG had the vision! And now he has the lamp! SOLD!!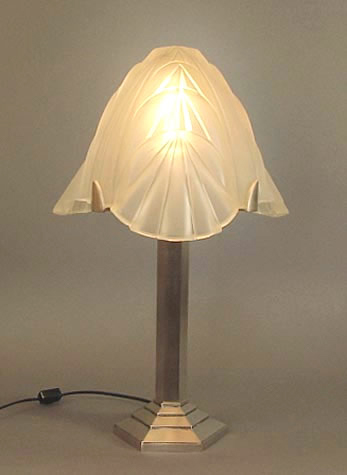 (C) This Art Deco powerhouse bears the noble name of Degue, as you afficianados already know from a glance. I've plated the base in brushed nickel (its original nickel finish having been tortured by the decades). It stands 22 1/2 inches high.
Are you kidding, did you really think this would sit around? SOLD!!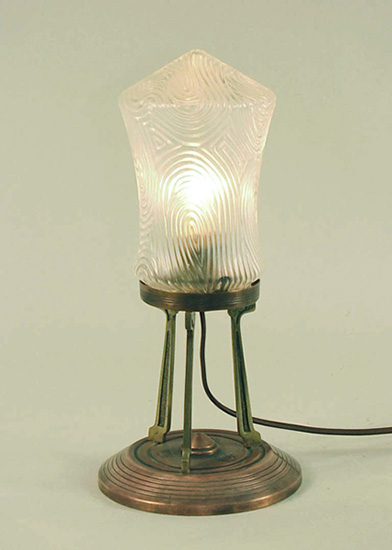 (E) Here's a DARLING all-original Secessionist table lamp probably from -- where else? -- Austria! The perfect night light for the perfect Arts & Crafts Pasadena Greene & Greene home? Entirely at home even in your humble abode, don't worry! It's about a foot tall, just right!
Off to jolly olde England! SOLD!!
(F) Such a sophisticated, spare design... and that little touch of copper... ooof! The shade swivels; the lamp's about a foot tall. Your French desk by Paul Krass cries out for this lamp!
Dirk did the "veni vidi vici" thing and glommed this gem! SOLD!!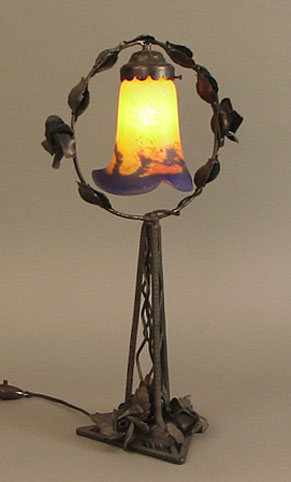 (G) A fanciful lamp, with all its roses, leaves, triangles and circles! The unsigned shade is a classic French tulipe in the spirit of Muller or Degue.
My new friend Attila is the proud new owner! SOLD!!!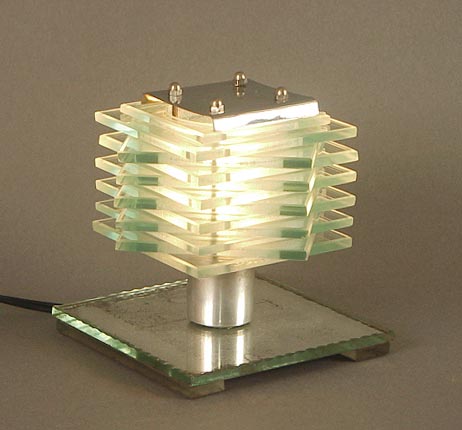 (J) Desny, or Madame Desny?! It sure looks like the real thing to me! Many of these lamps were made by the Maison Desny, and it was such a popular style that I'm sure there were imitators... It's about 5 or 6 inches tall, with a decorated (along the edges) and mirrored glass base. Even the "feet" are glass! It's a Modernist "tour de force" in any case!
Help! Dirk's grabbing all my best Modernist lamps!! SOLD!!!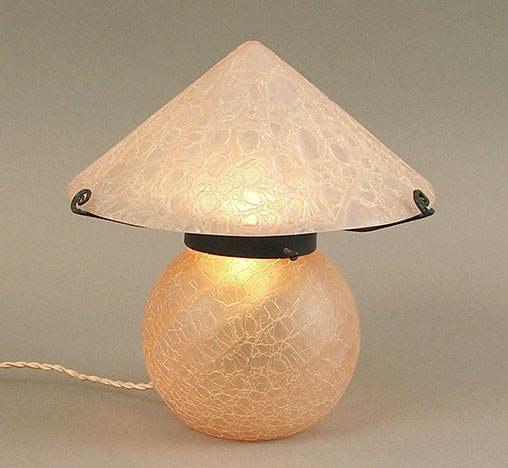 (L) Pink crackle glass? YES!! It stands about 10 inches tall and is about as wide, a must for "the little lady of the house." Try this Christmas, OK?
OOOps, better find another present, 'cause this is SOLD!!!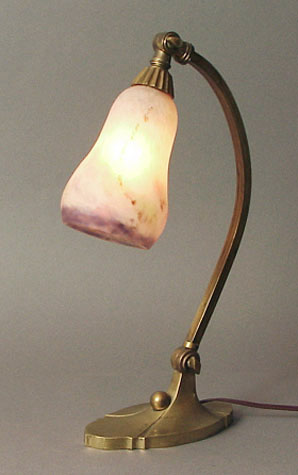 (M) ... as in mmmmmm... and this solid brass desk lamp with signed Muller shade inspires just such lip-smacking. It's about a foot tall, and as you can see, there's a swivel just above the shade and another just above the base, so you'll always have the light playing just where you want it.
And this would have been so lovely on MY desk! SOLD!!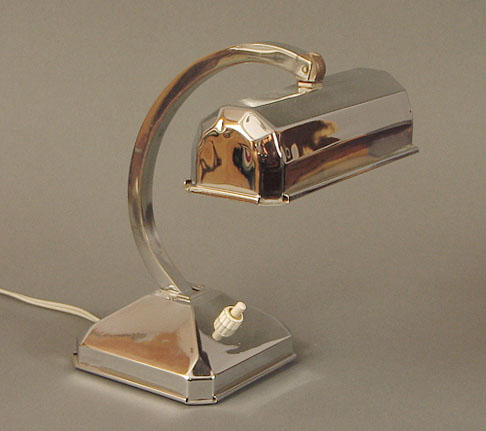 (O) Versatile (the shade swivels up and down, as does the arm at the base), devilishly handsome, this petit geometric lamp, all of 8 1/2 inches tall, is ready for some serious work at your desk. The chrome plating (over solid brass) is original and in 99% perfect condition.
Roman and Jennifer took one look and said: "Ours!!" SOLD!!
(P) Hand-wrought, hammered iron arms spring from verdigris marble base and hold mottled glass shades in the Czechoslovakian fashion. It's about 16 inches wide and 10 tall, comfortable on a French marble sideboard, or your .... chest of drawers?
I'll admit it, I took this home! SOLD to ME!!
(Q) An unusual (even by French standards!) three-footed tripod base hosts a geometric molded shade. The lamp is eleven inches tall.
Bill said: "Mine!!" SOLD!!!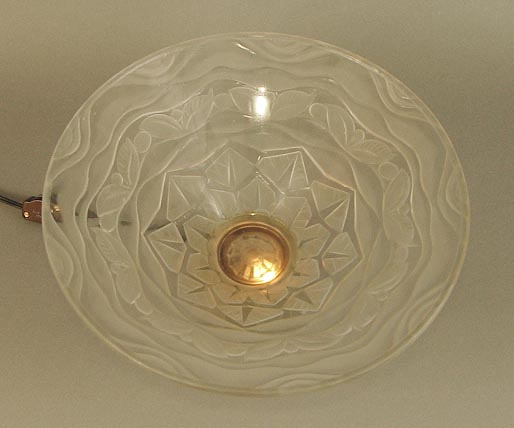 (S) Signed by that consummate artist, Andre Hunebelle, this "night light" would appeal to the sophisticated collector who's looking for that impossibly rare and unique item (ahem, like ME). It takes a miniscule bulb, 7 watts to be exact, so it should be the only thing lit on a dark night! During the day you can float gardenias in it... It measures 13 inches across and stands about 6 tall.
Why I had this for more than ten minutes I'll never understand...but SOLD!!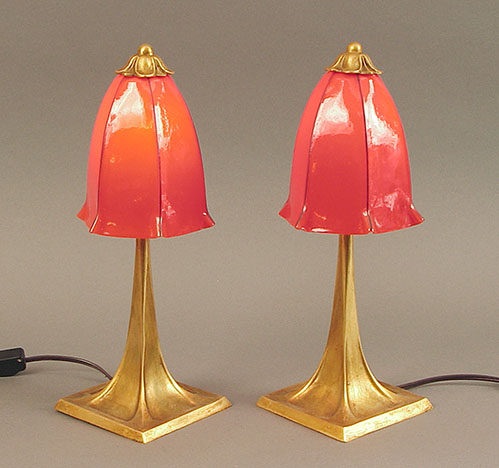 (U) What a splendid and special pair of table lamps! With their slender shafts which effortlessly transform into their bases, and their plant-form finials, they have that organic quality associated with the Art Nouveau period; the rich gold patina would suggest that earlier time as well. At night, when they're on, the red shades seem to vibrate. "Mood" lamps of the highest order! They're about a foot tall.
ROGER pulled the trigger on these! SOLD!!