Les Puces du Canal
Well, it's "sacré bleu!" time here in France, and not a moment too soon (last week's tour of Lyon's Puces du Canal netted literally not a single purchase, prompting end-of-my-world visions). But this morning the cherry climbed right back on top of the whipped cream where it belongs! Miam, miam, as they say in La Belle France.
6 AM on a gloves-cold, pitch black January morning. Puces du Canal -- a stretch of macadam alongside a dreary canal on the east side of the sleeping city of Lyon. Well rested and full from my 5 AM petit dejeuner of ham and goat cheese on baguette, I pay my 2 euros to the gruff man in the shack and swing my VW Touran into the buyer's parking zone, which is already so full that I'm forced to a faraway corner, a disadvantage should I happen to buy anything heavy if there's anything to buy, anyway!
Carving my way through the pre-dawn shroud, I see there are already the better part of a thousand other buyers lurching hungrily from one van to the next. Flashlight beams crisscross madly, plying the ground, tables and backs of vans and trucks for treasure. The sellers are frantically unloading. Many have already set up, in fact -- but nothing shines through the winter gloom. A repeat of last week's blight?
After an endless half-hour my light beam shines on a small aluminum vase decorated in le style Art Deco. I settle quickly on a price that involves my receiving back a 5-euro note for change. But the seller doesn't have a five, and to prove it she pulls out an inch-thick stack of fifties and hundreds and loftily thumbs through them. I offer my condolences for her dire circumstances and suggest that I return with correct change later, if she'll put the vase aside for me. With a "Pas grande chose," (no big deal) she shrugs her approval. Harumph, how dare she belittle my hard-won trophy!

Scantily-clad winter trees suddenly twirl and shudder in the wind and within seconds rain lashes at my face, driving in horizontally under my hat brim. I struggle to invoke my mantra: "Just keep walking, Jack. Just keep putting one foot in front of the other." But...I feel my spirits starting to slide...
What the hell, I'll grab myself a grand creme and a chocolate something or other, the onsite boulangerie and cafe should be open by now. That will keep me out of the bars they call cafes, whose air already hangs thick and sour with the cigar and cigarette smoke of the other buyers.
The boulangerie's gateau au chocolat would be enough to perk me up by itself but the young thing purveying the goods has cantaloupes fit for King Farouk, and they are roaming around braless under a scooped-neck chemise. She bends over the cash drawer to give change, affording a full-on view of said pendulous orbs now quivering above the euros. A grave silence pervades the boulangerie, the clientele of rain-besotted male dealers mostly in their forties, fifties, and sixties -- with their French noses buried in their coffee cups, stealing upward glances across the counter from their cafe tables, each man wondering when he transitioned from joueur to voyeur. With such high drama, who needs coffee, antiques, or chocolate cake? Cherie, did you give me the right change? Wasn't that a 20 I gave you? Can you check the drawer again? Yes, inspect closely, s'il vous plait.
Fortified, I bounce back into the fray. There, tout d'un coup, by the side of a tall white van, a rain and mud-splattered set of three geometric art deco "columns." Strange -- or not? -- that only yesterday evening I should have presaged this very moment. While driving along the Autoroute, I'd blurted out to myself, "I really need a couple of Art Deco display stands for my statues." But three of them? Le proprietaire shoots me his price for the three but speedily agrees to my lower estimation of their value. As if a "best thing about these columns" is sought, they're uncommonly tall, about 5 feet. My statues will beam with pride, perched upon these princely vehicles.

A set of hand-wrought fireplace tools appears in the next booth but the owner won't budge from her price in spite of my delicate entreaties to buy them for less. "Ce n'est pas possible, Monsieur!" She launches into a litany of complaints about high booth rents and car expenses, and I shut her up by sliding the required euros into her hand.
"Bien, c'est fait; on ne veut pas lutter toute la matinee." (Fine, I'll take them; I don't want to fight you all morning.") She's happy, me too.

Her neighbor has a well-designed pressed glass Art Deco lighting bowl for just under lunch money (albeit at a three-star Parisian restaurant). After the check-and-receipt ritual I notice that this seller also has a pair of bronze modernist candleholders just begging to be bought. How could I resist? Hmmm could things be... looking up?! A clang to the macadam in the next booth announces the placement of a bakelite-topped café table, and I'm on it like dey ain't no tomorra! Now, I'm not talking just any old dull, lifeless bakelite! I'm talking bakelite with the deep, warm glow of tortoise shell -- astride a stepped, geometric Art Deco base. Aahhhh...

Then, right before my wondering eyes, my new best friend unwraps an entrancing plafonnier (a light fixture for a short ceiling) and offers it to me for what I think of as, shall we say, an "old-fashioned" price! As I'm yanking the euros out of my pocket, that too-infrequent visitor to my world, the sensation that I'm in the right place at the right time, that this moment is predestined, warms my insides.
It's now 8:35, five minutes past the precise moment when one grizzled marchand unwraps his offerings, religiously, every Sunday (by eight-fifteen there's already a crowd bellied up to his table, jokes punctuating the morning air in an effort to deflect competitive tensions). From my vantage point near the end of the table I notice the unmistakable form of an ATO Art Deco clock sitting on the table, and I gracefully pirouette around to the other side, behind the line of buyers jammed against each other and the table. One tiny opening appears through this wall of humanity, a sliver of a space at elbow-level, and through that opening I slip my hand and grab the clock by a corner. But a hand clamps down on my own: don't even think of touching that clock! I look up at the face of the hand's owner and see it's Stephane, a fellow with whom I've previously done business. Through clenched teeth he growls "Tu es un peu en retard, Jack." I return his kindness for not having bitten off my head with a sheepish grin and head back into the field, feeling for all the world like a former ballet dancer now tromping around in goulashes.
Rounding the corner and now mercifully inside a covered area and out of the spitting rain, I spy a group of four Czech vases. Oh yes, I've seen that pattern before, I've just never owned one! It's the you-see-them-only-on-Madison-Avenue or in-the-books variety, the black applied teardrops on vivid red-orange or yellow-orange backgrounds. Four for ­ how much? Oh, you've already turned down an offer? I'll take them for that price, no problem. Yes? Then it's a done deal? A receipt, if you don't mind. And don't mind me, Madame, if I seem a bit giddy... I'm just tiptoeing through the tulips -- they're up a bit early this year, non?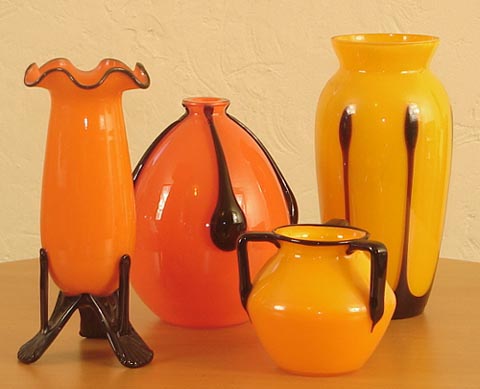 The rain has kept paintings and other delicate works of art inside the vans, but now they pop out like !tulips!, as of a sudden the sky has transformed to azure blue, and the black, leaden clouds to puffy white cotton-balls. But this blazing sun is shining on nearly empty aisles! The buyers seem to have beaten a retreat -- gone home? back to bed? -- or are they in the bars, swilling their morning verres de vin? Noooooo problem, mes chers amis, I don't mind scooping you on this day!
At the edge of the covered area there's a fellow who sells art --paintings and the occasional sculpture or objet d'art. I recognize him from previous excursions. One time booth -- this was about 5 years ago -- I picked up a vase in his booth which had that electrifying RB mark on the bottom: René Buthaud. René Buthaud!!?? We're talking Musee D'Orsay quality -- top, top of the line stuff, Paris/New York caliber. I'd never seen a piece in the flesh let alone had one in my now trembling hands. It was 2K, "last price" -- euros, not lowly dollars. Simply fashioned, but with that aura about it that quietly radiates the genius of the artist. I had the Holy Grail in my mitts, but for 2000 euros I carefully lowered it back onto the table, a decision to be revisited many times, and invariably regretted. This Sunday the same man has an oil painting of a harvested hayfield with a brilliantly blue sky somewhat in the Impressionistic style. Terrific diagonal lines in spite of its less than antique look. "But, if Monsieur is interested in paintings, perhaps he will have a look at those in the van which haven't been put out yet?" Yes, this Monsieur is not above clambering into the van and pawing through more paintings that haven't been put out yet. And there, a curiously enticing mixed media work of a band of schoolboys in liederhosen ­ maybe fifteen of them ­ playing oompa-pa instruments, dated 1969 and initialed A.A.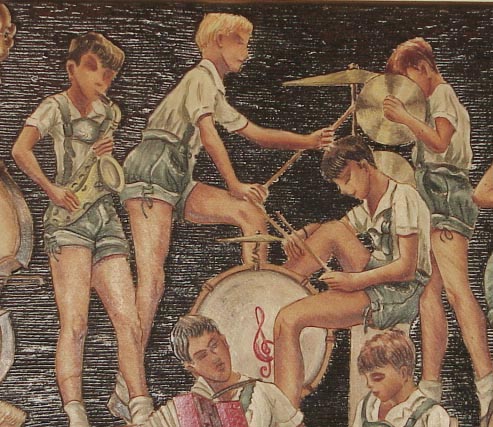 The merchant is of course conversant with the artist, and launches into his blah-blah sales pitch. But, as soon as he utters the words "ambiance quasi-homosexual," the deal is done. It's a fetching piece, rather outré and, at least as far as the fantasy would have it, tailored for the San Francisco crowd (although for all I know it might play better in Danville). I cart my two chefs d'oeuvres off to the VW, which I notice with pleasure is nearing capacity.

Choosing an aisle I haven't been down for at least a half-hour, I spy a large oil painting depicting a quiet Provencale village scene (mercifully devoid of peasants, grace a dieu), and LARGE. like, four and a half feet wide! Ah, but you say you've refused a generous offer this morning (today's theme?!)?

And this other little piece you have, oil on canvas, the one with the frame that's been drenched in white house paint, which you haven't put out yet because of the rain? In seconds another deal is struck, and friendly yak-yak begins in the now sparkling, freshly cleansed morning air. E-mail addresses are exchanged and promises are made.and... that warm inner glow returns
Meanwhile a fellow ambles up to the booth and inquires about the large Provencale painting. I'd noticed him earlier, stalking around the periphery of the booth while I was negotiating. I'd felt his want.Fortunately he hadn't barged in; he'd deferred to me in my already-established position with the seller. He'd scuttled away to curse his late arrival on the scene. Now he is back, this time emboldened enough to inquire. I tell him that I'd noticed him earlier, and from his measured smile I take it that he finds some pleasure in that. He's less amused, however, when I suggest a visit to my San Francisco boutique for his next moment with my painting.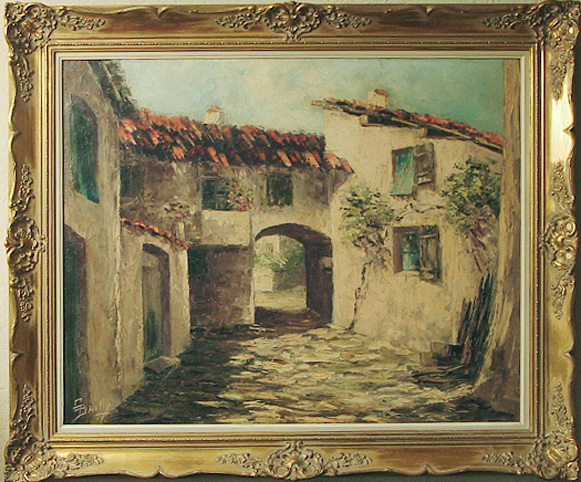 The dealer's 9-year-old son, a beguilingly handsome youth whose pale, Nordic cheeks each sport a bright pink dab, is directed by his father to put down his Game Boy and help me carry the paintings to my car. A pied-piperesque scene unfolds, one white-bearded 63-year-old American leading a rosy-cheeked French boy of nine across the river stones and macadam --the man in front, the child behind -- ferrying the tranquil Provencale village scene on the first leg of its long journey to its new home in San Francisco.
Just !think! that yesterday -- the very day before today! -- I had driven no less than 500 kilometers to make one -- exactly one -- purchase! But what's fellow to do? Ya gotta look, huh? But how ironic! I could have just rested up and done NOTHING on Saturday instead of beating my brains out for 5 hours on the highway, dragging my tired butt through l'Isle sur la Sorgue, southern France headquarters to rich, lazy Americans and their decorators from Short Hills and Dallas. For some reason the drive hadn't yielded its usually crippling results (had I finally gotten into the rhythm after three weeks on the road?), and this Sunday morning I was agile and lucky enough to be crowned The Bright-eyed, Bushy-tailed Collector of Beauty of the Puces du Canal. Yes, this particular Sunday was reminiscent of days of yore, when the trees were thick with ripe fruit, their branches low-hanging with the swollen globes.
*****