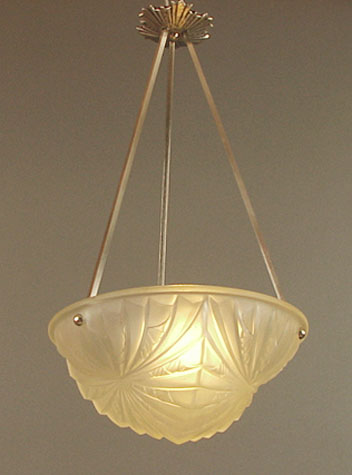 SOLD!!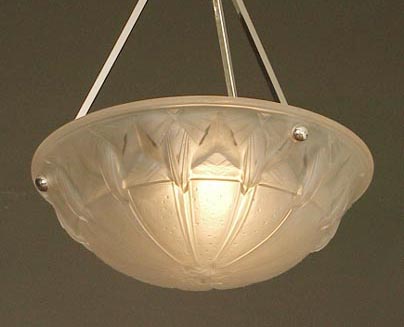 STILL AVAILABLE!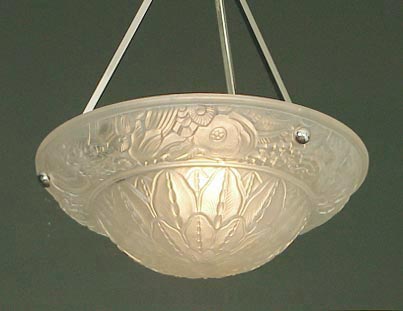 Turns out this is a d'Avesn design! You can own it!!
(N) Choose any one of these three French Art Deco glass lighting bowls with the brushed nickel hardware shown (or, at the end of THIS PAGE, check out 15 other choices!).
Several years ago I realized that really well-designed ceiling canopies were going extinct (now even ratty ones are hard to find!), so I had a couple of my best ones recast in solid bronze and then plated in what we call "satin" or "brushed" nickel. It's a beautiful soft finish that makes these fixtures look like "jewelry for the home." Think of this fixture as an extra-large earring!
In the first two photos I've used a new spiral CFL (compact florescent light) in the bowl and, as you can see, it lights the bowl just beautifully. The light is much less concentrated than with a standard incandescent bulb, so you get less of a "hot spot," a more even distribution of the light. And, frankly, I think the color is prettier. Hey, all that AND energy savings?! What are you waiting for??!!! BE GREEN!
The glass bowl is one of many different gorgeous glass bowls from the 20's or 30's, thousands of which were produced for French homes. Each has its own artistic concept. Some are prettier than others, but isn't it really just a matter of personal preference, since they're all really beautiful?! In this offering I'm allowing you to choose among any of the three (or take more if you want). As shown, the complete hanging length is 26 inches and the bowl is 13 3/4 across. The squared (solid) brass tubing is 1/4 inch and of course has been freshly nickel (brushed) plated as well. These are a breeze to install.
I can alter the length to custom-suit your circumstances. I can shorten the entire fixture down to about 16 inches if you have a low ceiling. Better yet, hang it longer over the dining table at this length -- for beauty and to help create intimacy at the table.
(e-mail Jack to start the conversation)