(D) Here's something pretty rare, indeed, a Steuben jade table lamp with its original fittings. It's about 27 inches tall with this fabric shade, which I think is actually its original shade! Click here for a close-up! (e-mail Jack to start the conversation)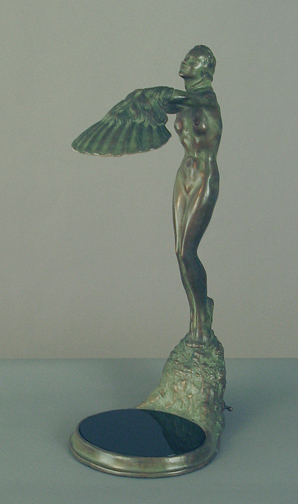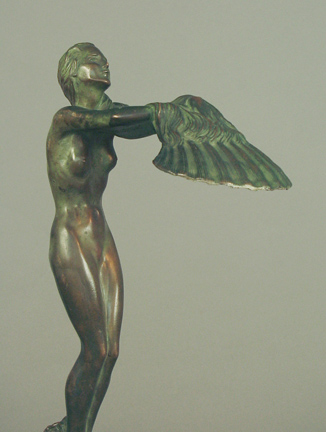 (E) McClelland Barclay was a prominent American artist and illustrator, particularly during the Art Deco period of the 20s and 30s; his work appeared in the major magazines of the day, such as The Saturday Evening Post and Cosmopolitan.
In the 30s he founded the McClelland Barclay Arts Products Corporation, and fabricated jewelry, lamps, ashtrays and other items for the home.
This lamp is certainly one of Barclay's most substantial and beautiful artistic accomplishments for the home, if not the most. It stands 18 ½ inches high and the "pool," including its border, is 7 ¼ inches across. The pool itself is comprised of a just-manufactured black Lucite oval one quarter inch thick. I've ascertained that the original insert was probably black, perhaps also Lucite, from historical photos. The patina is original with a few touchups and a few small places where it's been compromised in some way. The statue/lamp is made of white metal, which (the American formula) is notoriously fragile. At some point the base was broken off where it attaches across the back of the "pool," and it's been professionally repaired and that repair is nearly invisible. The material used for the repair was JB Weld, a two-part metal repair epoxy that makes the piece as strong or stronger than new. The lamp's been rewired (from the base) with rayon-covered cord and works perfectly; the switch is original. As you can see the piece is signed on the reverse side and dated 1931.
As mentioned, Barclay was a brilliant early 20th Century artist, as the modeling of this piece certainly drives home! The young woman is lithe, beautifully proportioned and anatomically correct and fetching. Any advanced collector of Art Deco-era objects and furnishings would be proud to have such a formidable piece by such a renowned artist.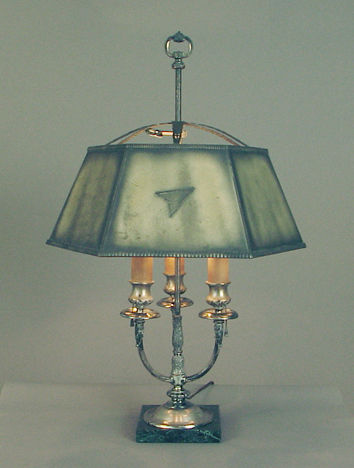 (F) A high quality, marble-based signed Pairpoint "directoire" table lamp of exceptional stature, bearing the kind of presence that your desk deserves! It's 27 inches tall and about 18 across. The shade's not original, but this marriage should last! (e-mail Jack to start the conversation)
(G) Of silver-plated white metal with a painted glass shade, this Frankart-styled lady lamp dates from about 1928. 16 inches tall. (e-mail Jack to start the conversation)
(S) How'd this glorious Czechoslovakian two-piece etched glass table lamp sneak into the "American lamps" department!!? Well, were they not made for export to the all-weathy US of A? Not that I want to start rewriting history any more than I am already! It's about a foot tall and you can see what delicious warmth emanates from its chubby little tummy. (e-mail Jack to start the conversation)
(T) The face of American Modernism -- so sleek, so minimalist, so chrome! A six-inch tubular bulb illuminates whatever's behind the lamp (like the wall), silhouetting the front and creating more drama in your life than a partner ever could. Well, of a different sort, perhaps...(e-mail Jack to start the conversation)
back to The Decorum Menu
The Decorum Home Page