SO sorry, dear would-be buyer, but everything on this page is now sold! You can see what you missed by scrolling, or just bop onto the next page to grab some other jewel!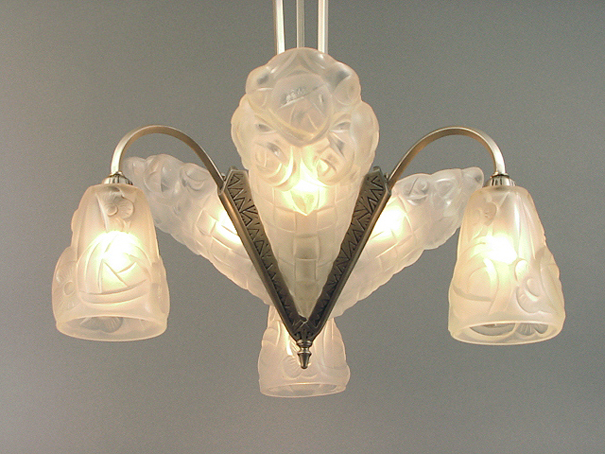 (A) Three up and three down, a classic and fab French Art Deco configuration. This one's by Degue, as you might have guessed from the stylized geometric rose-in-a-basket motif (tough to keep le panier off the stage!). The understated embellishments on the metal lend just the right touch to an already compelling work. Over the dining table, a tour de force! It hangs 31 inches long and has a diameter of about 22 1/2. Click here to see a pair of matching sconces!
Bruce & Diane said: "Jack, your prices are so stupidly low (oops, we meant to say "attractively low")... way under the rest of the Deco gang, how can we refuse?! SOLD!!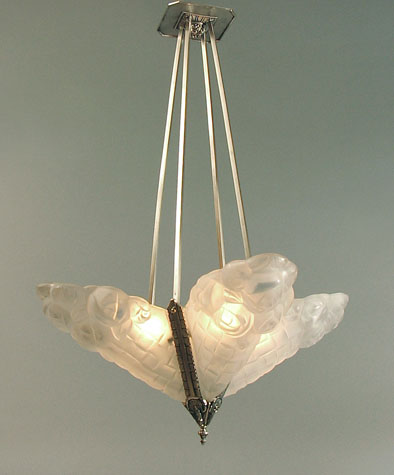 (B) Four "monster" Degué roses-in-a-basket shades give this chandelier the "glass is king" impact its creators intended. They couldn't resist adorning their minimalist metal treatment with festive embellishments that will delight you at every turn (especially the faux-hammered canopy)! This fixture hangs down around 29 long and has a diameter of about 20 inches. And just $2975? Can it be!!?? Well, YES is the answer to that question, since it's now
SOLD!!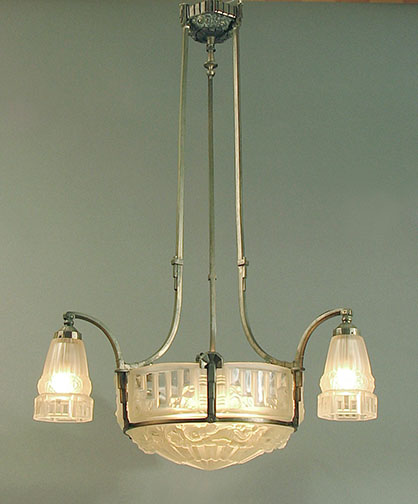 (C) One of the more outrageous benefits to being in this whacko business is that on rare occasion (if you're around long enough) something that you sold -- and like -- will come bouncing back to you. I sold this fixture about 20 years ago, and suddenly I'm the new owner! It's a particularly splendid light, with unbelievably thick glass which is amazingly decorated. If you're up for some real decorative impact, this (unsigned) Robert chandelier will please you to no end. It would be far too difficult and costly to take apart and replate, so I offer it in its original state, with its original nickel finish that's been muted by the decades. It hangs down 38 inches and has a diameter of about 26.
Now be honest, just how long would you expect THIS to stick around?! SOLD!!
(D) Ah, what superlatives haven't I used for a while, which I can summon up to convey my appreciation for this FESTIVE number? That is, with its four opalescent shades, with its sparkling chrome finish (and original at that!). Well, I'd probably just be preaching to the choir, anyway. It hangs at 25 inches long, about 26 across.
Soooo happy to see this in Jeff and Teresa's home! SOLD!!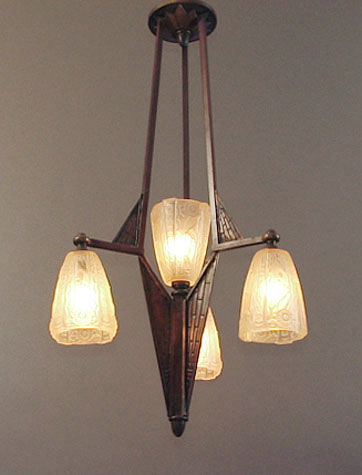 (E) Something else I wouldn't have a lot of trouble living with... hmm, let's see, the San Francisco residence or the Sun Valley chalet....? a rare and compelling configuration, with a lush bronze patina and smart decorative elements... 30 long, about 16 wide. Looking closely at the decoration on this metal, one is tempted to think of design luminaries such as Josef Hoffman and others of the Secessionist movement...
Out my door and into Nancy's kitchen! SOLD!!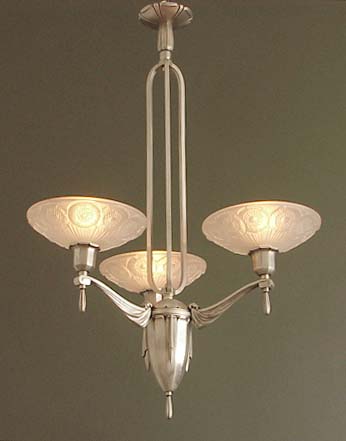 (F) With its draped arms, long and slender finials and a refurbished (brushed) nickel finish, this beauty is nothing less than "jewelry for the home." Hanging 30 inches long, about 20 in diameter. By a FAMOUS designer, whose name I've conveniently forgotten! Mon Dieu!
You watched, you waited, now it's SOLD!!
(J) Aren't you glad you went all the way to the end? Wow! This Moderne extravaganza's glass shade is about the same size as an American torchiere lampshade, and has a crystal-like "chipped ice" finish. It's about 27 inches long, 20 across.
Yet another "goner!" SOLD!!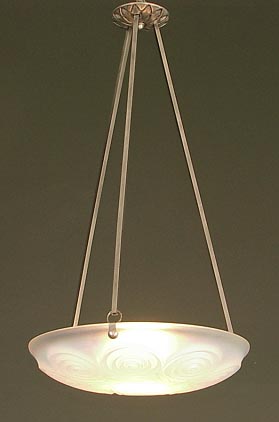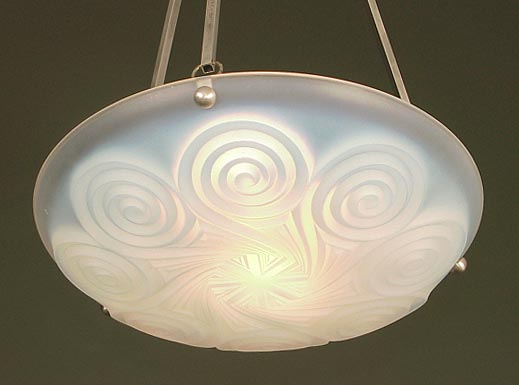 (K) A dazzling opalescent, compelling geometric lighting bowl by Etling (and so signed)... the photos don't begin to convey the lustrous and fiery colors, which include some gold when lit. It hangs at 28 inches (can be shortened) and is about 14 across.
GONE in a flash of opalescent light: SOLD!!