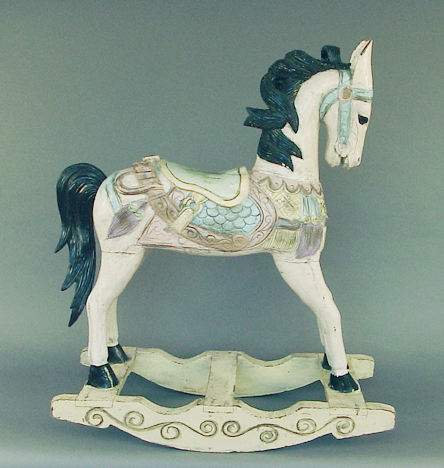 (1) This guy galloped into my life and just plain "rocked" it! Beautifully polychromed (that's "painted" in high language), expertly carved wood, and all that attitude! Forty-four inches high to the tip of his perky ears, and 36 front to back. (e-mail Jack to start the conversation)
(2) Ah, the soft, downright luscious look of silver! The silver plating's so good on this "table torchiere" it looks sterling-esque! The marble's nothing to sneeze at either, a type I've never seen elsewhere. Mint condition, waiting to add drama to your room (put it near a wall, on a sideboard, and at night, voila!). Substantial, at over a foot tall... (e-mail Jack to start the conversation)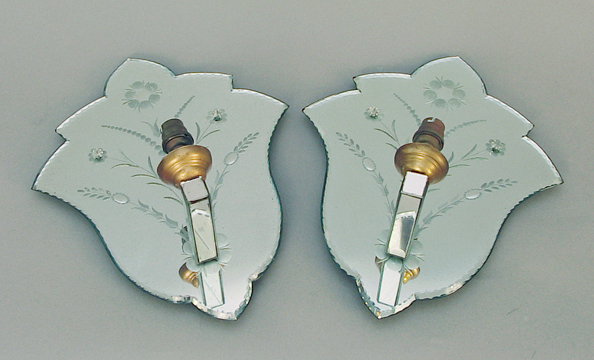 (3) Bring on the Hollywood starlet glam look! Fabulous etching, gorgeous design, near-perfect condition. You'll have to use bayonet-mount bulbs, easily available on the web, or have them rewired, not a simple matter. Fourteen inches high and a foot across equals = presence!! (e-mail Jack to start the conversation)
(4) Dig these sassy skirted babes, with their nickel mounts! Sound like pulp fiction? These are in the "good as it gets" territory, my favorite place to be. About 12 1/2 high, 9 1/2 wide, providing great presence, not to mention light-when-needed!
Mary stepped up and nailed this twosome! SOLD!!
(5) Toning it down a little, presenting this jewel from the earlier Art Nouveau era. Diminutive, a mere 6 inches high, but sometimes great things come in small packages, no? Sublime, I'll venture... (e-mail Jack to start the conversation)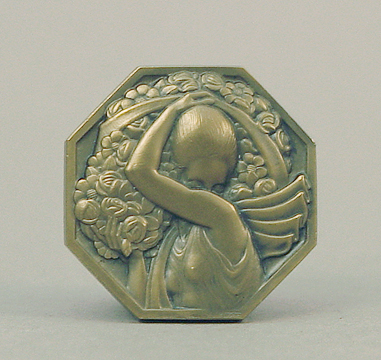 (6) Pierre Turin, master French sculptor, created this exquisite bronze "medaille." Tiny, only an inch and a half across (there's a larger bronze version on my site as well, under "odds & ends"). Note the high definition of the artwork! (e-mail Jack to start the conversation)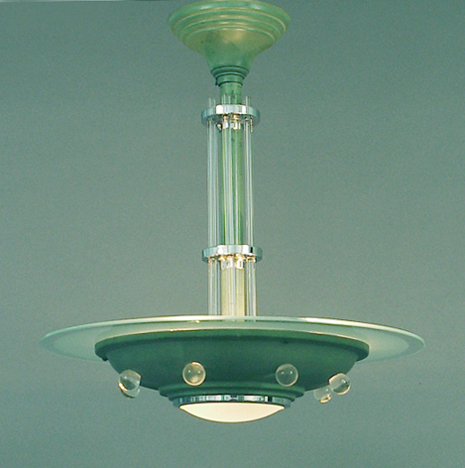 (7) Here's something you won't see even once in a DECADE! Or maybe even more than once in a lifetime (and this might be it), so take a deeeeep breath, especially if you're "into Moderne." (e-mail Jack to start the conversation)
(8) A totally FAB French Art Deco display device, with three glass shelves (adjustable up and down) measuring an ample 48 inches across; the shelves themselves vary in size, from about 8 to 11 inches deep, and are a serious 5/8 inches thick! The whole affair stands about 31 inches tall, and bolts onto a table, your floor, whatever... French Art Deco display at its finest, with chromed hardware (over solid brass, 'natch). Suitable for your most revered collection! I have another, almost identical, with just two glass shelves. Ultra-ultra rare! (e-mail Jack to start the conversation)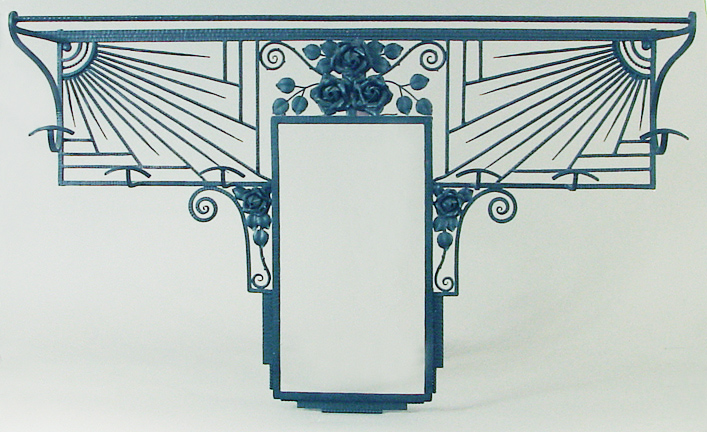 (9) Here's another super-rare bird, a very large wrought iron "wall tree" as I have dubbed them. This total KILLER measures no less than 45 1/2 inches across (!!!) and 29 1/2 high. Yikes! Got restaurant?! I've had a beveled mirror fabricated for it (not shown) and it will gleam like a diamond when installed. Check out this page to see my many unique and gorgeous wall mirrors!
Off to La-La Land, to (yawn) another celebrity client... SOLD!!
(10) The compelling work of yet another master French designer, in this instance Pierre d'Avesn. Pierre made this well after his early work with Lalique, after parting ways to be on his own. Good move, Pierre! It's about a foot across, a light amber color.
Tom didn't hesitate a half-second! SOLD!!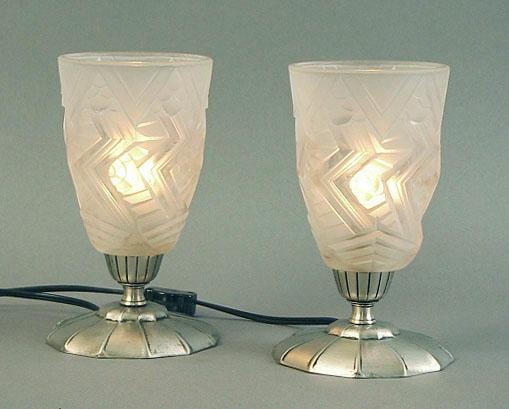 (11) About seven inches of pure Art Deco zig-zag on brushed nickel bronze bases! So cute, about 7 1//2 inches tall, 4 1/2 wide... (e-mail Jack to start the conversation)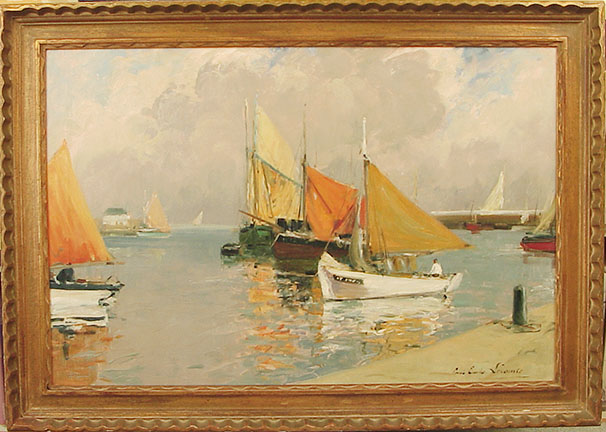 (12) Then there's my new FINE ART collection, including paintings such as this dazzling Mediterranean harbor scene by Paul-Emile Lecomte, Dutch and Italian (and other) old master paintings by the likes of Coccorante, Donducci, Wolfsen. Yeah, yeah, I know, what does this have to do with ART DECO?!! (e-mail Jack to start the conversation)
Answer: Nothing, but it's all part of the "Beeler Beauty Bash." SEE THE FINE ART COLLECTION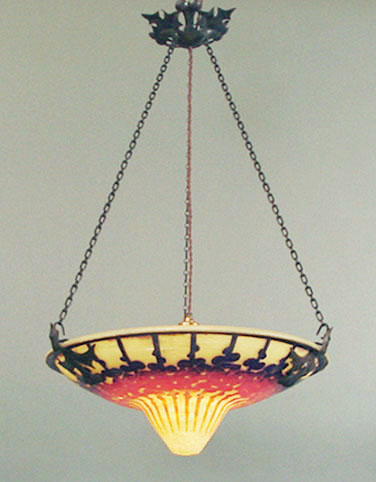 (13) Heavens to Betsy, Marge! Look what Jack's unearthed this time (as though from an archaeological dig?)! Mere words barely suffice (which is why we have pictures). Run your fingers over the deeply acid-etched decorations and you'll know it's Le Verre Francais! About seventeen inches across, with its original hand-wrought iron mounts, chain and canopy. (See additional photos!) (e-mail Jack to start the conversation)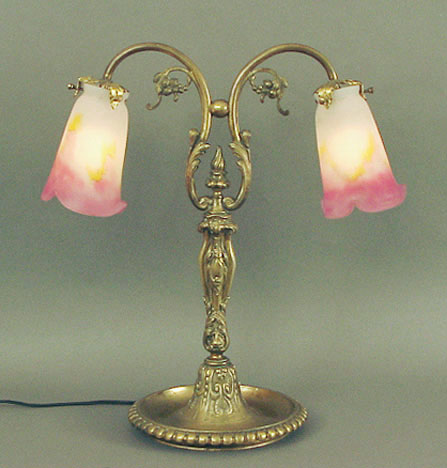 (14) This solid brass French table or desk lamp probably dates from around 1910, another example of "old world" quality so seldom found these (pitiful) days. Hand-blown signed Muller shades, in particularly vibrant and rare colors, complete a picture of grace and beauty. The lamp's about 19 inches tall, about 18 wide, and the base a full 9 inches in diameter! Yes, it's far too heavy for the cat to knock over! (e-mail Jack to start the conversation)