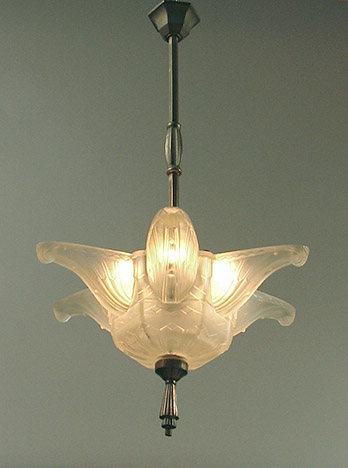 (1) Here's something you won't see every DECADE! Or maybe even more than once in a lifetime (and this might be it, so take a deeeeep breath!). Des Hanots brings us this mind-twister, a six-pointed "hexopus" -- all one piece of glass!! Six bulbs in the middle, too! Yeow! The 29 inches of length includes that bold and gorgeous finial. Sweet just the way it is, with its original dark patina (it probably was shiny nickel way-back-when), or replated in your favorite finish -- chrome, nickel, or satin nickel, just say the word!
(2) And while we're rattling on about "masterworks," here's a knock-out from Pierre d'Avesn, master glass designer who worked for Lalique and Daum before launching his own product, which is now pretty close to the top of the collecting chain. This lighting bowl is an excellent example of his finest work (by the way, don't be fooled by the amber color, which is strictly the result of photographing the bowl when lit up by incandescent bulbs; it's actually colorless glass). This thick, substantial bowl is about 16 inches across, and as shown hangs down about 18 inches. A brilliant design, n'est-ce pas? Rare as the proverbial hen's tooth! This one is sold, but I have an identical bowl which I can configure to hang exactly as low as you would like, with a different canopy than pictured.
(3) A totally FAB French Art Deco display device, with three glass shelves (adjustable up and down) measuring an ample 48 inches across; the shelves themselves vary in size, from about 8 to 11 inches deep. The whole affair stands about 31 inches tall, and bolts onto a table or whatever... French Art Deco display at its finest, with chromed hardware (over solid brass, 'natch). Suitable for your most revered collection! I have another, almost identical, with two glass shelves.
(4) This hand-hammered (in its entirety) sterling bowl was created (and signed) by none other than Harald Nielsen, master designer for Georg Jensen for over 50 years!! It's about 5 inches tall and 7 wide.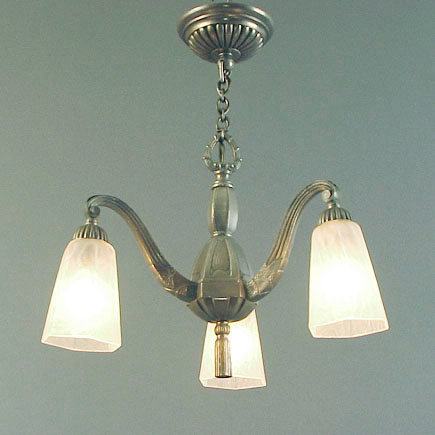 (5) A totally precious three-light with its original nickel patina, in near-mint condition! Diminuitive, perfect for the smaller entryway or hallway. Detailed to delight the Deco fancier...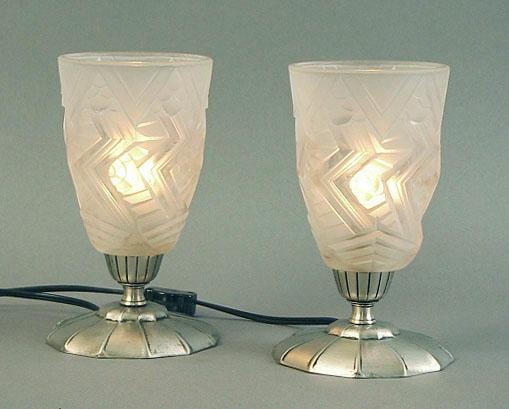 (6) About seven inches of pure zig-zag on brushed nickel bronze bases!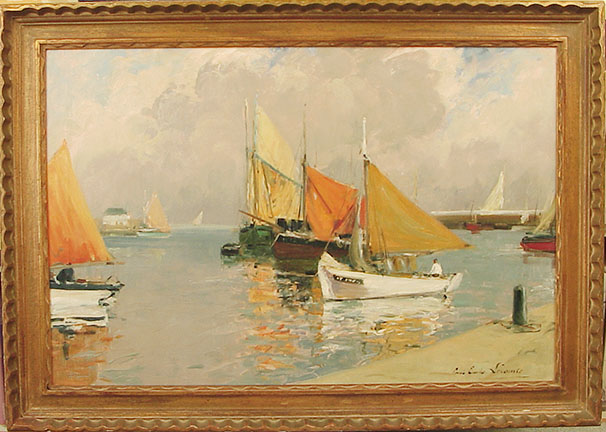 (7) Then there's my new FINE ART collection, including paintings such as this dazzling Mediterranean harbor scene by Paul-Emile Lecomte, Dutch and Italian (and other) old master paintings by the likes of Coccorante, Donducci, Wolfsen. Yeah, yeah, I know, what does this have to do with ART DECO?!!
Answer: Nothing, but it's all part of the "Beeler Beauty Bash." SEE THE FINE ART COLLECTION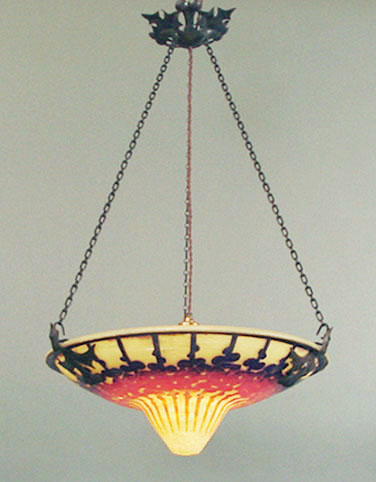 (8) Heavens to Betsy, Marge! Look what Jack's unearthed this time (as though from an archaeological dig?)! Mere words barely suffice (which is why we have pictures). Run your fingers over the deeply acid-etched decorations and you'll know it's Le Verre Francais! About seventeen inches across, with its original hand-wrought iron mounts, chain and canopy. (See additional photos!)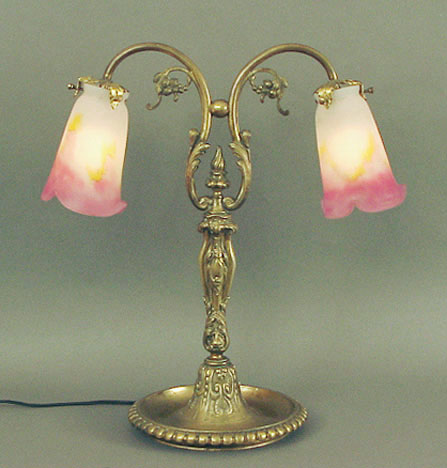 (9) This solid brass French table or desk lamp probably dates from around 1910, another example of "old world" quality so seldom found these (pitiful) days. Hand-blown signed Muller shades, in particularly vibrant and rare colors, complete a picture of grace and beauty. The lamp's about 19 inches tall, about 18 wide, and the base a full 9 inches in diameter! Yes, it's far too heavy for the cat to knock over!