"Delivered to your address" throughout this offering applies to addresses in the "'lower 48" only, and includes packing and insurance. Additional sales tax of 8.375% applies to California-destined purchases. Payment by check only!
To inquire about any item on this page (or better yet, to make a purchase) just send an email to me at jackbeeler@gmail.com, referring by the letter in front of the description.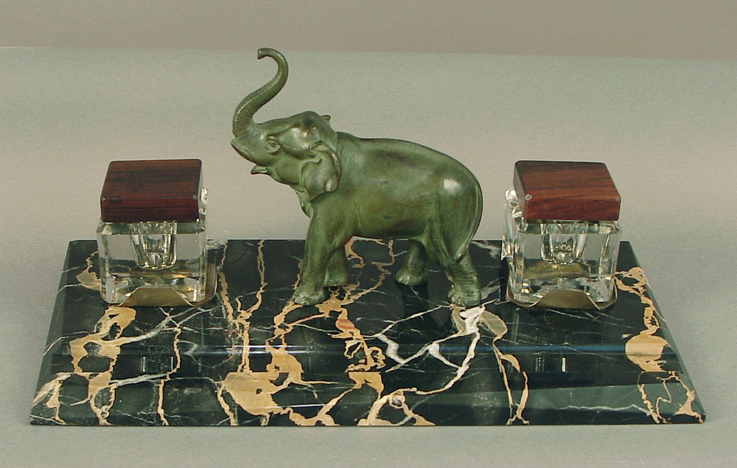 (A) A luck-bringing, trumpeting, patinated spelter elephant is flanked by two rosewood-topped inkwells, all mounted on a complexly veined, faceted piece of "Portoro," or gold-veined marble, the top French favorite for mounting sculptures during the Art Deco period (one chip on the back left corner). It measures 11 1/2 side, 5 7/8 deep, 5 1/4 high. $365 delivered to your address.
NOW REDUCED TO $185!!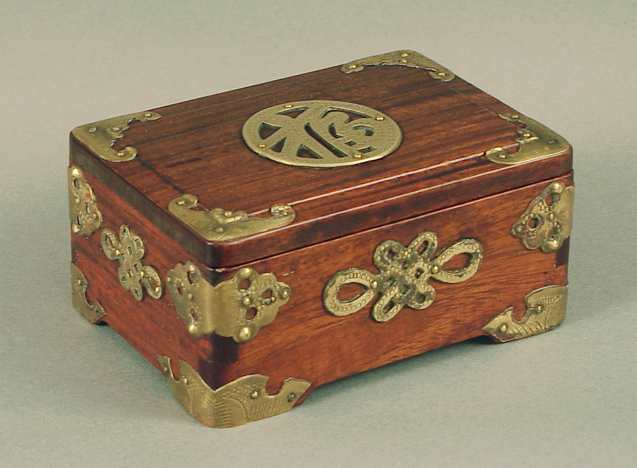 (B) The many solid brass Chinese symbols on this rosewood box (bats on the top corners, endless knots, good luck-long life caligraphy, fish) propel it into the "conversational" realm! Use it for jewelry, pocket change, stash whatever you'd like! It measures 5 3/8 by 3 3/4, and stands 2 1/2 high. $115 delivered to your address.
NOW REDUCED TO $100!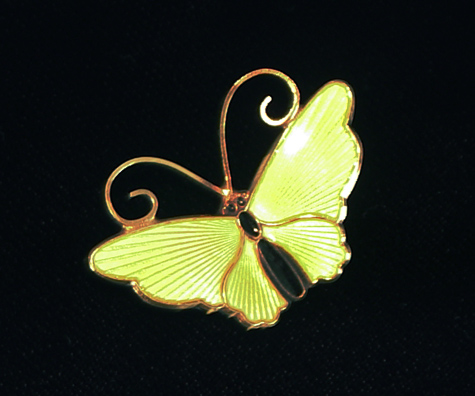 (C) This signed, bright yellow and black, enamel-on-sterling pin (with a gold wash) is the work of the noted Norwegian jewelry designer David Andersen. It measures an inch and a quarter wide. $125 delivered to your address. REDUCED TO A MERE 95!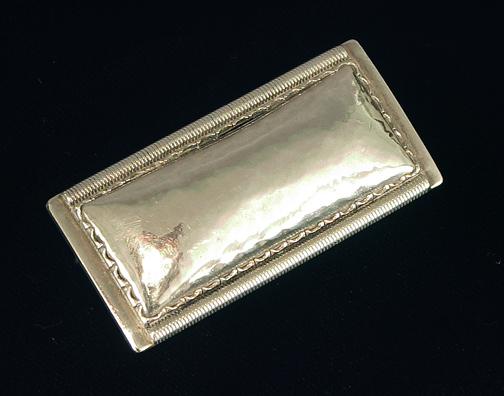 (D) This subtle, hand-hammered sterling silver Modernist, "machine age" pin is probably European, but alas, there are no marks. It measures 2 3/16 inches wide. $185 delivered to your address.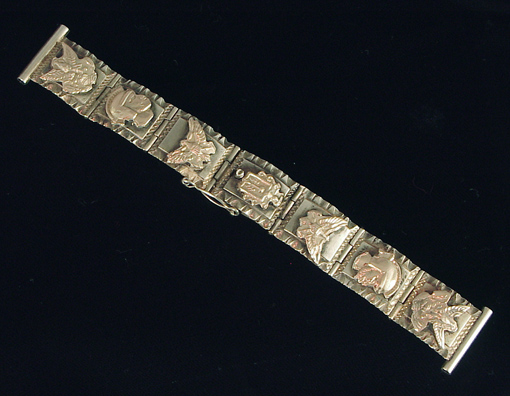 (E) A splendid gold and sterling Mexican watchband . 5 3/8 inches long. $155 delivered to your address. REDUCED TO $125!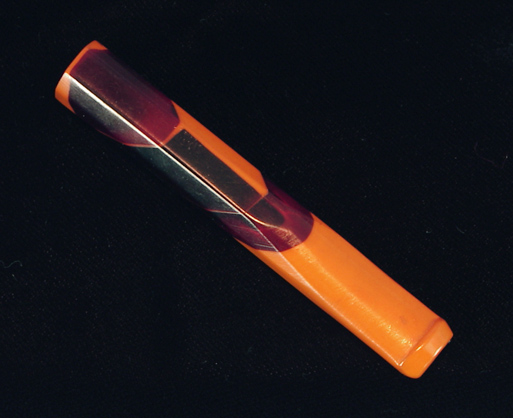 (F) A 1930s cigarette holder, just under three inches of a deep amber-colored bakelite with maroon Modernist accents! $65 delivered to your address. NOW JUST $45!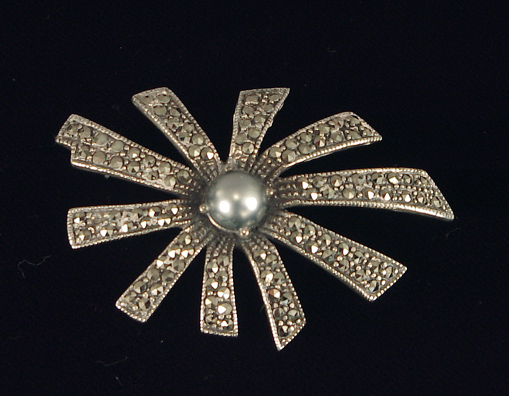 (G) Marked 925 and "J.C." (really, the perfect Christmas gift?), this marcasite and sterling pin, with a gray pearl-like accent, tops my small jewelry show. The marcasites glitter beautifully and only one is missing (and you'd need a powerful magnifying glass to see where)! The silver is beautifully cast. This pin measures 2 1/8 inches across. $165 delivered to your address!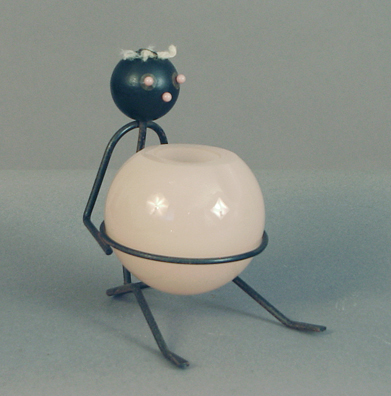 (H) What to even say about this symbol of racism and oppression? Except that it's a "piece of history?" Your choice... at a mere $95 delivered... (by the way, it's hard to see, but there's a cut & polished groove in the front of the pink glass ashtray that's intended to rest a cigarette, if the glass is turned around so the groove is level and the opening toward the front)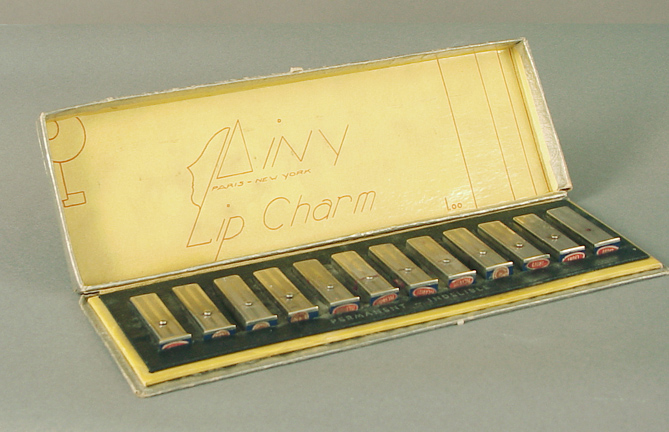 (I) A super-rare store display of machine-age lipsticks in their original box with its period graphics! They're solid brass, chrome-plated, in near-mint condition (one is missing its button). Of course the lipstick itself has ossified over the almost-century, so they don't open. A dollar apiece originally! The box measures 10 3/4 by 3 1/2. $245 delivered to your address.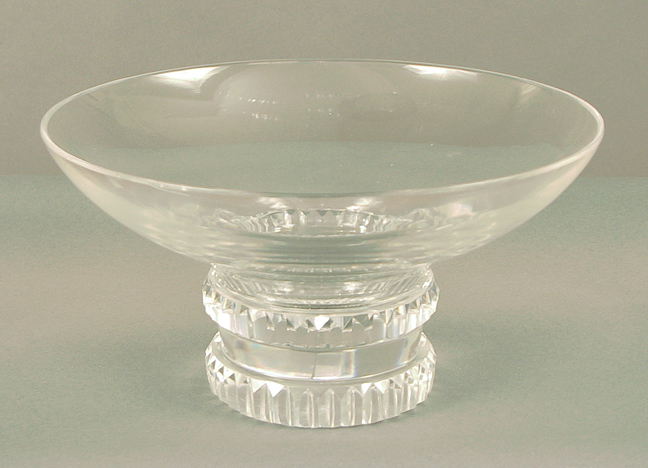 (J) Jean Sala, considered one of the most talented and advanced glass artists of the Art Deco period, created this exquisite crystal glass bowl (signed). With its pronounced machine-age foot, it's worthy of a Steiglitz photo! It measures 10 3/4 in diameter, and stands 5 5/8 high. One teensy-tiny rim "flea bite." $585 delivered to your address. A steal, frankly!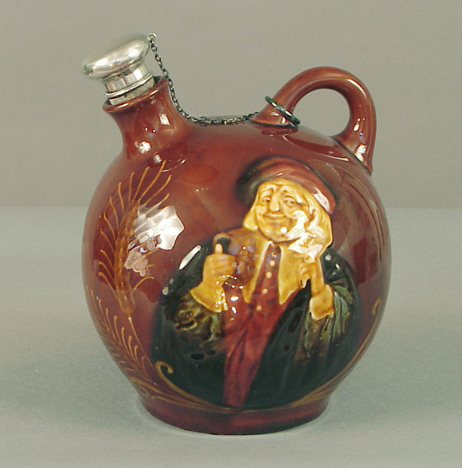 (K) Royal Doulton created this not-very-Art Deco John Barleycorn liquor jug with sterling-capped cork and chain guard (otherwise it would have been lost at least 50 years ago!). It's about six inches across and stands about seven inches high. $465 delivered to your address.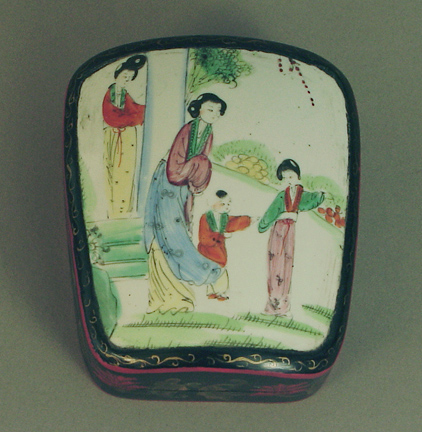 (L) This fetching scene depicts a family going about its daily affairs in ancient China, somewhere so long ago! The top is porcelain, and the sides are lacquered and beautifully decorated; it stands 3 inches high, 6 1/2 by 5 1/2; it makes a wonderful jewelry box. Just $98 delivered!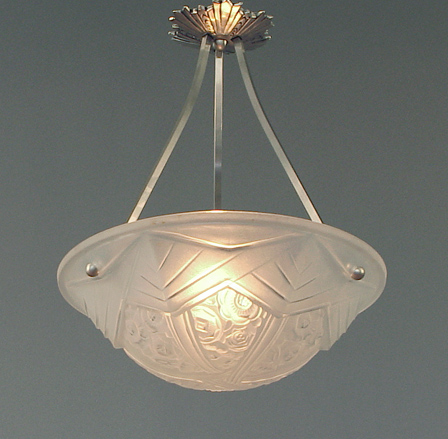 (M) Here's one example of a number of French lighting bowls that are now available to you. Look at this page to see the entire collection of signed and unsigned lighting bowls. Any bowl you choose will be configured to your custom length, making it just right for your room. If you're looking for other, larger chandeliers, you'll want to see this page.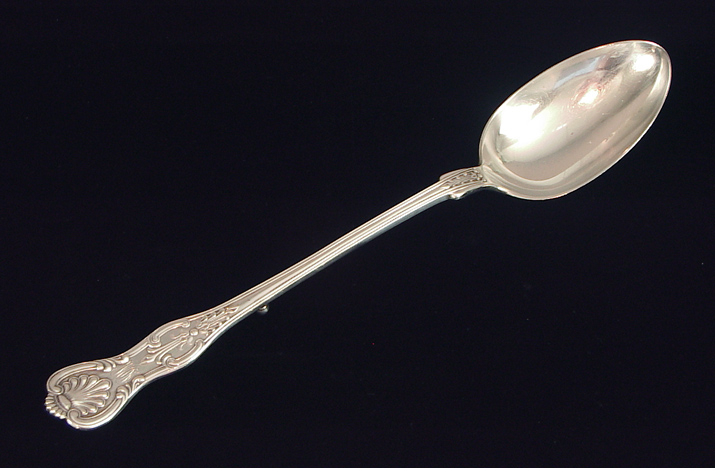 (N) A sterling silver serving (probably specifically for extracting turkey dressing) spoon-- 13 inches long! Identical to a Tiffany design. $365 delivered to your address. HOW ABOUT $245?
(O) A beautifully woven sterling silver "trinket" basket, measuring 3 3/4 long and high, 3 wide. $110 delivered to your address. OR...$88?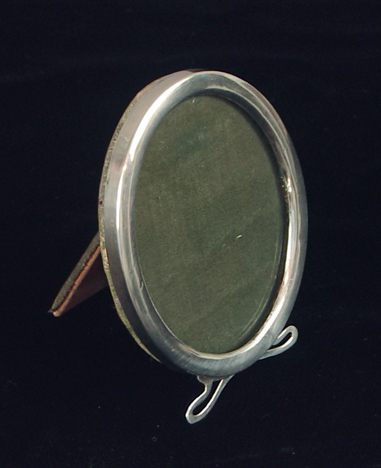 (P) An antique oval sterling silver picture frame measuring 3 3/4 by 2 3/4, with its original glass. $39 delivered to your address.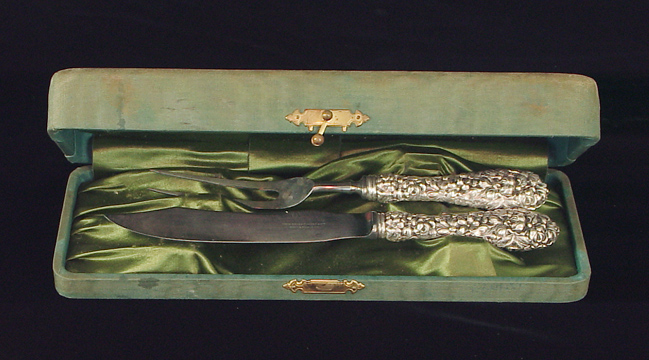 (Q) A sterling-handled, repoussé Steiff mini-carving set in its original satin-lined box. The knife measures 9 1/4 inches long, and has a nice sharp blade. $135 includes shipping to your address. TAKE THEM AWAY FOR JUST $135!!
The Decorum Menu
The Decorum Home Page