Here it is only 10 months before Christmas of 2018, so hurry up and make your purchases, folks!! You don't want to think that far ahead? Too much stress? How about Easter, or the 4th of July, or Veteran's Day, or ... your darling's birthday!!?? Or... "just because."
"Delivered to your address" throughout this offering applies to addresses in the "'lower 48" only, and includes packing and insurance. Additional sales tax of 7.625% applies to California-destined purchases. Payment by check only!
To inquire about any item on this page (or better yet, to make a purchase) just send an email by clicking on the letter at the beginning of its description -- A, B, C, etc.).
(Or, just send any general email question or comment to Jack)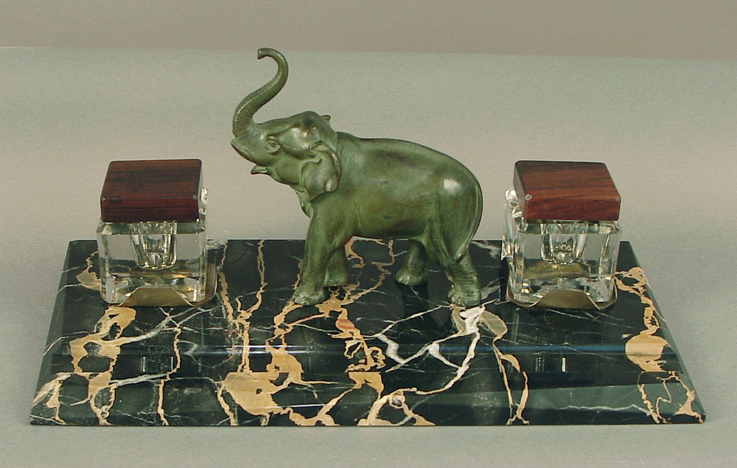 (D) A luck-bringing, trumpeting, patinated spelter elephant is flanked by two rosewood-topped inkwells, all mounted on a complexly veined, faceted piece of "Portoro," or gold-veined marble, the top French favorite for mounting sculptures during the Art Deco period (one chip on the back left corner). It measures 11 1/2 side, 5 7/8 deep, 5 1/4 high. $485 delivered to your address.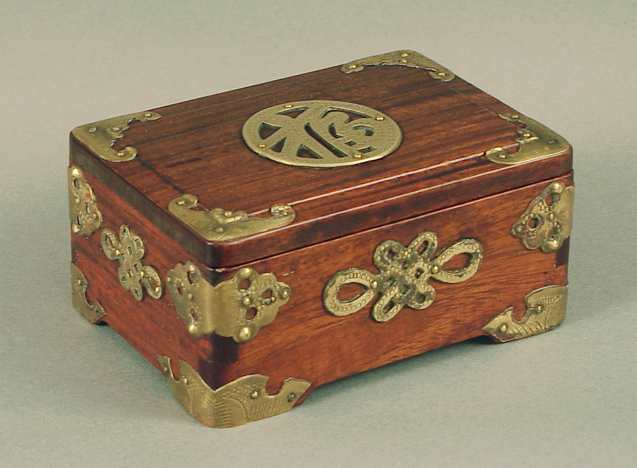 (C) The many solid brass Chinese symbols on this rosewood box (bats on the top corners, endless knots, good luck-long life caligraphy, fish) propel it into the "conversational" realm! Use it for jewelry, pocket change, stash whatever you'd like! It measures 5 3/8 by 3 3/4, and stands 2 1/2 high. $115 delivered to your address.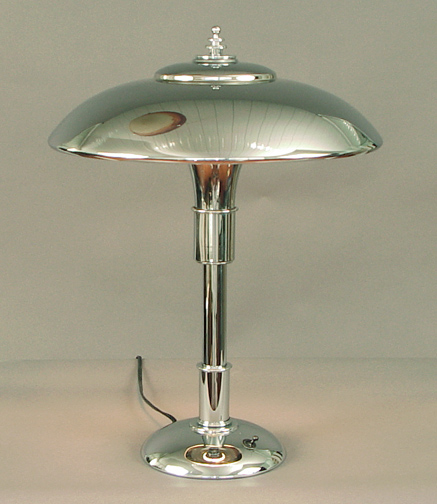 (E) I consider this Faries lamp one of America's top entries in the All-time Desk Lamp Beauty Contest! Only in rare instances was this lamp fabricated entirely of solid brass (most often the shades and some other parts were made of steel). Because brass takes a chrome plating much better than steel, and because this lamp positively SHINES in chrome (as opposed to its original, dull "English bronze" finish), I disassembled it, had each of its eight or nine pieces chrome-plated, then reassembled it and rewired it, pant-pant!). The work was worth it, as now we have a very special lamp, worthy of your desk! It measures 17 1/2 high, 13 in diameter, and the bottom of the shade stands 12 3/4 off the desktop. Use a hundred watt bulb or higher for perfect, bright, indirect illumination of your business affairs. $965 delivered to your address.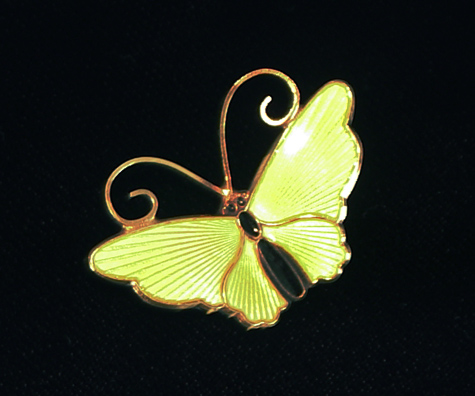 (F) This signed, bright yellow and black, enamel-on-sterling pin (with a gold wash) is the work of the noted Norwegian jewelry designer David Andersen. It measures an inch and a quarter wide. $125 delivered to your address.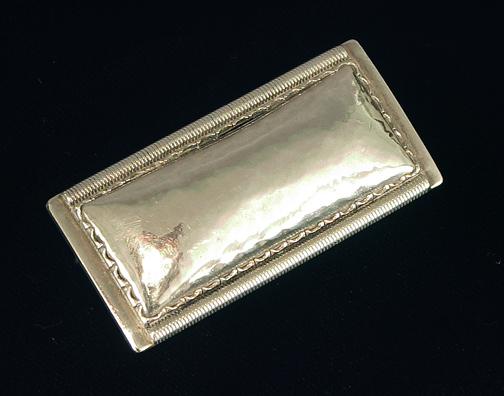 (G) This subtle, hand-hammered sterling silver Modernist, "machine age" pin is probably European, but alas, there are no marks. It measures 2 3/16 inches wide. $185 delivered to your address.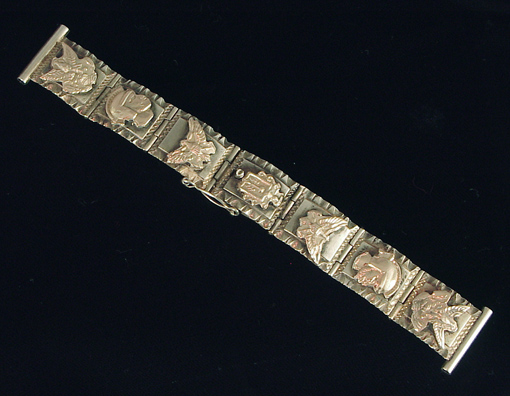 (H) A (marked) Mexican sterling watchband with gold or gold-washed icons. 5 3/8 inches long. $155 delivered to your address.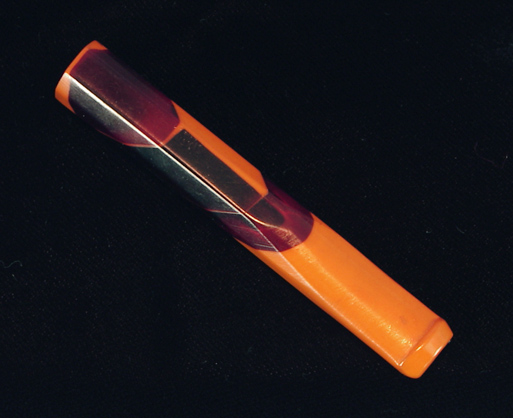 (I) A 1930s cigarette holder, just under three inches of a deep amber-colored bakelite with maroon Modernist accents! $65 delivered to your address.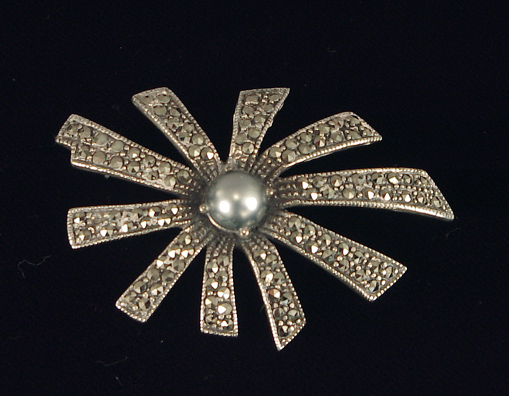 (J) Marked 925 and "J.C." (really, the perfect Christmas gift?), this marcasite and sterling pin, with a gray pearl-like accent, tops my small jewelry show. The marcasites glitter beautifully and only one is missing (and you'd need a powerful magnifying glass to see where)! The silver is beautifully cast. This pin measures 2 1/8 inches across. $335 delivered to your address.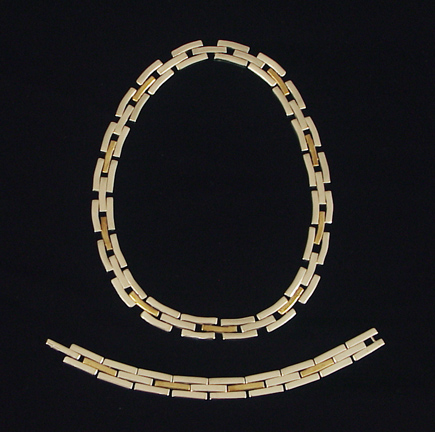 (J-1) A splendid Mexican sterling silver and brass necklace and bracelet combination. Well-marked (sorry, no designer!), in fine condition, and with considerable weight (just the necklace: 4 1/2 ounces!) Its sublime Modernist simplicity conveys an elegance. The bracelet: 7 inches long; the necklace, about 17 1/2. SOLD!!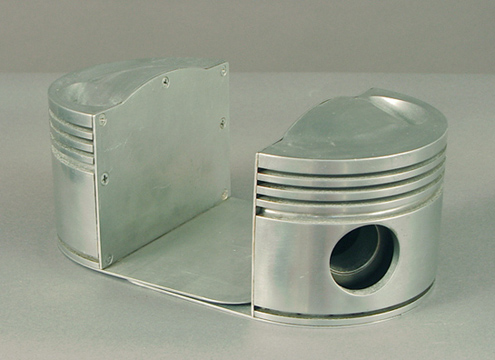 (L) My all-time favorite bookends, indisputably "machine age!" How cool does it get? Each measures 5 3/4 by 3, with a height of 4 1/4. $220 delivered to your address.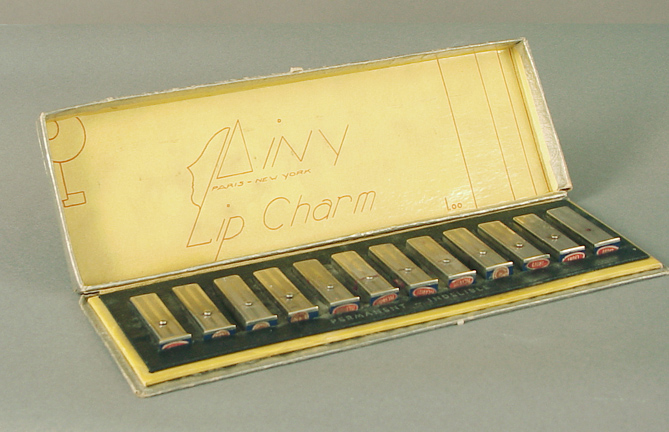 (M) A super-rare store display of machine-age lipsticks in their original box with its period graphics! They're solid brass, chrome-plated, in near-mint condition (one is missing its button). Of course the lipstick itself has ossified over the almost-century, so they don't open. A dollar apiece originally! The box measures 10 3/4 by 3 1/2. $245 delivered to your address.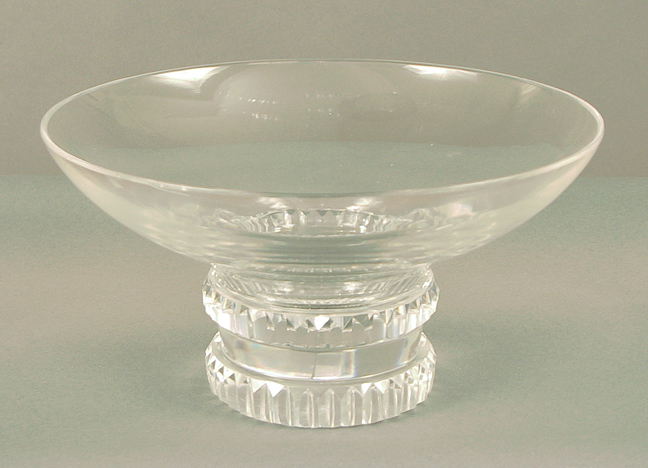 (O) Jean Sala, considered one of the most talented and advanced glass artists of the Art Deco period, created this exquisite crystal glass bowl (signed). With its pronounced machine-age foot, it's worthy of a Steiglitz photo! It measures 10 3/4 in diameter, and stands 5 5/8 high. One teensy-tiny rim "flea bite." $585 delivered to your address.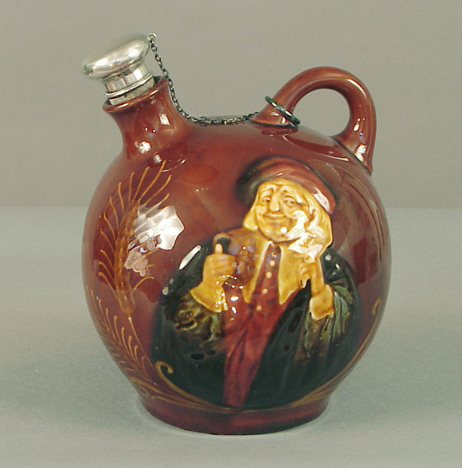 (P) Royal Doulton created this not-very-Art Deco John Barleycorn liquor jug with sterling-capped cork and chain guard (otherwise it would have been lost at least 50 years ago!). It's about six inches across and stands about seven inches high. $465 delivered to your address.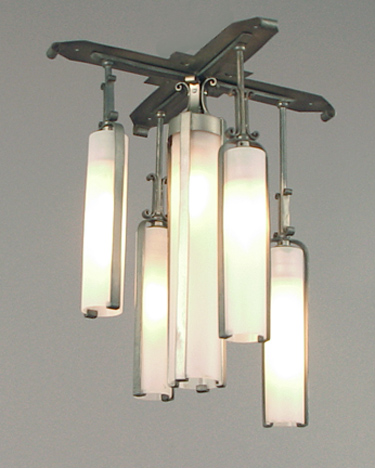 (Q) A bit large for a stocking stuffer, but this unusual and compelling flush-mount fixture would fit nicely, temporarily, under the tree, thereby exploding the myth that ceiling lights can't be Christmas presents. Of course they can, when they're this special! It measures about 15" across and hangs down 16 inches. SOLD!!
(R) And speaking of "compelling," this solid bronze five-light chandelier, with its near-frenzy of Art Nouveau-inspired quasi-whiplash design elements, fills the bill. It's about 22 inches in diameter, and it's a minimum of 27 inches long (including the canopy on top and finial below). With chain, however long you want! Beautifully cast bronze, beautifully assembled and patinated. $1395 delivered.
(S) French Art Deco designers deliver, this time, a sparkling glass beauty with alternating clear and frosted aspects, featuring ziggurats and sunbursts. It measures 12 inches long by 10 inches wide, and can take any size bulb you wish to employ. The chrome-plated mounting device fastens flush against the ceiling. $1195 delivered to your address.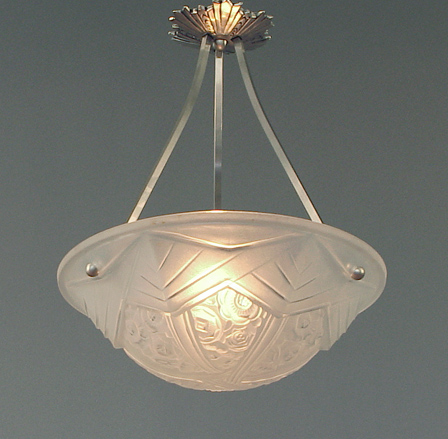 (T) Here's one example of a number of French lighting bowls that are now available to you. Look at this page to see the entire collection of signed and unsigned lighting bowls. Any bowl you choose will be configured to your custom length, making it just right for your room. If you're looking for other, larger chandeliers, you'll want to see this page.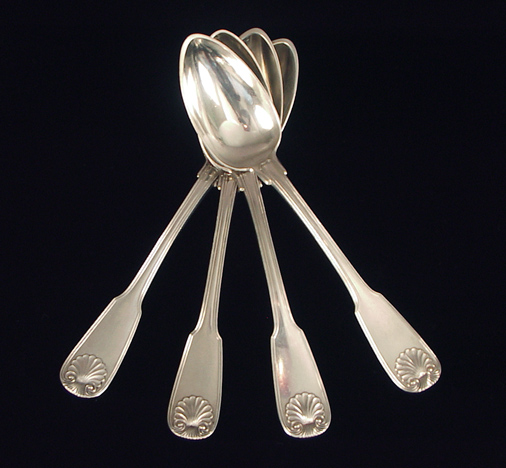 (U) Four Circa 1815 "fiddle and shell"coin silver table or dessert spoons by the famed Philadelphia silversmiths Fletcher and Gardiner. These measure 7 13/16" inches long, and are positively a joy to hold in the hand, not to mention a near-sensual experience to spoon food into the mouth. $675 the set of four, delivered to your address.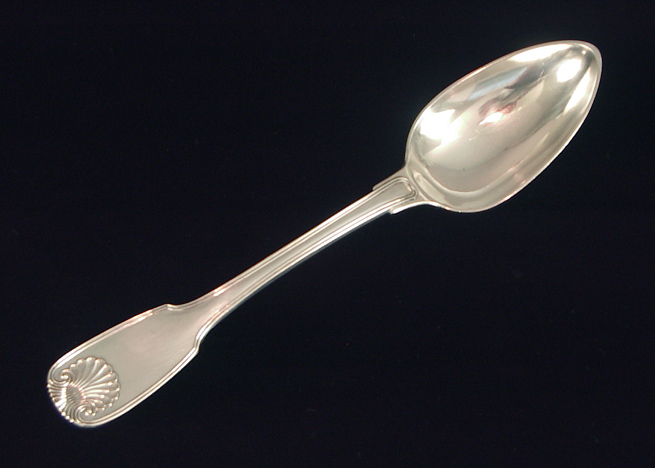 (V) Another, larger coin silver "fiddle & shell" serving spoon by Fletcher and Gardiner, Circa 1815; it measures 9 3/16 long. $245 delivered to your address.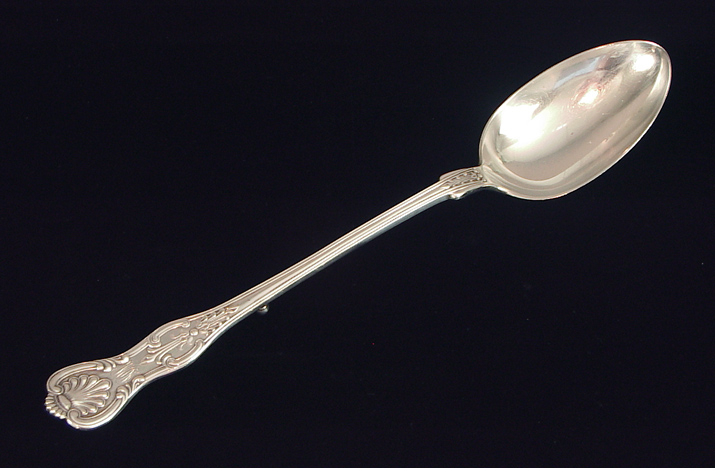 (W)A sterling silver serving (probably specifically for extracting turkey dressing) spoon-- 13 inches long! Identical to a Tiffany design. $365 delivered to your address.
(X) A beautifully woven sterling silver "trinket" basket, measuring 3 3/4 long and high, 3 wide. $110 delivered to your address.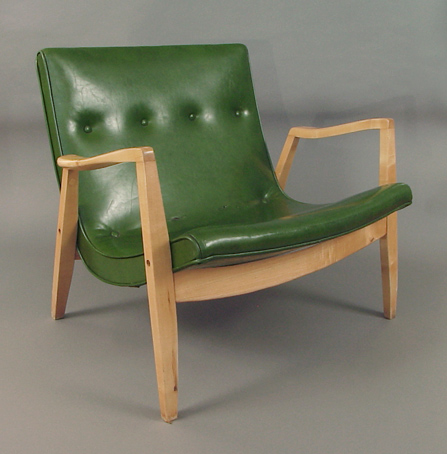 (Y) Designed by Milo Baughman, this "Scoop Lounge Chair" has been refinished, and possibly has its original vinyl in place (four of the buttons on the seat have vanished). It measures 32 wide overall, 26 of that for seating; it's 28 high and 27 deep. SOLD!!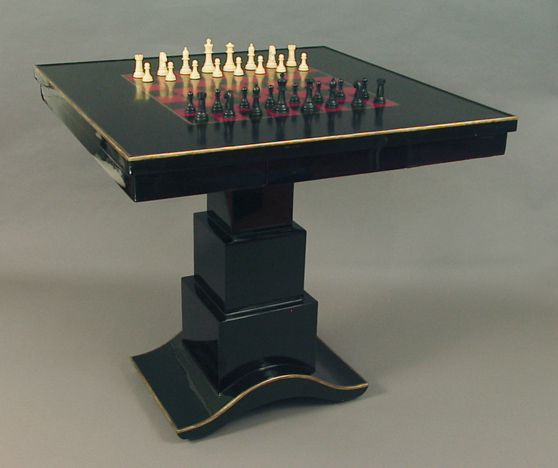 (Z) This Art Deco-styled black and red lacquered chess table with gilt trim is probably about 50 years old, but it was built in the old-fashioned (quality first) manner. There's a drawer on either end measuring about 10 inches wide. Near-mint condition! 32 inches square and 30 1/4 high; the chess board itself is 18 1/2 inches square. $4375 includes free delivery to the San Francisco Bay Area; a packing and shipping fee applies elsewhere.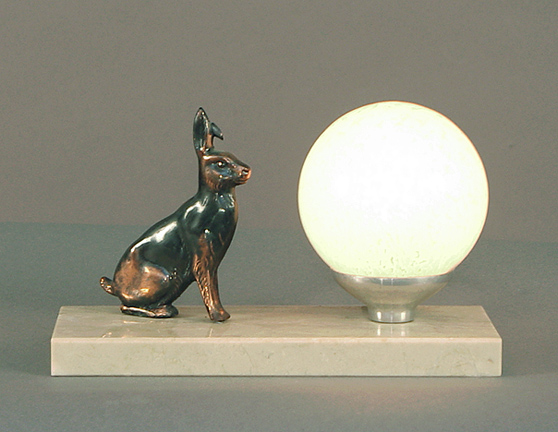 (Z-3) Awww, shucks...such a cute little bunny lamp, destined to be a "younger" person's nightlight? Don't panic, 50 is the new "younger." Our (French) marble-based bunny light is about nine inches long, five high. The glass ball shade has a white mottled design, not visible in this picture. Just $285 delivered to your address.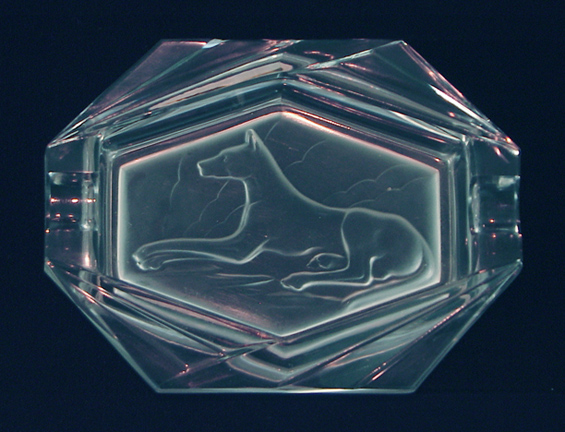 (Z-4) Photography, so mysterious! I don't know where that rose color came from, maybe outer space? The actual French glass ashtray (signed: ETLING) is clear with a frosted woofer. Ohhh... so beautiful, such consummate quality. Measuring just under six inches by just over four. $165 delivered to your address.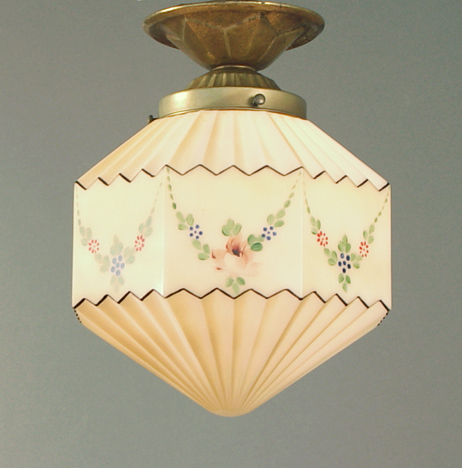 (Z-5) Ultra-rare, ultra gorgeous! The warm glow of this special Art Deco shade will sooth your frazzled nerves, the floral garlands set your mind to frolicking. The whole snappy affair measures about 11 inches long. Fitted with a porcelain socket and high-heat resistant wire. $335 delivered to your address. Shades this cool do not grow on trees.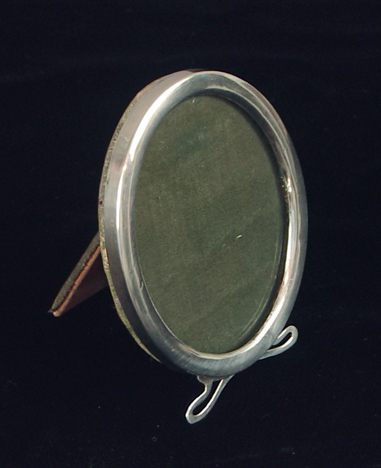 (Z-6) An antique oval sterling silver picture frame measuring 3 3/4 by 2 3/4, with its original glass. $39 delivered to your address.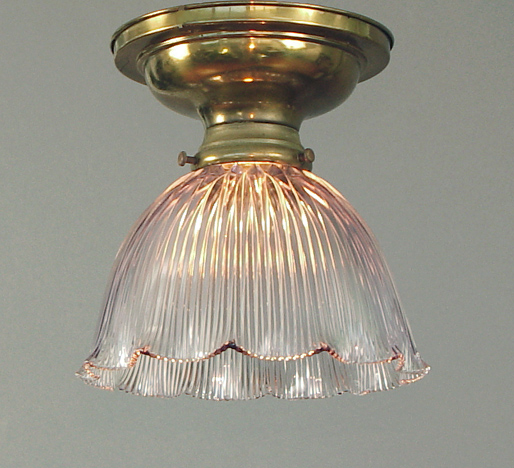 (Z-7) My inner-Leonard Cohen might croon, "If you need a pair of wowzer holophane lights, I'm Your Man!" There are two, yes, two identical lights, fitted with their original 1910-ish porcelain sockets. Immaculate condition! The shades have been exposed to direct sunlight for at least a year and the manganese dioxide in the glass has turned it a beautiful light amethyst color. (That's a closely held antique dealer's secret; some charlatans put things on their roof to crank up the value.) Eight inches top to bottom. $475 the pair, delivered to your address. (P.S. These solid brass fitters are super-rare!)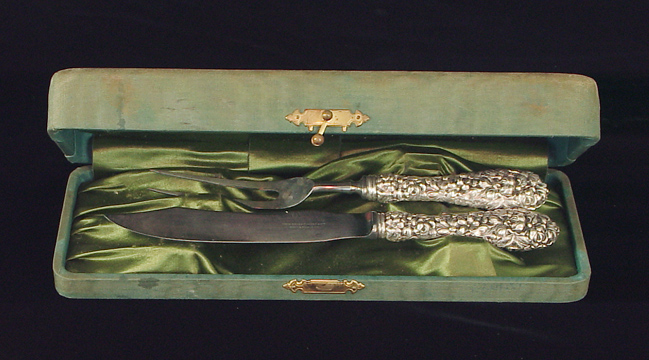 (Z-8) A sterling-handled, repoussé Steiff mini-carving set in its original satin-lined box. The knife measures 9 1/4 inches long, and has a nice sharp blade. $135 includes shipping to your address.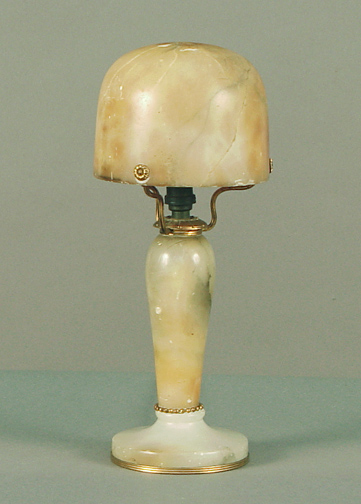 (Z-9) Just under a foot high, this positively darling alabaster table (oh, let's just get sexy and say boudoire) lamp totally jiggles my needle. Shopping in France, one stumbles upon the occasional gem "in the rough." The French don't have American-type qualms about condition... if an antique has a bump or a crack -- well, is the thing's spirit intact? Is its essential beauty present? I've seen a cracked, chipped and dented object trade hands three time in ten minutes, the price at least doubling each time, while I sat on the sidelines gaping, having assumed the item was too damaged to sell to anyone! It's in this spirit that I offer this lamp with its cracked, burned, chipped and otherwise tortured shade. The irreverent previous custodian used too hot a bulb; alabaster is not amused by excessive heat. When the lamp is lit, especially at night, the shade glows like a distant planet (Mars, in particular), with the deepest orange-reds, browns, and amber colors. Keep it in a spot away from little fingers, and you'll delight in its beauty for decades to come. $485 shipped to your address.
The Decorum Menu
The Decorum Home Page